Can the Brits do better? (New Writing 2013)
Saturday 1st February 2014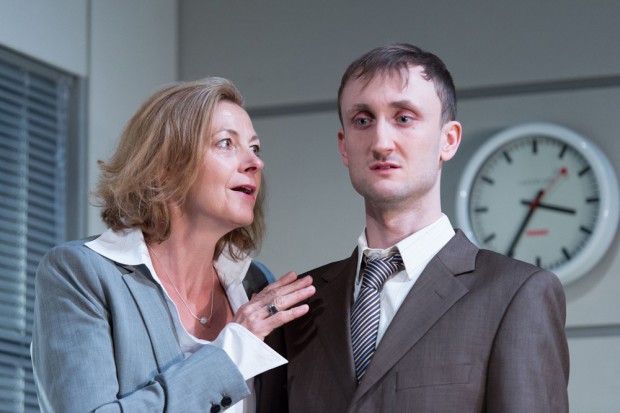 In his speech to the Labour Party conference in September 2013, the leader Ed Miliband repeatedly used the phrase "Britain can do better than this". Although his mission is to create One Nation Labour, which differs from both Old Labour and New Labour, the ghosts of the past still haunt him: the slogan "Britain can do better than this" is but an echo of Tony Blair's successful New Labour 1997 election pitch of "Britain deserves better". Turning to the field of new theatre writing, is that also haunted by the ghosts of the past?
Seeing the recent revival of the political instinct among many British playwrights, in the long wake of the global financial crisis, it's worth asking what is the ethical stance of their work. But is this a silly question? Surely the staple naturalistic "me and my mates" play has no ethical content whatsoever. So 2013 plays such as Polly Stenham's punky No Quarter (Royal Court), Amelia Bullmore's feminist Di and Viv and Rose (Hampstead), actor Rory Kinnear's The Herd (Bush) and Nick Payne's The Same Deep Water As Me (Donmar) seem to exist in a kind of politics-free and ethics-free zone. Where are the moral dilemmas that theatre is traditionally so good at staging? Well, mainly in revivals of Ibsen (at the Young Vic and Almeida).
Even when recent plays have an epic political ambition, they seem to thrive on little ethical content. Look at Anders Lustgarten's beautifully titled but rather slender If You Don't Let Us Dream, We Won't Let You Sleep (Royal Court) and Lucy Kirkwood's highly, and deservedly, successful Chimerica (Almeida/West End) — which is a real improvement on her previous NSFW (2012). These are both admirable plays, but what is lacking is an urgent sense that audiences might have to engage with deep issues of right and wrong.
One typical way of evading the trouble of ethical questioning about the here and now is to take a quick trip to the past. In 2013, the 1980s are one favoured decade. Moira Buffini's Handbagged (Tricycle) revisited the relationship between the Queen and Margaret Thatcher by staging their regular weekly meetings (as did Peter Morgan's West End hit, The Audience, for all of Her Majesty's prime ministers). The royals are regular crowd-pleasers. Likewise, new talent Chris Urch's Land of Our Fathers (Theatre 503) was set in 1979, on the eve of Maggie's election victory. This story of miners trapped underground has a deep historical resonance, but its main contribution to ethical debate was uninspiring: confronted by the chance to eat the flesh of a dead comrade in order to stay alive, the miners decide that eating people is wrong. Other examples of time travel include such 1930s plays as Alexi Kaye Campbell's brilliant ghost story Bracken Moor (Tricycle Theatre) and Martyn Hesford's evocation of Mrs Lowry & Son (Trafalgar), about LS Lowry and his mother. Address Unknown (Soho Theatre) is set in the same decade, while Amanda Whittington's The Thrill of Love (St James), about female friendship in the case of Ruth Ellis, moves to the 1950s, and Dermot Canavan's lively Third Finger, Left Hand (Trafalgar) puts on stage the teenage world of Preston girls in the late 1960s and 1970s. Tanya Ronder's Table (National Theatre Shed) — one of a handful of new plays, including debbie tucker green's superb Nut, from this flagship — spanned 200 years.
As usual, the underclass provided a good destination for playwrights (although there are many signs that middle-class family dramas have loosened the hold of this hegemonic location): Janice Okoh's Three Birds (Bush) was about three young siblings who hide the death of their mother, while Rikki Beadle-Blair's Gutted (Stratford East) looked at a working-class family gone bad in South-East London. At the Soho, Charlotte Josephine's Bitch Boxer lived up to its title.
Of course, some plays did foreground ethical choices. Arinze Kene's God's Property (Soho) is set in 1980s Deptford, and contrasts 16-year-old Onochie, who has become a skinhead and doesn't see himself as black, with his older brother Chima, who has been in prison for a decade for the murder of a young white girl. When Chima comes home, Onochie has to take sides: will he stand by the brother he barely knows or with the community he longs to be part of? In Dennis Kelly's The Ritual Slaughter of Gorge Mastromas (Royal Court), the first scene gives an account of the upbringing of Gorge which ends when he has to decide whether the lesson of his life really is that goodness and cowardice are the same thing. The last line of this scene is "you decide", a direct appeal to the audience. The second scene then shows Gorge's boss asking him whether he should sell his company. When he leaves the room, A — a kind of capitalist Mephistopheles figure — tempts Gorge. Join the entrepreneurs, she says. And he does. Complete with three golden rules: grab what you want, lie if you want to and don't worry about other people. The play then shows how these rules lead to his undoing. Another example is the excellent If Only by David Edgar (Chichester), in which he sets up a discussion of how in the future, in August 2014, a Conservative MP might try and prevent his party's swing to the right. With its discussions of "behaving honourably" and doing "the right thing", the piece speaks the language of ethical choices. It is also quite Brechtian in its final adieu to the audience: "So whatcha think?" Which is uttered by one character to another, but is clearly meant to be a wider challenge to engage with the arguments of the play.
If these are rare examples of plays that have a strong ethical content, it is even rarer to see plays which engage with the idea of theatrical representation or which attempt to refashion the relationship, however temporarily, between the stage and the audience. The template, of course, is Tim Crouch's The Author (Royal Court, 2009), which both in form and content tackles the ethics of representation. The equivalent play in 2013 is David Greig's The Events (ATC), about the aftermath of a serious atrocity and the only play that is as exciting as Lucy Prebble's The Effect (National) from the previous year. The Events invites us to consider, and participate in, the idea of community, and to think about its limitations. Greig had a good year, with The Strange Undoing of Prudencia Hart (National Theatre of Scotland) and Charlie and the Chocolate Factory (West End).
Martin Crimp's triumphantly provocative and entertaining In the Republic of Happiness (Royal Court) was daringly structured and offended those audience members who had got used to this venue providing them with easy middle-class comedies. It includes fine satirical passages about the cult of individualism and narcissism but little in the way of a moral dilemma. Anthony Neilson's Narrative (Royal Court) was a devised piece that disappointingly meanders with little consequence, although two other experiments in form — Nikki Schreiber's absurdist Cheese (fanSHEN theatre company) and Clare Duffy's immersive Money: The Gameshow (Bush) — were imaginatively anti-capitalist.
Roy Williams's Advice to the Young at Heart (Theatre Centre) time travelled to the race riots of the 1950s in order to present its lead character with the question: how should I act? And Simon Stephens's adaptation of Mark Haddon's The Curious Incident of the Dog in the Night-Time (National) showed a boy with behavioural problems doing the right thing. While Richard Vergette's American Justice (Arts) was a powerfully plotted drama that contained poetic justice, set in an US prison, Clare Lizzimore's Mint was also set in prison, this time in England. But this small play, part of a six-play Open Court season — Vicky Featherstone's rather uncertain start as the new artistic director of the Royal Court — looked rather lost on the main stage.
A handful of similarly small plays, often with an imaginative attitude to storytelling, also made an appearance (here comes a list!). Brad Birch's Even Stillness Breathes Softly Against a Brick Wall (Soho) was a two-hander which explicitly criticises the work routine of consumer capitalism. Simon Vinnicombe's City Love (Bussey Building) is about a young couple in love. Damien Tracy's Warde Street (Tristan Bates), about a knife attack, has a punchy plot, a moral dilemma at its core, and is told in a non-linear way. Rachel De-lahay's Routes (Royal Court) denounces the immigration system as inhuman and Kafkaesque. Thomas Eccleshare's Pastoral (Soho) is a dystopian fantasy in which human society is attacked by nature. Declan Greene's Moth (Bush) explores the mindset of two 14-year-olds, Sebastian and Claryssa. Luke Barnes's Bottleneck (Soho) features Greg, another 14-year-old, this time from Liverpool.
Good new work is not the same as exciting work. Am I wrong in thinking that, however charming, most new plays lack a spirited, angry voice? Don't they all seem to be remarkably quiet in the face of the age of austerity? In British theatre, the conservatism of most new plays — neat linear plots set in socially recognisable slices of life — tends to focus attention on their content, rather than their form. Yet when you ask the question of what ethical debate is being articulated you can almost wish that these plays had been more influenced by the past, where this was a staple feature of British drama, than by the present, which seems to be an ethics-free zone. Surely British playwrights can do better. Can't they?
© An earlier version of this article appeared as 'Can new writing do better?', Contemporary Theatre Review, vol 24, issue 1, February 2014: pp 129-31.