The Events, Young Vic
Monday 14th October 2013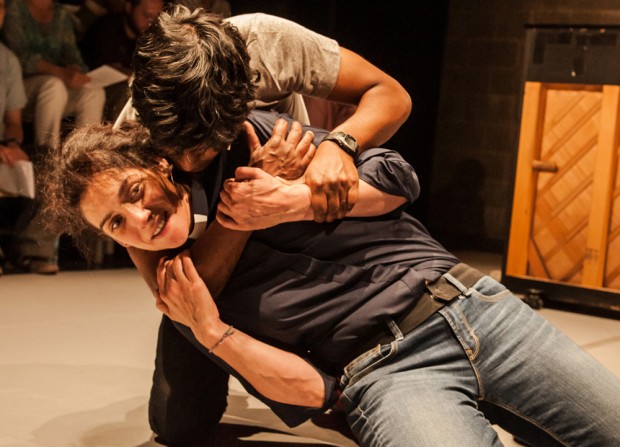 Is this the year's most controversial play? When it opened at Edinburgh in August, David Greig's The Events created a stir because its depiction of the aftermath of an atrocity is vaguely reminiscent of Norway's Anders Breivik and the 2011 Utoya shootings. Vaguely. The more lurid commentators denounced this as exploitation theatre; concerned liberals shook their heads; conservatives rubbed their hands with glee. But, with the play now visiting London, audiences have the chance of appreciating what is a much deeper work than the hyperbole-drenched fuss has suggested.
The set up is powerful in its simplicity. In an unnamed village, a young gunman has burst into a local choir and opened fire. The play deals with the consequences of this atrocity by using two actors: Neve McIntosh, playing Claire, a liberal parish priest who leads the choir, and survives the massacre. And Rudi Dharmalingam, who plays everybody else — Claire's partner Catriona, a psychologist, a childhood friend of the killer, a journalist, a right-wing politician and a shaman from Slough. And the Boy, the gunman.
The bare stage looks like a village hall, with plastic chairs and a piano, and there — taking centre stage — is a real community choir, which sings a Norwegian folk song, hums "Amazing Grace", does a couple of hymns and even a version of Dizzee Rascal's "Bonkers". For more than an hour, we watch Claire, an enlightened, friendly vicar, try to explain an inexplicable massacre. It's not a spoiler to say that she can't find a good explanation. The result is a crisis of faith in the face of unreason: what is evil? What is madness? Is there a difference?
Ramin Gray, artistic director of the excellent ATC theatre company, developed the idea with Greig, working closely from commissioning through its research and writing over two years. The result of this collaboration is a compelling piece that explores different interpretations of horror in our society, and has very little to do with Anders Breivik. All the way through, there's a tension between soft liberal rationality and a raw awareness of human darkness, our infinite capacity for doing the wrong thing. Somewhere in the background howls a crazy wolf.
But although the play rejects all the usual explanations of atrocity, whether secular or religious, the effect of this is a creeping, nihilistic sense of emptiness. This void is most successfully filled when Claire becomes angry, aggressive and violent. The fight scenes are quite satisfying. But the greatest way of confronting the failure of reason is music, and the choir gives us the antidote to the horror. Against the random violence of a massacre, the choir — the Greenwich Soul Choir on the press night — offers a vision of a practical community.
Although The Events sometimes seems to veer a little too close to a warmly idealistic view of community, its 80 minutes offer plenty to think about and enjoy. Ramin Gray's production has its Brechtian moments, but he also keeps both actors and choir on their toes. Neve McIntosh perfectly evokes the liberal who becomes obsessed with horror, while Rudi Dharmalingam smoothly changes from one character to another. When they confront each other, sparks really fly. Only the music can soothe this savagery. Then, after the last piano chord fades, you might feel (as I did) that while the music doesn't really explain a thing, maybe it can still cure a lot of ills.
This review first appeared on The Arts Desk