Warde Street, Tristan Bates Theatre
Wednesday 21st August 2013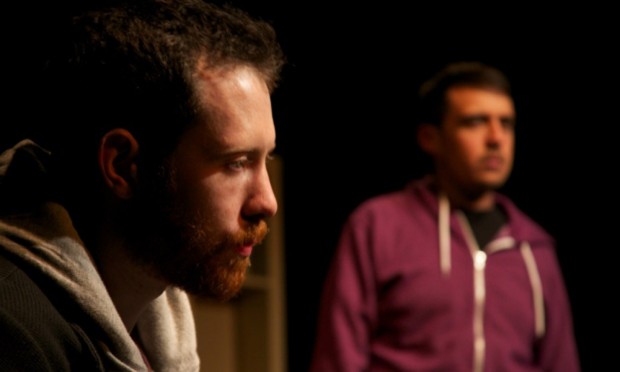 New writing has an unmatched ability to present forceful portraits of daily life in Britain today. But most young writers, afraid perhaps of appearing to be too earnest or too serious, claim that their work is not political. Despite this kind of common disclaimer, there is always some concealed message, some politics, some ethical stance, in their work. Yet, of course, it's not enough to say that a play contains ethics — surely, you also have to discuss those ethics.
Damien Tracey's Warde Street is a new play that has all the right ingredients: a punchy plot, convincing characters and a moral dilemma at its core. It starts with an excellent scene, set in Wardour Street in central London, in which David, a politician, is shown clearing up with his partner Samiya, after a dinner party. It is quickly apparent that he's an ambitious man whose ascent through the party has been hampered by the fact that Samiya isn't his wife. Those in power want him to marry — but what does she think about such a marriage? This couple should clearly just conform with social norms and tie the knot. Or should they?
But if personal scandal is not enough, David is about to be confronted with a sharper choice. The couple are visited by Ashfaq, a Manchester Muslim man whose wife, recently killed in a horrific attack, was Samiya's sister. It turns out that Ashfaq and his wife Yasmeenah were taken hostage by Eddie, whose wife was killed in the 7/7 2005 London bombings. In his despair and grief, Eddie has gone up north determined to revenge his wife's death and he has chosen Ashfaq, who he once knew as a fun-loving youth, to be his victim. Since Ashfaq has now given up drink and drugs, and settled down to run a corner shop, Eddie sees him as a Muslim no different from the Islamists who killed his wife. But while Yasmeenah is killed, Ashfaq kills Eddie. And now faces a trial for murder.
The ethical dilemma facing David is that he has been asked to be a character witness on Ashfaq's behalf. But his party doesn't want him to attract any more publicity. Should he help his lover's brother-in-law, who did the right thing, or not? Is David a man of honour or a political opportunist? These sharp moral questions challenge the audience to ask themselves: now what would I do? All this is set out in the play's opening scene, which sketches out the whole hostage drama and its repercussions. Tracey then does a flashback in time and we find ourselves in Warde Street, Manchester, as the hostage situation develops. Knowing in advance how this will turn out means that we watch in mounting anxiety as the inevitable events unfold.
Tracey deliberately chooses an extreme situation. Having your spouse killed in a terrorist attack is obviously an unusual event, and equally obviously it is a horrifically shocking one. Enough, according to the play, to propel you into taking extreme measures. But leaving aside any doubts about the likelihood of this happening, the hostage scenario is a compelling one. But, once it is over — in other words at the very start of the play — the moral issues begin to clamour for attention. Being faced, as David is, with choices that are all in some way unpalatable is reminiscent of ancient Greek tragedy. It also is a direct provocation: would each of us in the audience do the right thing, or would we wriggle out of it, for the sake our careers?
Although a play like this can feel uncomfortable to watch, it is also one that, when you think about it on the way home, has the power to make you take a vow about doing the right thing. Whether you are ever put into a position to honour that vow is a moot point. As directed by Jason B Moore, Warde Street is a really excellent play, powerfully imagined and tautly written. The second half has a terrifying fury. Emotionally draining and psychologically convincing, the play tells a really good story in a neatly structured way. With forceful performances from Cameron Harris (David), Avita Jay (Samiya), Omar Ibrahim (Ashfaq) and Shane Noone (Eddie), it also poses acute ethical dilemmas about how to behave in extreme situations.
© Aleks Sierz