Mint, Royal Court
Thursday 4th July 2013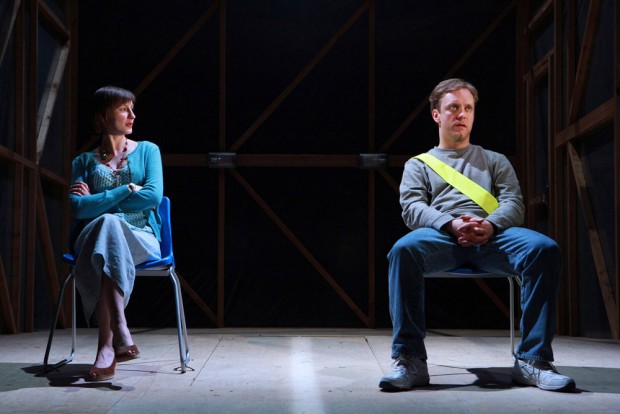 When any arts institution gets a new head, the media scrutiny of their first work is usually intense. The Royal Court theatre's new artistic director, Vicky Featherstone, has defused this tension by staging not one signature play, but a season of six plays during a festival of other events. Mint, the debut play by director Clare Lizzimore, comes roughly midway through this Open Court season, which has also seen short runs of work by playwrights Lasha Bugadze, Lucas Hnath and Suhayla El-Bushra. All of these have been performed by a company of 14 actors — including Anna Calder-Marshall, Siobhan Redmond, Paul Bhattacharjee and Jonjo O'Neill (last seen in Lucy Prebble's The Effect). In the case of Mint, the cast includes Sam Troughton, Laura Elphinstone and Debbie Chazen. As a new play, it's a studio piece that looks a bit lost on the main stage, but its writing does have an undeniable power.
Mint opens in the visitors' area of a prison. Alan (Troughton) is serving a substantial sentence and is visited by members of his family. First, there's his older sister Stephanie (Elphinstone), then his 15-year-old sister Nicola, then his mother Charlotte (Chazen). On one visit, his father Simon, a taciturn figure, also appears. During the eight or so years that he spends inside, Alan is moved to a more relaxed open prison. The name of the play is the colour of his freshly painted cell, punningly associated with the idea of "making a mint".
The second part of the play shows what happens when Alan comes home after his release. While he was inside, Stephanie has had a child, Amber, who is now about seven. Like the audience, she is curious about what her uncle Alan did that was so bad. But, although Lizzimore gives us lots of trivial detail about the everyday life of this family, she stages — by means of Amber's questions — a debate about the ethics of wrongdoing without telling us what exactly he did.
This means that we are spectators of the family life of a man who, in his own words, made a bad "mistake" without ever knowing what his crime was. Or who's to blame for it. The rest of the characters, except little Amber, know full well, but none of them mentions it. I have to say that I find this kind of playwriting both coy and frustrating. It teases us with a moral debate, and powerfully shows us the terrible effects of time spent in prison, but at the same time prevents us from discussing Alan's case. It's a kind of deliberate blindsiding of the spectators. And it makes us all puzzled little Ambers.
Yet, despite this drawback, Lizzimore's writing is impressively perceptive and observant, and you can't fault Caroline Steinbeis's sharp production (designed by Chloe Lamford). All the performances are very good — with Alan Williams as the grim Simon and Tess Fontaine as the delightful Amber. But although this portrait of excruciating family tensions rings true, it feels too tricksy to be satisfying. Recently, Featherstone said, "The Royal Court is a place of ideas that happens to have an amazing building, but its successes (Jerusalem, Enron and Posh) have never been about that building. They're about the freedom of the writer to write." Although the Open Court season is ample demonstration of that freedom, the nagging question remains: can Featherstone find the really exciting new writers of the future?
This review first appeared on The Arts Desk