The Effect, National Theatre
Tuesday 13th November 2012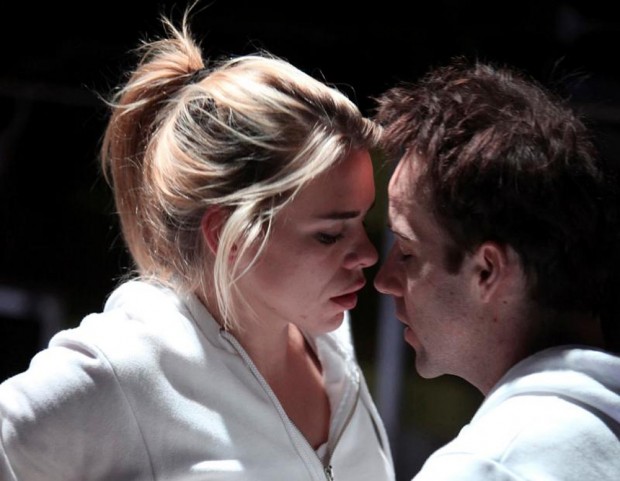 Science thrives on stage. In play after play, various scientific ideas seem to flourish in the warm, well-lit environment of the theatre, fed by a crew of artists and despite the threats of critics or other predators. Now, Lucy Prebble — fresh from her outstanding success with Enron — turns her attention to the subject of love and neurology in her latest play, which opened tonight. Directed by Enron maestro Rupert Goold, the play stars Billie Piper so it's already sold out, but is it any good?
The short answer is yes. For a longer answer, read on. The Effect is set in a facility managed by Raushen, a pharmaceutical company which is running clinical trials of a new dopamine-heavy drug that could cure depression. The experiment is a four-week residential test with strict rules. Prebble focuses on two young volunteers: Connie (Piper) and Tristan. They are from different backgrounds: she is a psychology student from Basingstoke while he is a drifter from Coleraine.
As the intensive experiment progresses, Connie and Tristan are attracted to each other. But is this the result of the happy pills they have been popping, or is it a natural attraction? And how could you tell the difference? Can an experience as life-changing as falling in love be just a side effect? To complicate matters, Prebble throws in that essential element in any blind scientific test, the placebo. Now, which of the two volunteers is taking the placebo, and how does that alter what they think they are feeling?
It has to be said that the premise of the play is fascinating, immediately engrossing. In the past, people thought that the soul dwelt in the spleen, but today we are more likely to believe that the mind resides in the brain. And that all neurological problems, including the devastating disability of depression, are caused by chemical imbalances. In two matching mini-lectures by the two doctors in the story — Dr Lorna James and Dr Toby Sealey — the brain, perhaps the most complex object in the known world, is intellectually dissected.
Of course, the human element is stressed. By giving in to their mutual attraction, Connie and Tristan are breaking the rules of the experiment, much to the dismay of Dr James. She not only tries to control their natural, or drug-induced, urges but she also comes into conflict with Dr Sealey, who believes that a super-Prozac pill is the holy grail of neuroscience. Her attitude is more nuanced, and influenced by her own experience of depression. If love is a drug, sadness is a human curse.
As in Enron, Prebble writes with a really impressive command of complex ideas, and her mix of the personal and the political is here nearly perfect. Okay, you could object that the situation is too simplistic, too much like Peter Shaffer's Equus, but it never feels unsophisticated or jejune. Prebble also chucks in plenty of satirical asides, and there are many fascinating nuggets of information and good jokes. There are oblique references to the Renaissance idea of love as madness and perceptive one liners such as "The history of medicine is the history of placebo".
Likewise, the debate between the two doctors is well balanced and Prebble gives both sides equal weight. The result is humane and compelling. At first I thought that the final 20 minutes of a long evening was a plot twist too far, but actually they convey a very moving note of healing, of quiet and touching human connection. This is all greatly enhanced by Rupert Goold who — with designer Miriam Buether — has created a chic clinical environment, bland yellow and contrasting passionate red, and often covered in projections that convey the abstractions of modern medicine.
But the best aspect of the production is the acting. Billie Piper and Jonjo O'Neill deliver beautifully contrasting performances as Connie and Tristan. Piper makes a convincing journey from light-hearted frivolity to emotionally devastated understanding, while he changes from a mouthy and charming youth to a prematurely aged victim. Likewise, Anastasia Hille is brilliant as Dr James, strict, arid but finally deeply human. And as Dr Sealey, Tom Goodman-Hill is all efficiency, before doubts overwhelm him. Together, they create an intensive, stimulating and moving evening in what might well be the best new play of the year. That's what I felt when I left the theatre — surely it couldn't have just been a temporary chemical imbalance, could it?
This review first appeared on The Arts Desk