Di and Viv and Rose, Hampstead Theatre
Wednesday 23rd January 2013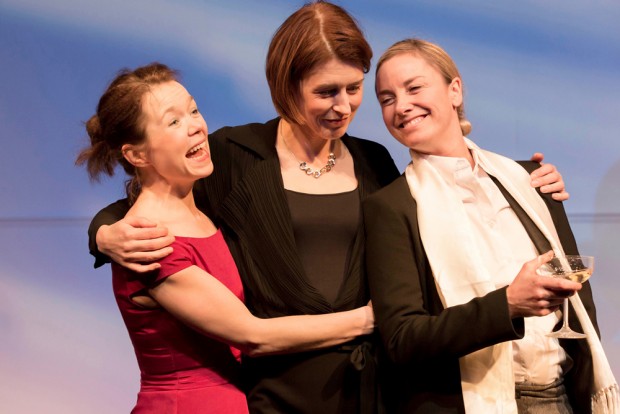 When feminism was really cool, female playwrights would write flatshare dramas about a group of women, each of whom was representative of a certain way of life. The play title would just be a list of their names. The classic example is Pam Gems's Dusa, Fish, Stas and Vi from 1976. Does this mean that Amelia Bullmore's new play, which also has a title listing its female characters, is a trip down nostalgia lane?
Well, you certainly can't complain about its star cast: Gina McKee, Tamzin Outhwaite and Anna Maxwell Martin — they play Viv, Di and Rose, who meet at university at the age of 18 in 1983. At first, they don't really get on. Then they decide to share a house together and gradually they become best friends. The unlikely trio are a study in contrasts: Rose is an upper-class gal who is studying art history, but is more interested in boys; Viv is a northern lass who is highly intellectual and yearns for success; and Di is a working-class woman who does Business Studies, sport and is a lesbian.
As Di and Viv and Rose get used to living together, the play quickly grows into a deeply felt account of female friendship. It's written with a remarkable economy and freshness, and rings true even, or especially, in its moments of absurdity. In Bullmore's hands the problem she has set herself — of writing a story spanning three decades in which only the three women appear on stage — is solved by using a deceptively light bantering dialogue which occasionally turns into pointed comments and then outright slanging matches. Humour is always only an batted eyelash away.
And, like everyone else on the planet, these women need laughter. They have the advantage of being not only instantly likeable, but also of being able to grow on you as the evening progresses. Rose, whose joy in sleeping around is balanced by Viv's desire to keep her in line, is a fun person whose life then runs into the mud. Viv herself is equally attractive: her enormous will to succeed often comes across as an acerbic wit. Last but not least, Di has an appeal all of her own. In Bullmore's hands, this is a lesbian character that is written without cliché or mawkishness. All three women represent different ways of living.
Embraced within the attractive houseshare format are more serious, deeper, concerns. At one point, the nature of kindness is discussed. Rose, who sees herself as a good person, is accused by Viv of being needy rather than kind. Of using her generosity to seduce people, and as a cover for her own irresponsibility. During this episode, I swear that you could feel the audience collectively thinking: "I know someone like that."
But the most serious test of the trio's friendship comes after a ghastly sexual assault. Although this is fraught and painful, there's a generosity in Bullmore's vision of how they cope that is slightly quirky, yet also movingly true. At another moment, when Rose, Di and Viv dance wildly and play air guitar to the music of Prince (well, it is the 1980s) there's a radiant feeling of their joy in each other's company. On the press night, this got a well-deserved round of applause.
In the second half of the evening, Bullmore looks at what happens to the three women after university. The story sketches out their experiences with kids, jobs and marriage. There is illness. And death. Distances separate the friends, and their lives begin to diverge. This is necessarily less focused than the first half, but the intensity is not lost. By the time Lou Reed sings a valedictory  "Pale Blue Eyes", you feel that this has been an emotionally satisfying and perceptive account of three real lives. It's that dense.
Director Anna Mackmin doesn't put a foot wrong. She previously created a smaller version of the play in the Hampstead's basement studio space in 2011, but has clearly not lost her delight in the material. And her superb cast have excellent chemistry: McKee's Viv is rigid, selfish and dryly determined to win, Maxwell Martin's Rose is energetic, in love with life and just a bit dozy, while Outhwaite's Di is earthy, realistic and finally a much needed truth-teller. This is a story of female friendship that is neither sentimental, nor nostalgic. It just feels real.
This review first appeared on The Arts Desk