Handbagged, Tricycle Theatre
Thursday 3rd October 2013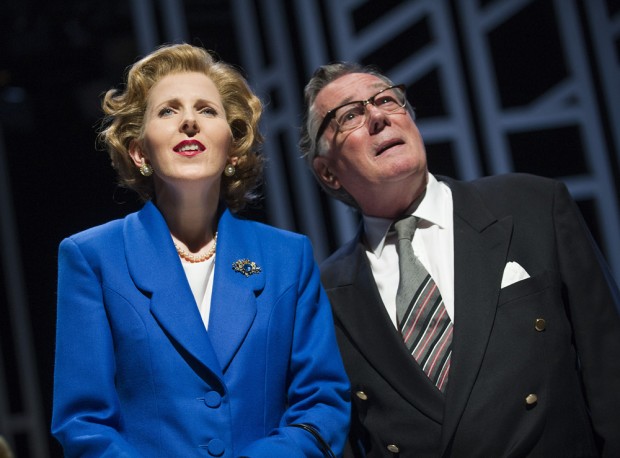 The life of Margaret Thatcher seems to draw sympathetic writers like wasps to a particularly sweet jam. In 2011, playwright and screenwriter Abi Morgan gave us a portrait of the first female prime minister in her film, The Iron Lady, and now Moira Buffini — whose film Tamara Drewe was a hit in 2010 — offers her take on the relationship between Britain's top two 1980s women — Maggie and Elizabeth the Queen. And it comes hot on the heels of Peter Morgan's The Audience, which also featured the two rival queens.
A shorter version of Handbagged was staged at this venue in 2010 — for its Women, Power and Politics season — and the set up is a perennially beguiling one: the weekly meetings between the PM and HM. So what did they talk about? Did they argue? How did they make up? Because these encounters are secret, and the conversations never recorded, writers can give free reign to their imaginations. And Buffini is no slouch in the fantasy department.
Her most theatrical idea is to create two of each woman: thus an older Q and younger Liz are up against an older T and a younger Mags. With two male actors playing almost 20 other roles, from Denis Thatcher to Rupert Murdoch, this an evening of theatrical brio — enlivened by lots of jokes about staging history and explaining the past to a new generation. The historical sweep is epic, from the Falklands to Thatcher's Fall, and the pace self-consciously speedy.
While the 1980s are familiar history to many of us greyhairs, the play archly takes pains to narrate the main events of that distant time. The Queen, of course, has devoted herself to a lifelong service of her country and her Commonwealth. By contrast, her prime minister is unashamedly ideological, inflexible and iron-souled. In one typically amusing scene, Mrs T is appalled by the Queen's Christmas speech, which she sees as criticising her policies. She asks, "Is Her Majesty a socialist?" and hubbie Denis replies: "I don't think she's an actual Trot, old love."
It's almost a theatrical convention that in clashes between the monarch and the prime minister, the Queen comes off best. This figurehead of our national identity, this honourable woman who takes her job seriously and performs it dutifully surely must triumph over a mere politician, no matter how charismatic or ambitious. Thus this is a play about how a famous handbagger herself gets handbagged — an example of poetic justice that appeals to our sense of fair play.
Yet although the Queen comes across as more attractive, and much more fun, Buffini is scrupulously fair in her portrait of both women, and her Thatcher is no ogre. The touches of emotional pain in the playtext are beautifully highlighted in Indhu Rubasingham's fluent and funny production, neatly designed by Richard Kent. Her outstanding cast includes Marion Bailey as the playful older Queen and Clare Holman as the dutiful younger one; Fenella Woolgar is in perfect vocal form as the younger Mrs T while Stella Gonet is unexpectedly vulnerable as the older incarnation. Neet Mohan and Jeff Rawle play all the blokes, who barely get a word in.
If both women were similar in that they represented the nation as figureheads and as symbols of the Establishment, the one traditional, the other radical in her right-wing reforming certitude, this is more myth than history. Actually, both of them were, and Her Maj remains, deeply unattractive as people — yet strangely no one dares to criticise the royals nowadays. Given the blatant success of this stage show, the obvious question must be: is it time for a film version?
This review first appeared on The Arts Desk