Scanning the Horizon (New Writing 2008)
Sunday 1st February 2009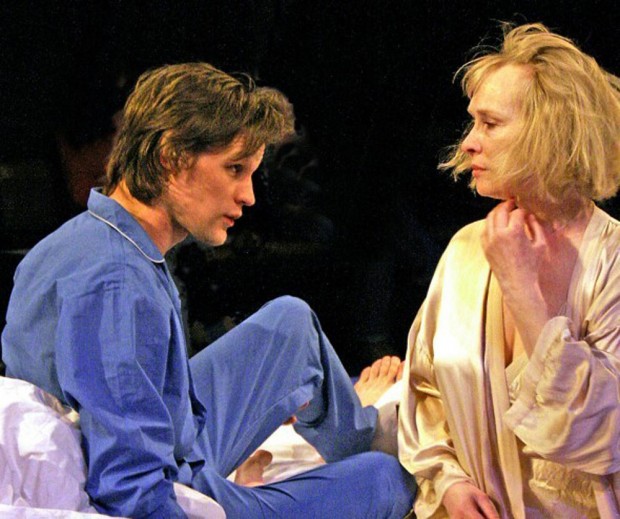 In 'LDN', her hymn to the mysterious joys of the UK metropolis, Lily Allen sings, "Everything seems to look as it should/ But I wonder what goes on behind doors" (Alright, Still, 2006). In the past year, lovers of contemporary text-based theatre might also be wondering what is going on behind the doors of Britain's main new writing venues. How have recent changes at the top of specialist new writing theatres such as the Royal Court, Bush, Soho and Traverse affected their output?
At the Royal Court, new artistic director Dominic Cooke — along with new literary manager Ruth Little — has broken with his predecessors by concentrating on exploring his theatre's resources rather than, like his predecessor Ian Rickson, chasing after every novelty in sight. So instead of staging one underdeveloped discovery after another, he has spent his second year at the helm in consolidating the achievements of 2007. Boasting attendance figures of 91 per cent in his first year, Cooke has given a second airing to some of the most popular studio plays of that year. In a daring move, he transferred Polly Stenham's That Face from the Theatre Upstairs to the West End, along with its bankable star, Lindsay Duncan, and also adding Hannah Murray, from Channel 4's teen television drama Skins, to the cast. Although this production, directed by Jeremy Herrin, was not really big enough to fill the large Duke of York's, the essence of Stenham's acerbic look at middle-class parenting and oedipal desire did survive the move.
Similarly, Cooke has brought three other new plays down from the studio and onto his main stage: Marius von Mayenberg's The Ugly One, Anupama Chandrasekhar's Free Outgoing and Bola Agbaje's Gone Too Far! Thrillingly enough, both The Ugly One and Gone Too Far! were given productions that implicitly questioned the hegemony of naturalism: thank you Ramin Gray and Bijan Sheibani. Evidence that the Court is expanding the horizons of theatricality can also be found in Cooke's exploration of theatre space. In 2007, Mike Bartlett's My Child was given a production by Sacha Wares which used a claustrophobic design that made audiences feel as if they were in an Underground train or a basement bar. A year later, the same director staged debbie tucker green's new play Random — about a teen stabbing — as a one-woman show with Nadine Marshall playing all the characters on a bare stage with no props, no lighting, no design. Meanwhile, Bartlett's latest, Contractions, was staged in one of the Court's upstairs admin offices, while Levi David Addai's debut Oxford Street transferred from the studio to a one-week run in an empty shop at the Elephant and Castle shopping centre, where those unable to get tickets watched the show through the shop window. Similarly, Fiona Evans' Scarborough, which had been originally performed in a real-life boarding house, was staged in the Theatre Upstairs, which was turned into a simulacrum of the seedy original, with the audience perched on window sills or sitting on the carpet.
And there's more. Veteran shocksmith Anthony Neilson's Relocated, a genuinely creepy play, was staged with memorably crepuscular lighting and accompanied by a deliberate smell of disinfectant. The Royal Court was also one of the partner theatres that staged Mark Ravenhill's 16-short-play cycle, Shoot/Get Treasure/Repeat, most of which were performed in unusual locations, such as the theatre bar. (However, the short runs of these playlets meant that few audience members were able to see more than a couple.)
Perhaps inspired by the success of companies such as Punchdrunk, which specialise in converting found spaces into theatre environments, some of the best new writing has been happening in spaces that are unusual, or specially adapted. At the small but influential Bush, new artistic director Josie Rourke has also tried to shake off the limitations of her theatre's architecture. She turned her space in a makeshift theatre-in-the round for Mike Bartlett's superb Fragments and then into a picture-frame proscenium for the up-and coming Lucy Kirkwood's overblown Tinderbox. Rourke has also had to struggle with a leaking roof. But when, in the summer of 2008, she decided to restructure her staff by doing away with the job of literary manager, the eyebrows of diehard new writing stalwarts leapt up. After all, aren't literary managers meant to be an essential part of the definition of a specialist new writing venue?
Less controversial has been Lisa Goldman's stewardship of the Soho Theatre. By abandoning her predecessor Abigail Morris's policy of only staging new plays by first-time young writers, Goldman has brought a breath of fresh air to the programming. The chief beneficiary has been Philip Ridley, whose Leaves of Glass (2007) has been followed by the equally imaginative and provocative Piranha Heights (2008), thus completing an informal trilogy about brothers which began with Mercury Fur in 2005. Goldman has also staged one of the best plays about Iraq, Baghdad Wedding by Hassan Abdulrazzak. In fact, her overseas offerings, such as A Couple of Poor, Polish-Speaking Romanians by Polish writer Dorota Maslowska, have often felt as if they were dramaturgically more interesting than her stagings of homegrown talents such as Roy Williams and Tanika Gupta, who incidentally were both honoured by the Queen in 2008 for their services to theatre, a sign of official recognition for two hardworking and prolific writers. But, despite her best efforts, Goldman has not yet found her signature piece, a sufficiently memorable example of political theatre.
In Scotland, the Traverse under Dominic Hill has staged his first season, called Manifesto. This featured Fall, a new play by Zinnie Harris, and the UK premiere of Simon Stephens's Pornography, in a co-production with Birmingham Rep. Both were highly individual takes on today's politics. Hill has also hosted Irish playwrights such as Mark O'Rowe (Terminus) and Enda Walsh (The New Electric Ballroom), with Wales's Sherman Cymru making their first visit to the venue with Deep Cut, Philip Ralph's verbatim piece about the deaths of young army recruits. But, despite such successes, there is a feeling that the good, old Traverse has been partially eclipsed by the new kid on the block: the National Theatre of Scotland.
NTS productions, from Gregory Burke's relentlessly popular Black Watch and Anthony Neilson's ever-provocative The Wonderful World of Dissocia, to David Harrower's slightly less successful 365, have all been worth seeing and discussing. Theatre-makers have been so enthusiastic about the NTS that's it hard to believe that the company, headed by Vicky Featherstone and John Tiffany, is barely three years old. But although comparisons with John McGrath and the heritage of Scottish performance are justified, the NTS is caught in something of a bind: although its regular artists excel at theatre that conveys a sense of wonder and glory, this doesn't always sit comfortably with their subject matter. It's hard to make exuberant theatre about an army regiment (Black Watch) without glorifying militarism — and how do you make entertainment about children in care (365)?
In other mainstream venues, verse drama has made a thoroughly unwelcome return: at the National, Tony Harrison's Fram, and, at Shakespeare's Globe, Glyn Maxwell's Liberty, both proved that verse plays are among the best ways of driving audiences to narcolepsy. The National has continued Nicholas Hytner's policy of staging solid middle-class family dramas, from Simon Stephens's imperfect Harper Regan to Lucinda Coxon's more acute Happy Now?, with a dash of dance drama thrown in for good measure. In general, however, most of the offerings at this address have been history plays, from Michael Frayn's Afterlife (about Max Reinhardt) to Rebecca Lenkiewicz's Her Naked Skin (about the suffragettes), which suggests an audience appetite for nostalgia.
Elsewhere, new contemporary plays by the big names, from David Hare's The Vertical Hour to Martin Crimp's The City, have added only slightly to the canon of these particular writers. And the same is true of relative newcomers such as debbie tucker green's Random and Dennis Kelly's Taking Care of Baby. In the West End, the revival of two plays from 2000, Philip Ridley's Vincent River at a small venue, and David Eldridge's Under the Blue Sky at a large one, was a reminder of these writers' substantial back catalogues. Other playwrights, most notably David Edgar and Richard Bean, have explored issues around national identity, in Testing the Echo and The English Game. For neophiliacs, other new names have been spotted on the fringe: Fin Kennedy, Dan Rebellato, Gene David Kirk, James Graham, Rachel Wagstaff, Ali Taylor, Sophie Woolley, Tom Morton-Smith, Louise Ramsden, Al Smith and Matt Hartley.
Although new writing in Britain has dipped its toe in the water of more exuberant and imaginative theatre practices, from the movement work of the NTS to the found spaces being explored by the specialist new writing venues, too many English playwrights seem like wallflowers at an end-of-term bop — they watch the action, but are too shy to join in. And, it is clear, their directors are also resting on the sidelines, safely cuddled up with our good friends, naturalism and social realism. Behind every inventive, jiving director, like Sacha Wares or Ramin Gray, stand phalanxes of the ordinary. If linear naturalism remains the bread and butter of new writing, most directors share this unexciting diet. So although many practitioners subscribe to the notion that theatre should be adventurously theatrical, their actual practice is often neither ambitious nor thrilling. Sometimes, you just long for both directors and writers to play with fire. As Lily Allen's song about drinking and clubbing, 'Friday Night', proclaims: "There's a lesson that I want you to learn,/ If you're gonna play with fire then you're gonna get burned." But the insights that come from getting your fingers singed are sometimes more revealing than the dull normality of staying unscathed. Scanning the horizon for evidence of the new, one looks for a flash of light. At the moment, all you see is a curtain of darkness.
© An earlier version of this article appeared as 'New writing: scanning the horizon', Contemporary Theatre Review, vol 19 issue 1, February 2009: pp 131-3.