The Old Guard Departs (New Writing 2007)
Thursday 1st November 2007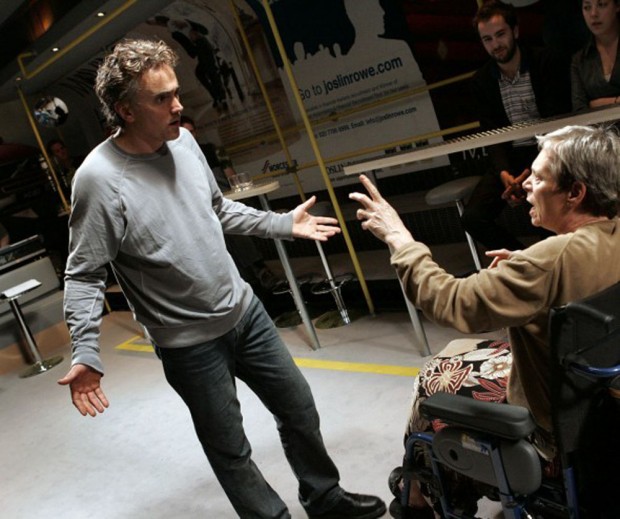 In 'Fuck for Ever', on the Babyshambles 2005 state-of-the-nation CD, Down in Albion, Pete Doherty sings in his own inimitable way: "It's all and the same/ It's all and the same, oh". Observers of the new writing scene in Britain today could be forgiven for uttering a similar gasp of exhausted resignation. Everyone you talk to in the London theatre scene has something to say about directors or site-specific work: flavour of the year is the innovative Punchdrunk theatre company. In bars and foyers, on websites and blogs, it's the directors that matter. Katie Mitchell's productions create controversy, Nicholas Hytner's regime at the National continues to surprise and occasionally delight, and the buzz is with Rupert Goold, John Tiffany and Thea Sharrock. No one is talking about new writing; no one is excited by emerging young writers. No one is rushing down the street with news of a hot new aesthetic, or of a new sensibility.
But, just when it seems that so much new writing is mired in the mud of social realism and soap-opera naturalism, often further bogged down by verbatim drama, perhaps some green shoots of change can be discerned. Certainly, in one of those coincidences that seem to shoulder a significance beyond their immediate impact, the leadership of most of the specialist new writing theatres in Britain has changed hands. As the old guard departs at the Royal Court, Traverse, Bush, Soho and Theatre 503, who are the newcomers and what can we expect from them?
Just as 2007 was the year when Gordon Brown took over as prime minister from Tony Blair, raising expectations that were both overdue and exaggerated, so the changing of the guard at Britain's premier new writing venues offers a challenge as well as an opportunity. It's certainly a time with its fair share of symbolic moments. At the Royal Court, the outgoing artistic director, Ian Rickson, chose Chekhov's The Seagull as his parting shot (Perhaps remembering a similar gesture by Max Stafford-Clark, who ended his tenure of this theatre with a production of another classic, King Lear, in 1993). In a stark illustration of how this once-cutting-edge institution has declined, you need only compare two versions of this play. At the National, Mitchell's production (with text by Martin Crimp) is fast, original and shocking; at the Royal Court, Rickson's version (with text by Christopher Hampton) is slow, clichéd and traditional. With its samovars and moody atmosphere, it is a vision of Chekhov that could have been staged at any time during the past thirty years. Mitchell's production makes you sit up; Rickson's makes you yawn. It does, however, make it easier to wave him goodbye.
His successor, Dominic Cooke, started his reign at the Court in 2007 by staging the work of six first-time writers in the studio Theatre Upstairs. Here variety was the keynote: Bola Agbaje's Gone Too Far! is a council-estate drama that draws on her experiences of being from a Nigerian background, while Alexandra Wood's The Eleventh Capital is a cool political play; Belfast-born Lucy Caldwell's Leaves is an inconclusive family drama which contrasts with Polly Stenham's That Face, an in-yer-face screamer; Mike Bartlett's My Child is a 40-minute treatment of a custody battle, while DC Moore's Alaska is a non-judgemental look at racism. Like much new writing, these are neat, but small plays. The high proportion of women is, however, a reminder of the hopes currently pinned on writers such as Laura Wade, Rebecca Lenkiewicz, Lucy Prebble, debbie tucker green, Nell Leyshon and Nina Raine.
On the main stage, Cooke directed the opener himself. Significantly, he chose an American playwright, Bruce Norris, whose The Pain and the Itch is a disturbing drama about child abuse, class antagonism and the selfishness at the heart of the American Dream. Whatever the drawbacks of Cooke's production, the play did seem to fulfill his much-quoted statement that he intended to stage "middle-class dramas". As the Guardian reported, he said, "I want to look at what it means to be middle class, what it means to have power, what it means to have wealth." Liberals beware, the article insisted in what was surely a laughable overstatement, a night at the Court "may feel a little more uncomfortable". (1)
But while the Court has always staged middle-class dramas (with his university education, isn't Jimmy Porter a typical middle-class dropout?), maybe Cooke was simply pointing out the obvious inadequacies of the kind of dirty realism (plays set among lowlifes) that have long made Sloane Square a required stop on any itinerary of cultural tourism: cheap holidays in other people's misery. More controversially, the whole of the Court's autumn season was devoted to international work. Revivals of Ionesco's Rhinoceros (translated by Martin Crimp) and Frisch's The Arsonists (translated by Alistair Beaton) on the main stage, and new work by youngish writers from Germany, Romania, India, Sweden and the Ukraine in the studio.
Once again, the keynote is variety. On the one hand, this marks a return to the Court's international outlook under George Devine in the late 1950s, when Brecht, Beckett and Ionesco were as welcome as Osborne, Wesker or Arden. On the other hand, it merely postpones the vital question: what kind of British new writing will Cooke manage to find? With the rapid departure of Graham Whybrow, the venue's long-serving literary manager, the field is wide open to change. Time will tell.
On the other side of London, where Josie Rourke has taken over from Mike Bradwell at the Bush theatre, the watchword is continuity. Bradwell departed with a production of Georgia Fitch's I Like Mine with a Kiss, an intense if imperfect account of female friendship. Rourke takes up the reins with, like Cooke, a bunch of foreign plays: Tom Fool by Franz Xaver Kroetz, Elling by Simon Bent from Ingvar Ambjørnsen's novel, and Trance by Shoji Kokami. Next, her autumn season looks like a strong restatement of typical Bush theatre fare. David Watson's Flight Path continues the theatre's recent tradition of plays that examine adolescence; Ian McHugh's How To Curse is a mix of in-yer-face intensity and supernatural speculation; Bush veteran Mike Packer's The Dysfunckshonalz! is a foul-mouthed account of punk and consumerism.
The season's trademark mix of shocking screamers with more tender slices of life is familiar at this venue. Rourke praised "the new wave of writers for being highly theatrical, not dumbed down or working with telly in mind, but rather seeing the stage as a place to be daring", (2) and suggested that their main theme was the future, an anxious contemplation of where the world is heading. That might be true, but her main challenge has less to do with the plays she decides to stage and more to do with the nature of the theatre space. When the Bush was refurbished in 2000, its reopening marked a change of character: a shabby pub theatre had turned into a slick studio space. Since then, Bradwell has repeatedly pointed out that the Bush is no longer a fringe venue, but an Off-West-End theatre. The main problem is that, with less than 100 seats, it has never been able to fully capitalise on the successes of its shows, despite their high production values. When a play is a sellout, but not suitable for a West End transfer, a large number of punters simply can't get a ticket. The solution has been clear: find another venue with more space for the audience. This is now Rourke's challenge: to preserve the intimacy of the Bush's playing space while moving to a new venue which can maximise audience size.
Meanwhile, at the Soho theatre, Lisa Goldman has taken over from Abigail Morris. With her background at the Red Room and Artists Against the War, Goldman brought a more explicitly political sensibility to this venue. On arrival, she immediately widened the remit of the Soho — which under Morris focused almost exclusively on first-time young writers — and promised to explore theatricality as well as playwriting. Her first three plays certainly have a strong sense of the contemporary: veteran Philip Ridley's typically imaginative Leaves of Glass is followed by Oladipo Agboluaje's The Christ of Coldharbour Lane and Hassan Abdulrazzak's Baghdad Wedding. Okay, so neither of these last two was a truly great play, but at least they gave off the smell of current sensibilities. Goldman's challenge is to find writers whose work is suitable for the innovative stagings that she would so dearly like to direct. The Verity Bargate Award for new writers, run by the Soho Theatre, rewards the winning newcomer's script with a full production, and will be a litmus test. It has received more entries than ever this year, but the question remains: will the winner be any good?
Outside London, Edinburgh's Traverse is the premiere new writing venue. Here, Dominic Hill will be taking over from Philip Howard in 2008. In an interview, he said that his aim was to broaden the Traverse's remit: "There's a huge raft of writers that I admire, but it's not just Scottish playwrights. The core of the Traverse is always going to be developing new Scottish writing, but I'm interested in putting that work in a broader context. The Traverse is an internationally renowned theatre, which already has the Greigs, the Harrowers, the Hannans, the Patersons and so on which it has developed. I'm interested in putting writers like that in a context with other UK writers, like Dennis Kelly, Simon Stephens and so on. It feels like this theatre can be a home for them, just as English theatres have staged work by writers from Scotland, like Zinnie Harris and Douglas Maxwell." (3) In Scotland, it is widely felt that Hill will look across the border to English writers like Stephens or Crimp, whose work has affinities with Scottish traditions. Hill has no formal ties with the theatre's current regime, and this offers an opportunity for a rethink. It is certainly true that because Hill is not a new writing specialist, he is not a safe pair of hands. But, paradoxically, this dose of danger might be just what this venue needs. Encore Theatre Magazine, an internet publication, points out that "the Traverse has perhaps drifted of late, its pre-eminent position in Scottish theatre wrongfooted by the introduction of the National Theatre of Scotland." (4)
Certainly, the creation of the NTS, led by Vicky Featherstone, in 2006 has had a stimulating effect on British playwriting. Scottish talents such as David Greig, David Harrower, Gregory Burke (whose Black Watch was the hit of the Edinburgh Fringe in 2006) and Anthony Neilson are in the first rank, and work in traditional venues, such as Suspect Culture's Futurology: A Global Review, has been joined by site-specific successes such as the Home series. The NTS has no permanent theatre building, and has clearly risen to the challenge that this policy presents. Significantly, Cooke has already imported Neilson's The Wonderful World of Dissocia — a NTS revival — for a run at the Royal Court.
On the London fringe, mention must be made of Theatre 503 (formerly the Latchmere), which since 2002 has, under Paul Higgins, punched far above its weight in the new writing scene. In 2006, Higgins left and a youthful duo, Paul Robinson and Tim Roseman, took over in the following year. Their artistic vision stressed, not surprisingly, that 503 is a theatre of imagination and opportunity, a place where a fledgeling writer gets their first break. Their aim is to increase the number of in-house shows and to collaborate with groundbreaking companies. They are also conscious of the economics of putting on fringe shows: a production here used to cost about £4,000, but now costs £15-20,000, simply because they'd rather do it properly than just cobble things together and hope for the best. In 2007, highlights include Salt Meets Wound by Tom Morton-Smith, Future Me by Stephen Brown and Silver Tongue's Shiver, as well as The Last Hurrah season by a loose group called The Apathists (Duncan Macmillan, Mike Bartlett, Nick Gill, Rachel Wagstaff, Simon Vinnecombe and Morgan Lloyd Malcolm). These writers come from writers programmes, such as that at the Royal Court and the Old Vic Young Voices scheme, and aim to write and produce one short play each for one performance every month.
Robinson and Roseman have also expressed an interest in political theatre that asks intractable questions rather than staging worthy lefty tracts that challenge no one. The search is on for a right-wing political play. (5) "One of the things that's been hugely important here is really upping the ante visually," adds Roseman. "So the first show here we clad the entire theatre in white plastic. The next show we ripped out all the seats and turned it into a ship in the round. The first thing we say to people when we meet them is 'Don't presume, because it's a small place, that you have to be unimaginative.'" (6)
So much for small spaces. Speaking from one of largest places in British theatre, Nicholas Hytner, artistic director of the National Theatre, has a piece of bad news for young writers. He argues that the hottest British dramatists right now are all over 70. Alan Bennett, Tom Stoppard and Michael Frayn may already have their free bus passes, but they are still writing at the top of their game. Crucially, their plays have the muscle to pull in and engage large audiences. At the Court, Caryl Churchill (who is 69) is a similar veteran. "I am just looking," Hytner says, "with a kind of voracious hunger for all those who started in the black-box studio spaces to step up to something larger which resonates outside the theatre ghetto." (7)
Well, he's not alone in having this dream. But the sad truth is that, apart perhaps from David Eldridge, Simon Stephens, Moira Buffini, Roy Williams, Tanika Gupta and Richard Bean, there are precious few newish playwrights in England who are able, or willing, to be both populist and experimental, to entertain as well as surprise. Whether the new arrivals at the head of the major new writing venues in Britain will be able to change this miserable situation remains to be seen. At the moment, to quote Babyshambles just once more: "We're on the one road/ Maybe the wrong road/ It's the road to fuck knows where."
Notes
Mark Brown and Maev Kennedy, 'New director to satirise audience', Guardian, 7 February 2007.
Kate Bassett, 'Drama kings and queens: meet the new generation of writers and directors behind the renaissance of British theatre', Independent on Sunday, 19 August 2007.
Steve Cramer, 'Dominic Hill', The List (Issue 580), 17 July 2007.
Anon, 'Hill for the Traverse', Encore Theatre Magazine, 10 July 2007.
Andrew Haydon, 'Interview: Paul Robinson and Tim Roseman', TheatreVOICE website, 19 January 2007.
Jane Edwardes and Rachel Halliburton, 'London's new theatre directors', Time Out, 17 July 2007.
Kate Bassett, ibid.
© An earlier version of this article appeared as 'New writing: the old guard departs', Contemporary Theatre Review, vol 17 issue 4, November 2007: pp 596-9.