God's Property, Soho Theatre
Wednesday 27th February 2013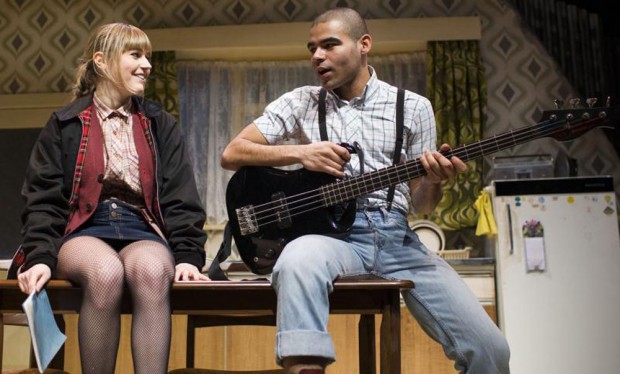 Politics is back on the agenda for young writers, and three new plays show different aspects of this critical attitude to the possessors of power. All three plays — God's Property, Bitch Boxer and Bottleneck — are being staged at the Soho Theatre, which under its artistic director Steve Marmion has explored both conventional and unconventional political work. But are they symptoms of a wider mood of contestation, or just little gestures of revolt?
God's Property, by Arinze Kene — familiar to many as Connor from EastEnders — is set in Deptford, south London, in 1982, soon after the first Brixton riots and in the early days of Thatcherism. The story is focused on two mixed-race brothers, who have a Nigerian father and an Irish mother. They make a neat pair of opposites.
For while the 16-year-old Onochie lives at home with his mum, he has become a skinhead and not longer sees himself as black. He hangs out with white racists. By contrast, his older brother Chima has been in prison for a decade for the murder of a young white girl. When he comes home, he has to do this in secret because the local white community want to lynch him.
So the play starts off with decision time for Onochie. He has to take sides: but will he stand by the brother he barely knows or with the community he aches to be part of? By focusing on the opposing identities of these mixed-race brothers, Kene highlights the racial tensions of the area in the 1980s while at the same time remaining completely contemporary — this remains a very contentious issue.
At the same time, Kene also folds in some other social considerations. Chima makes reference to the 1981 New Cross fire, in which 13 black youngsters died, and the failed police investigation into its causes. He talks about the infamous Sus laws, and Operation Swamp in Brixton, which sparked the 1981 riots. Individual feelings about identity have a clear social and political context.
For although Kene's writing is broadly naturalistic, and his plot a classic stage thriller with its twists and revelations, his style is heightened by the fact that both brothers are capable of little shards of bright poetry despite the poverty of their lives. When 16-year-old Holly, a white girl from the local estate and Onochie's girlfriend, arrives, their banter is a hilarious depiction of puppy love. So as well as having tension and drama, this show is also very entertaining.
God's Property grew out of Soho Theatre's Soho Six Writers Group in 2011, and Kene was a member of its young writers programme. As directed by Michael Buffong, artistic director of Talawa theatre company, designed by Ellen Cairns, and first staged at the Albany, the play is well cast, both engaging and compelling. The excellent Kingsley Ben-Adir as Chima and Ash Hunter as Onochie provide an excellent study in contrast, while Ria Zmitrowicz is appealing in the role of Holly.
And, apart from the laughs and thrills, the play also reminds us that the recessions of the 1980s, with growing unemployment and gradually falling living standards, had a direct impact not only on working-class communities, but also on racial tensions. This seems to me to be as relevant today as it was then.
© Aleks Sierz