The Author, Royal Court
Monday 28th September 2009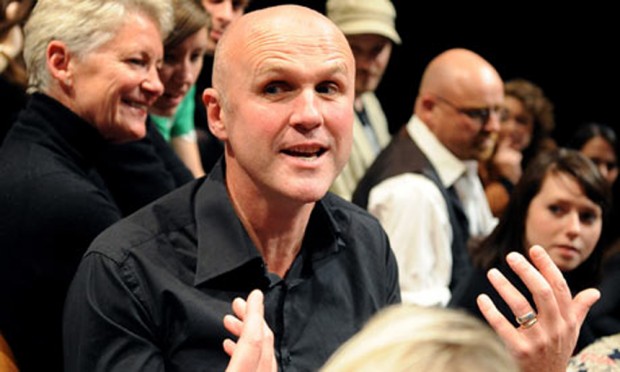 Okay, this is how it goes. I'm seeing Tim Crouch's experimental new play, The Author, at the Royal Court. I know that it is, as you'd expect from this venue, based on a written text, but that it will also involve audience participation. I mean, I have seen Crouch's work before. As I flick through the playtext, which as usual at this venue is also the programme, a young woman sitting next to me starts chatting. She asks me questions; she says she's student. Knowing that the show involves audience participation, I immediately tense up. Is she one of the actors? Is this a trap? What should I say?
This is exactly the effect that Crouch's work typically provokes. His play making is precisely aimed at interrogating audience reactions, and making us question what is real and what is not when it is presented on stage. And the stage, in this performance, has actually disappeared. Crouch and his directors (and usual collaborators), Karl James and a smith, have created a traverse staging, but with one vital difference. They have brought the two banks of facing seats right up against each other, so the stage — the playing area — is just a narrow space between two banks of seats. This means, of course, that the playing space is the audience. That is where the action is.
Although the audience know who is in the cast before the play begins, not everyone will know what the performers look like. Personally, I immediately recognised Crouch from the various times I've met him, and from his previous shows, and he is definitely in character from the start. There's something about performing in public, even to a small crowd, that makes you seem on edge, nervous, up. But, although I think some of the other actors are familiar, I don't really know who they are until the show starts.
The show begins with a simple "I love this" from actor Adrian Howells. He then introduces himself and admires the theatre, praising the joys of theatre-going. He discusses the experience of going to see a play. The show really is about us. Gradually, Tim Crouch — The Author's author — joins in, and starts outlining and discussing his fictional experience of staging a play about violent sexual abuse. So at the same time the show really is not about us.
The Author is a thoroughly engaging piece of theatre. Or should that be anti-theatre? It is a beautifully written piece, partly a meditation on going to the theatre, and partly a satire on the typical Royal Court play of the past 10 or so years, with the play that the cast discuss being a particularly gross and disturbing example of in-yer-face theatre. Vic Llewellyn, who plays the abuser, and Esther Smith, who plays his young victim, take up the story. Slowly, it becomes clear that the process of staging a shocking and disgusting play has taken its toll on author, cast and audience alike.
With a deft touch, Crouch reminds us of the risks of live performance, and questions the traditional division between performers and spectators. Bringing in some extremely disturbing material, from images of beheadings to a story about child abuse, Crouch demonstrates how theatre happens more in our heads than on stage. The cast, who are sitting among the audience, which is watching each other across a narrow gap, begin slightly awkwardly, but soon settle into their roles, switching from direct address to fully convincing acting.
There is a rare edginess to this show. The audience doesn't really know what will happen next, and when the actors address them, asking some simple and innocuous questions, the responses are polite enough, but a touch tense. You feel that, at any moment, someone might walk out, or faint. Or react unexpectedly. Crouch's writing, especially his parody of in-yer-face theatre, is dangerous enough to offend, or appal.
At the end of the 80-minute experience, it turned out that my neighbour really was an acting student, studying at East 15. She wasn't in the cast, but The Author is the kind of theatre where I am really tempted to review the audience, who frequently join in, and generally they were good on the night. Very convincing as ordinary folk. And, of course, this is the anonymous acting student's first mention in a review. I wonder if, when I see her in another play, I will recognise her?
© Aleks Sierz