The Herd, Bush Theatre
Wednesday 18th September 2013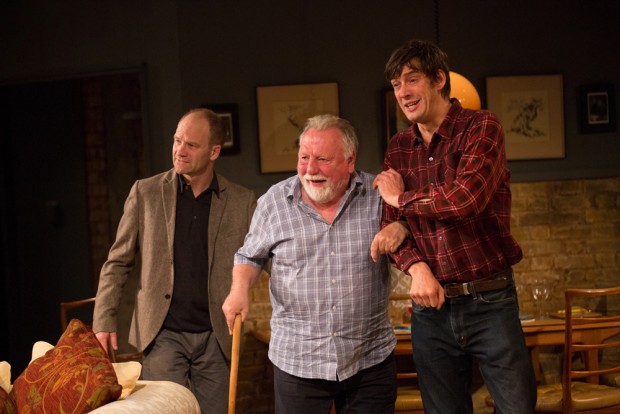 Once a staple of British drama, the middle-class family play has recently, after about a decade of being unfashionable, made a remarkable comeback. This current example is the playwriting debut of the award-winning actor Rory Kinnear, a star of stage (Hamlet, Othello), television (Southcliffe) and screen (Skyfall). But although it is an accomplished effort, there is something disappointingly déjà vu about this reunion play.
Set in a London suburb, it is the day of Andy's 21st birthday party. The twist is that he is severely disabled and, as the play begins, his mother, Carol, is phoning his care workers to arrange for him to be brought home for this special day. As she does so, her thirtysomething daughter Claire arrives, soon followed by the grandparents, Brian — who needs help to get in and out of an armchair — and Patricia. But other guests are more unexpected. Claire has invited her new partner, Mark — a poet — and then Ian, Carol's estranged husband, gatecrashes the party.
So although this might at first sight pass for a nice middle-class gathering, these surprise visitors are the fuel that turns up the emotional heat of the occasion. All the usual tensions that course through the veins of Carol and Ian are exacerbated by the years of looking after the disabled Andy. But when Patricia tells Ian that the "ferocity" of her antipathy towards him is a "match compared to the furnace that rages within your daughter", it is clear that Kinnear's models are not only Alan Ayckbourn and Peter Nichols, but also the Jacobean dramatists.
Dialogues become sword fights and metaphors shine and jangle in the kitchen and living room. Kinnear's rapier thrusts bristle with dark humour and crackle with emotional fireworks. Feelings good, bad and ugly. Well, mainly ugly. There are few embarrassed silences; lots of shouting matches. A couple of revelations, shocks spiced with humour, spice up the action. But hatred can be a bit wearing and the relentless intensity of the evening can feel a bit depressing. At least, that's how it was for me.
On the positive side, the full complexity of family life is powerfully imagined. There's a real tug of love between Carol, the dominating mother, and her resentful daughter, pushed to one side by the huge demands of looking after her brother. Then Ian and Claire offer an even more brutal example of antagonism. Granddad and grandma bring their own emotional pain to the party. Parents will find much that is familiar here. Carol's conclusion — "Be brave — that's all there is" — feels right.
However, there is more than one didactic moment, and sometimes it seems as if Kinnear is wagging his finger at us. Still, Howard Davies's meticulous production, designed by Helen Goddard, is full of domestic detail: orange juice is poured, pittas are defrosted, place mats are put down, salad dressing prepared, teas are made and drinks are poured. Convincing performances from an ace cast — headed by Amanda Root's Carol and Anna Calder-Marshall's Patricia, with strong support from Louise Brealey (Claire), Kenneth Cranham (Brian), Adrian Rawlins (Ian) and Adrian Bower (Mark). But even excellent acting can't really make up for the play's lack of original vision.
This review first appeared on The Arts Desk