'"Me and My Mates" (New Writing 2003)
Sunday 1st February 2004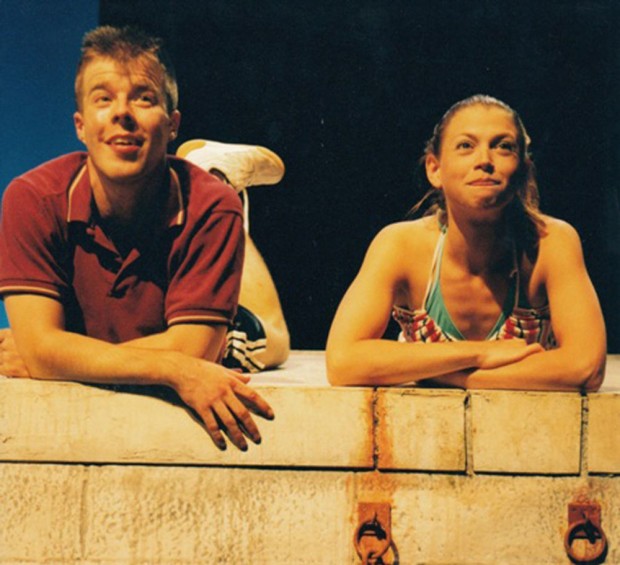 In 1968, the year of revolutions, Peter Brook wrote, in his classic The Empty Space, that "in theory few men [sic] are as free as a playwright. He can bring the whole world on to his stage. But in fact he is strangely timid." In 2003, a decade has almost passed since the exciting debuts of the in-yer-face playwrights, such as Anthony Neilson, Sarah Kane and Mark Ravenhill, writers whose plays have gone on to conquer European stages in an unprecedented way, so it might be a good time to ask the taboo question: are young English playwrights actually any good? Or has the insular curse of timidity come back to haunt us?
At the moment the signs are mixed: on the one hand, there have never been more young playwrights (it's easy to come up with the names of about 150 writers who made debuts in the past 10 years — a unique phenomenon not only in Europe, but in history); on the other hand, you can't help wondering about the quality of their work. Some signs give cause for concern: in 2002, the Soho Theatre's biennial Verity Bargate award for the best play by a first-time writer was withheld — because the judges (including myself) thought that none of the plays submitted were good enough to win. The previous year, the panel of London's prestigious Evening Standard awards thought the same and the best new play category remained empty.
Of course, in the past two or three years there have been plenty of good new plays, but most of them have been written by Scottish, American or Irish writers (for example, Gregory Burke's Gagarin Way, David Greig's Outlying Islands or Anthony Neilson's Stitching; Stephen Greenberg's Take Me Out, Tony Kushner's Homebody/Kabul or Stephen Adly Guirgis's Jesus Hopped the 'A' Train; Eugene O'Brien's Eden, Enda Walsh's Bedbound or Owen McCafferty's Scenes from the Big Picture). However entertaining, most young English writers don't quite match the originality, vision or imaginative scope of these writers. The best English plays have been by veterans such as Caryl Churchill or Terry Johnson. So if there is a crisis of new writing, it is a crisis of young writing.
Looking at the three new writing bonanzas in London in autumn 2002 — the Soho theatre's writers festival, the Royal Court's Imprint young writers festival and the Bush theatre's Naked Talent season — it's easy to spot the limitations of English writers. Most plays are linear social realist accounts of what happens to "me and my mates". They tend to be about young people, with no parents or children, no jobs or work colleagues, no hinterland. Usually they are set in flat shares. Their timidity is expressed in small casts, small theatrical ambition and in an insular small-mindedness.
Of course, not all the news is bad. Debuts by 17-year-old Neela Dolezalova (Playing Fields) and Polly Wiseman (Bright) at the Soho, Chloe Moss (A Day in Dull Armour) and Emma Rosoman (The One with the Oven) at the Court, and Georgia Fitch (Adrenalin… Heart) at the Bush did send pulses racing. Yet, despite being well-written and confidently theatrical, these are still small plays about small subjects. Still, there is also evidence that young(ish) writers are not content to let things stay as they are. A debate organised by Writernet, as part of its annual Writers' Expo at the Soho Theatre, suggested some remedies. Entitled The Friday Provocation: The Monsterists, it took place on 8 November 2002 and allowed a group of writers to discuss the state of new writing with Dominic Dromgoole, artistic director of the Oxford Stage Company.
Monstrous complacency
The origins of the Monsterists lie in Trevor Nunn's valedictory Transformation season at the National Theatre. Whatever the limitations of that season — it was an aesthetic ragbag of every kind of new writing designed to bring in the young audiences rather than to explore new kinds of theatricality — it certainly stimulated the ambitions of young(ish) writers. Playwrights such as Richard Bean, Simon Bowen, Moira Buffini, David Eldridge, Tanika Gupta, Jonathan Lewis, Colin Teevan and Roy Williams met at the National and have issued a Monsterist manifesto "to promote new writing of large-scale work in the British theatre".
Playing with the similarity between the words "monster" (as in large) and "montrer" (as in to show), the Monsterists not only want to put on big plays (though not necessarily with large casts) on main stages, but also have definite aesthetic designs. Their manifesto advocates "large concept" work, which shows rather than tells, implies meaning by action and not by lecture, and which is inspirational but not sensationalist. Desiring to liberate new writing "from the ghetto of the studio black box to the main stage", they also demand "equal access to financial resources for play being produced by a living writer", meaning equal to the resources lavished on dead writers. They also want the best directors and the best actors. In short, they want "equal access to the means of theatre production".
In pursuit of this aim, they have met new artistic directors — such as Nick Hytner at the National and Anthony Clark at London's Hampstead Theatre — to discuss the possibility of producing large plays on large stages. They have also used stunts, such as applying in a group for the vacant artistic director posts, in order to question the received wisdom that buildings should be run by directors not writers. As evidence of the success of writers in this role, they cite Alan Ayckbourn and John Godber. They have also joked about kidnapping a broadsheet critic for an evening — would their newspaper ransom them? At the Friday Provocation event, Dominic Dromgoole was clearly on the side of these young Turks, but also pointed out some of the economic constraints of putting on shows outside London. In Exeter, Derby, Leeds, Birmingham, Salisbury, Manchester and Newcastle, artistic directors have mixed new work with classics. In some places, however, he pointed out that plays such as Patrick Marber's Closer would alienate the regular older audiences. He concluded by advising the Monsterists to stir things up.
With its all-male panel drinking chilled beer, the Monsterist debate had a good laugh at the narrow-mindedness of some theatre critics, and at the lack of ambition of some artistic directors and at the old-fashioned expectations of some audiences, who have the temerity to enjoy plot resolution and clarity. But although the alleged existence of about 400 to 500 writers earning a living by writing for theatre, radio and television in Britain today is a hopeful statistic, there was also an air of complacency among these writers. All of them rely on subsidy, and none has yet addressed the issue of writing populist drama for large stages. Although they are able to write sophisticated plays, in terms of structure and cutting-edge sensibility, it's uncertain whether audiences would be immediately attracted to them. Finally, blaming critics for plays that flop seems like an easy alibi — surely it's up to writers to deliver good stories well told? Besides, if the big institutions won't put on their plays, what's to stop young writers squatting empty buildings and creating new spaces? Punk music, the rave scene and the Young British Artists all began when people decided to do it themselves. Still, let's wish the Monsterists well. Certainly, with the appointment of Nick Hytner, and of Michael Boyd to head the RSC, the chance for new writing to grab main stages is better than it has been for a generation. Both men are very sympathetic to young writers.
Abundant misery
Elsewhere, there is a climate in which confidence runs bang into hardheaded reality. "The new writing scene is really blossoming," said Abigail Morris, artistic director of the Soho in 2002. In fact, there may be a danger of overproduction. "I think there is a danger of over-saturation. London audiences are spoilt for choice and with so many new writing theatres chasing writers there is a finite amount of really good writing out there. Audiences are feeling bewildered by the choice." Ian Brown of the West Yorkshire Playhouse agreed: "If there were slightly fewer new play theatres, you wouldn't feel like you're going into a video shop", with its confusion of new titles. Once, there was one new play opening every few weeks; now there's a handful a week. "Sometimes, you just can't keep up." Not only are specialist new writing theatres producing new work but other venues, such as the Almeida in north London, are also staging new plays.
At the moment, there is abundance everywhere. In Newcastle, for example, Live theatre's Max Roberts can boast of developing ambitious writers such as Lee Hall, who wrote Billy Elliot and Spoonface Steinberg, or Peter Flannery, whose Our Friends in the North was adapted for television. At Edinburgh's Traverse theatre, Philip Howard said that "we have a climate of confidence in which new writing can thrive". But, given this abundance, what about quality? The Royal Court's Ian Rickson was upbeat: "I'm confident that many of the 50 or so new plays that we've done in past few years are classics. And I really believe that many of these playwrights are geniuses." Howard doesn't agree: "It's very sobering to challenge yourself as whether even your best work is actually great. Let's be grateful that lots of what we do is very good, and not worry about it being gobsmackingly brilliant."
Ever clearheaded, Morris said: "I do worry about what will happen if we don't discover a new big name. You can't legislate for when talent will appear." After the American invasion of the West End in 2002, English talent looked seriously underpowered. Mike Bradwell of the Bush theatre said, "American theatres have got bolder over the past five years", while Morris has put their success down to the fact that "they take their creative writing much more seriously so that they have a lot more courses and training. I think that ease of language and form come out of that."
Even at its most provocative, English in-yer-face drama has had a short shelflife. Depictions of anal sex, for example, startled audiences in the mid-'nineties, but soon became as mannered as cocktails were 50 years ago. And the trouble with English culture is that old notions of authenticity tend to privilege "dirty realism", naturalistic plays about "me and my mates" set on underclass council estates. Rickson has argued that while "the brief of the Court is to challenge, or provoke", sometimes audiences reject "squalor", preferring "writing which seduces or flatters them". Brown says that "younger writers have the right to write about whatever they know about. The best writers try not to rub your nose in it, but to find interesting ways of looking at it." The problem is that too often the writers are middle-class and their visits to the lower depths are pure cultural tourism — making art out of other people's misery.
If social realism remains the bread and butter of much English new writing, there are also signs of a new leftfield sensibility. Rickson has argued that: "It's a very fertile time for writers who are moving into the dimension of the imagination." He cites Jez Butterworth's Night Heron and Nick Grosso's Kosher Harry as well as Caryl Churchill's A Number, describing such magic realism as "a really exciting development". Unusually, these innovative plays did good box-office business. But all is not well at the Court. An internet website, which has revived the name Encore Theatre Magazine, has posted a polemic which argues that this historic new writing venue has lost its artistic vision: "Isn't it strange that the one theatre in London which labels itself a 'writer's theatre' is the theatre in London in which playwrights feel most uncomfortable? One leading writer refers to it as 'the bear pit'. Playwrights are thrown to the Royal Court's great maw and then treated rather as flies to wanton boys."
Verbatim epidemic 
One problem in Britain is the relentless search for novelty. The "new" in new writing suggests an obsession with "yoof" and the next trendy shocker. As a result, British theatre is littered with writers who arrived with a splash — and then were dropped when they couldn't keep up. Too few new plays, however good, are ever revived.
In autumn 2003, two exceptions in the West End, revivals of David Hare's The Secret Rapture (1988) and Stephen Poliakoff's Sweet Panic (1996) are a welcome sign that serious drama might be making a comeback to commercial Theatreland. Another new arrival to the West End, the transfer of Moira Buffini's Dinner, which had its premiere in the National's Transformation season, suggests a good result for one of the founding members of the Monsterists. Elsewhere, the past two years have encouraged critics and commentators to applaud a revival of political theatre. For the second year running, the Edinburgh Festival fringe has engaged with the wider world beyond "me and my mates " flatshare dramas and council estate swear-fests. Often hyped as theatre's response to 9/11, this trend is, however, still being held back by the dead hand of naturalism and by the notion that verbatim docudrama is the best way of staging ideas.
A perfect example of docudrama — theatre's answer to reality tv — can be found at the Tricycle Theatre, in north London, which has a great track record of staging tribunal plays — in 1999, The Colour of Justice, which dramatised the inquiry into the murder of Stephen Lawrence, was not only a stage hit but was also seen by some 11 million people on tv. In autumn 2003, the same team — journalist Richard Norton-Taylor and director Nicolas Kent — staged Justifying War: Scenes from the Hutton Inquiry. Once again, audiences chortled at seeing the likes of Alastair Campbell and Geoff Hoon crouching under fire from James Dingemans QC. But although it was good to see theatre respond so quickly to events, this can be self-defeating: the inquiry was still vivid in the public mind, and Hutton hadn't even delivered his verdict. And you can't help feeling that the show appealed more to civic duty than to any sense of fun — it's not the kind of play that will ever be revived.
Justifying War isn't the only sign that docudrama is making a comeback. At the National, Michael Frayn's Democracy — which deals with the symbiotic relationship between Willy Brandt, chancellor of West Germany in 1969-74, and his personal assistant, Gunter Guillaume, an East German spy whose eventual unmasking led to Brandt's fall — was being hotly tipped as the best play of 2003. Then, in November, The Permanent Way, David Hare's account of the appalling mess that followed the privatisation of the railways, began its nationwide tour. Based on first-hand verbatim accounts by people at every level of the disaster, this promised to be a "provocative and challenging evening", although not necessarily a pleasurable one. Surely theatrical pleasure comes from watching political ideas transformed by a writer's individual imagination, seeing them find a powerful stage metaphor for their obsessions?
Imaginative populism
Only when young writers mix imaginative populism with radical ideas does political theatre get a shot in the arm. After all, there's nothing quite as subversive as mixing the joy of good ideas with a sense of fun. The trend-setters in 2003 are two Scottish writers, Gregory Burke and Henry Adam. Burke's The Straits (Paines Plough) is set in Gibraltar during the 1982 Falklands War, where the kids of British servicemen scrap with local "spics" and proudly declare that "War's what we do, innit. What we do best". Their bellicose assertion of national identity against an imaginary enemy feels chillingly apt in the light of the war on Iraq. Similarly, Adam's The People Next Door (Traverse Theatre), a sizzling farce about druggy dropout Nigel whose estranged brother Karim is suspected of being a Muslim terrorist, blends wild hilarity with serious ideas about our paranoid fear of terrorism. Both writers sharply question Britain's readiness to take on internal and external enemies.
Plays such as these mark a welcome break from the Trainspotting "me and my mates" tradition of the 1990s, when many playwrights simply described the plight of the dispossessed without analysing the reasons for their dispossession. The whole idea of political theatre must be that life is about much more than what happens on the domestic front. Since audiences nowadays would probably run a mile rather than sit through the worthy "state of the nation" plays that mercifully went out of fashion soon after the fall of the Berlin Wall, how do you write big plays about big subjects? One common cop-out is to say that all plays are political. This rip-off of the old feminist slogan that the personal is political is, however, totally self-defeating. If all plays, no matter how domestic, are political, then no plays are political. A better way of defining a political play might be to insist that it should offer some hope of change. By this definition, docudramas — with their imagination-free content — fail. They merely reflect reality, when the point, surely, is to change it.
For example, look at two superb dramas by black writers which wowed audiences this year: Kwame Kwei-Armah's Elmina's Kitchen (National) and Roy Williams's Fallout (Royal Court). Both tackled the subject of violence and the black community with wit and insight, but the depressing thing is that neither suggested any way of changing this reality. However powerful, both plays were more a cry of anger and despair than a call for change. A similar malaise afflicts the National's mega hit show, Jerry Springer: the Opera, which transferred to the West End in 2003. Okay, it's exciting to see a new musical that mixes filthy talk with music that alludes to the baroque era. But, in terms of its politics, this one-joke evening only affirms, rather than challenges, Britain's obsession with American trash culture.
Until recently, political drama was a sure way of emptying theatres. Today, as the rash of verbatim docudramas suggests, there is a hunger for ideas. But the best examples of political theatre are those which mix intellectual sparks with strong stories and imaginary characters who have a real emotional life. In this light, a play such as David Hare's 1996 drama, Skylight, is surely exemplary. At the same time, what British theatre needs most of all is to shake off its habitual timidity, and to explore the more dangerous shores of new writing. In NTQ 73, I quoted the argument that political theatre should be defined not only by its capacity to suggest change, but by its ability to expand the imaginative horizons of its audiences, contesting the closing down of the imagination by the commercial mass media. In 2004, as in 1968, perhaps the best antidote to timidity is the ungovernable wildness of the imagination.
© An earlier version of this article appeared as '"Me and my mates": the state of English playwriting, 2003', New Theatre Quarterly 77, February 2004: pp 79-83.