The Audience, Apollo Theatre
Wednesday 6th May 2015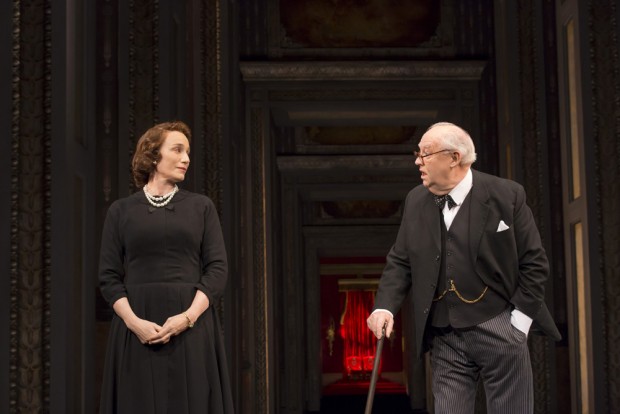 Deep bows and curtseys everyone, the West End sees the return of Peter Morgan's The Audience. Partly a follow up to his film The Queen, it got a first outing in 2013, with Helen Mirren reprising her screen role as Her Majesty. It has now been slightly rewritten — Labour leader Jim Callaghan is out; Tony Blair is in — and the show stars Kristin Scott Thomas, perhaps too elegant a person to be a natural choice for the part. This entertainment is an account of the weekly Buckingham Palace meetings, when prime ministers see the Queen for 20 minutes to bring her up to speed with current events. So strong is tradition that when these meetings are switched from a Tuesday to a Wednesday, you can almost feel the ground shake.
The Audience is a warmly commercial comedy, full of good jokes and slickly staged. As in Shakespeare in Love, the appearance onstage of real dogs is guaranteed to make the spectators grin with pleasure. As Her Maj meets some of the "dirty dozen" of her prime ministers, we also get to see loving caricatures of once familiar faces: avuncular Winston Churchill, self-effacing John Major, domineering Margaret Thatcher, awkward David Cameron, a wired-on-speed Anthony Eden, and Labour leaders such as smug Blair (played the same actor as Cameron!), agitated Gordon Brown and a bluff Harold Wilson.
Morgan cleverly jumps backwards and forwards in time, which keeps the interest alive, and he places Scott Thomas's coolly confident grown-up monarch on stage with Young Elizabeth, her teenage self, to show how the child gradually realises that the abdication of her uncle has put her next in line to the throne. And so she begins to prepare, at first unwillingly, for a life of duty and self-sacrifice. So the royal "postage stamp with a pulse" reconcils herself to her destiny — and spends the next six decades meeting her PMs.
Although it's easy to mock the Queen's prime ministers — and Major, Brown and Thatcher get well-deserved laughs — Morgan realises that this would make a rather one-dimensional evening. So he brings Huddersfield-born Wilson on stage three times — once in an agreeably Scottish context — to show how these meetings of opposites were fun for both crown and crown's chief minister. In their final scene together, Wilson tells the Queen of his recent diagnosis of Alzheimer's disease, a moment of pathos in that he has previously demonstrated his photographic memory. This is a sad and very humane scene, which contrasts beautifully with the comedy of the rest of the evening.
For the rest, this play is pure monarchical propaganda. As in Moira Buffini's Handbagged, The Queen is shown not only as a warm human being, but also as the mistress of the acidic witty putdown and more acutely leftwing than any of her prime ministers. In the 1956 Suez Crisis scene, she forensically demolishes Eden's account of the government's actions. This is neither likely, nor historically accurate. But here it serves to boost the crown at the expense of her chief minister. With stage images that include a blazing evocation of her Coronation, the lovely Corgi dogs and her love for Scotland, this is practically a political broadcast on behalf of Her Majesty. A nice touch is the way a spotlight picks out the royal coat of arms at the apex of the proscenium arch.
Played by Scott Thomas with a languid cool that has none of the hausfrau fussiness of the original, she is onstage for the whole show. And what a person she is in Morgan's tourist-friendly version! Partly adviser, partly therapist, partly mother hen, she is the stable point of a constitution while the prime ministers are mere passing faces. While they are ambitious and self-seeking, she is self-sacrificing and selfless. So despite Stephen Daldry's excellent production, lavishly designed by Bob Crowley, and all the fun of sharp humour smoothly delivered by supporting actors of the caliber of David Calder (Churchill), Nicholas Woodeson (Wilson) and Sylvestra Le Touzel (Thatcher), this remains a deeply unpleasant glorification of the monarchy. It also has to be said that the evening lacks a story; nothing really happens; nothing — despite the crisis over Charles and Diana's marriage — is at stake. Even if Morgan brings out some mischievous parallels between the Suez Crisis and the Iraq War, there is little here about politics. Instead, we have a sanctification of our glorious queen.
© Aleks Sierz