Repeat performance: a new crisis? (New Writing 2012)
Wednesday 1st May 2013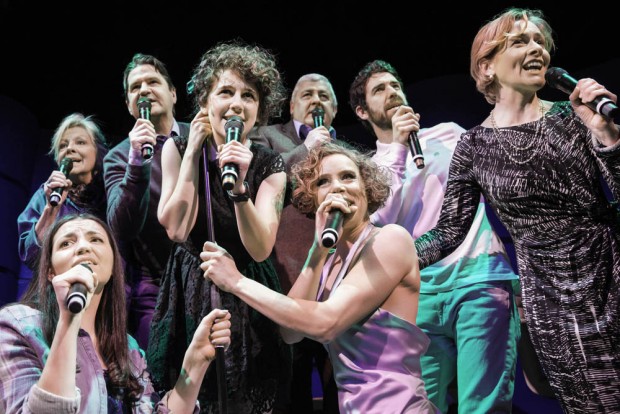 In the YouTube video of 'Read All About It' a little boy smashes up his step sister's bedroom and then starts on his parents' room, in a story about returning sons and absent fathers, while Professor Green raps, "I ain't censoring myself for nobody/ I'm the only thing I can be,/ All that is good, all that is bad, all that is, me", and Emeli Sandé sings, "I wanna sing, I wanna shout,/ I wanna scream till the words dry out." The video has a curious 1990s feel about it, and suggests that maybe culture also repeats itself, the first time as tragedy and the second as farce.
So, after two years of Coalition government, once again that old question has popped up: is new writing for the British theatre in crisis? At first glance, the question is absurd and the answer is a strenuous No. Surely, new plays are booming. When I did research for my book, Rewriting the Nation, I came up with a ballpark figure of 3000 new plays produced in the UK over the first decade of the new millennium. It seems that new writing is everywhere, and everywhere it is attracting new audiences. According to Writ Large, a 2010 report commissioned by the British Theatre Consortium for Arts Council England, new work makes up 47 per cent of the repertoire in large subsidised theatres. This marks a significant increase from the conclusions of the Boyden report in 2000, which found that it comprised only 14 per cent of staged work. Likewise, box office performance of new work went up from 62 per cent average capacity in 2003/4 to 68.6 per cent in 2007/8, while tickets sales have also increased, with almost 1.5 million sold in 2006/7, compared to just over one million tickets in 2003/4. "New plays no longer appear to be ghettoised in small spaces," says the report. "Over the period of our sample, nine out of ten tickets for new plays were sold for main stages."
Yet, since 2010, there are reasons to be less celebratory. For a start, the system of specialist new writing theatres that has served British theatre so well for decades is now being dismantled. Once you could rely on the Royal Court, Bush, Hampstead and Soho theatres in London to develop new writing, while outside London, Live Theatre in Newcastle and The Traverse in Edinburgh were beacons. Of these Big Six specialist theatres, half now have a different agenda, following the arrival of new artistic directors. At the Hampstead, Edward Hall has widened the new play remit to include classical revivals, film adaptations, history plays and Shakespeare (visits by his own Propeller Theatre Company). At the Soho, Steve Marmion has extended the original project of staging work by new and first-time writers to include revivals, cabaret, opera, sketch shows, comedy acts and a highly successful stage version of Labour politician Chris Mullin's political memoirs. At the Bush, under new artistic director Madani Younis the focus has shifted from creating new plays to touring them, and from developing playwriting to site-specific work. To be fair, Hall does promote new plays, but they are mainly confined to his smaller studio space, and this also happens at the Soho. Likewise, Younis has already announced a project to create a new studio space inside the Bush. But isn't this part of the problem? When new writing is confined to studio spaces, aren't we in danger of returning to the late 1980s when artistic directors were too timid to put new work on main stages?
In fact, as the age of austerity becomes more evident, new writing of a challenging and innovative kind looks increasingly vulnerable. Already in 2010, Arts Professional magazine conducted a survey of leaders of arts organisations in which 41 per cent said they would programme more popular work as a result of the recession, while 37 per cent anticipated reducing the amount of challenging work they commissioned. For Max Stafford-Clark's Out of Joint company, 2012 is the first year (out of 18) in which it produced two revivals of contemporary plays, but no new work. Stafford-Clark blames the squeeze on subsidy. "As a touring company, we exist to take productions to other parts of the country. In places where there is perhaps just one theatre, it only takes that venue to play cautious for financial reasons for their audience to be excluded from anything but mainstream work. The message seems to be: get conservative, or perish." As his article asks, "Regional theatres must take risks too — so why isn't the Arts Council helping?"
In February 2012, playwright Simon Stephens drew attention to the disappointing audiences for his The Trial of Ubu, a radical rethink of the Alfred Jarry classic in a Hampstead Theatre production by Katie Mitchell. He said, "The defining plays of the last three years are possibly Jerusalem, Enron and One Man, Two Guvnors", all of which aim fundamentally "to entertain, to uplift, to inspire, to tickle." Nowadays, only fun sells. Soon after, similar points were made by David Hare and Mark Ravenhill. In response, Nica Burns, vice-president of the Society of London Theatre, questioned whether Britain really is harbouring such a wealth of undiscovered "avant garde" talent. But Ravenhill is surely right to argue that that the grant-receiving sector now pays too much attention to pleasing the crowd. Likewise, playwright Charlotte Keatley, whose 1987 work My Mother Said I Never Should is a modern classic, complains that work such as hers, with its difficult subject matter and unusual structure, rarely gets an easy ride. "There are so few theatres producing new work," she says. "Twenty years ago there may have been 12 or so, now there are about three. Yet people really want to see new work. I am confident about that, despite the raft of literary managers and directors in London who say that you can't do anything too risky." Another sign of the times is the forced closure of the Theatre Writing Partnership, the unique East Midlands development agency formed more than a decade ago to support and promote new playwriting, after it lost its regular funding from Arts Council England.
Interestingly, One Man, Two Guvnors won the Evening Standard and the Critics Circle awards for Best New Play of 2011 when it is, strictly speaking an adaptation (of Goldoni's The Servant of Two Masters) rather than a completely new play. Its phenomenal success in the West End, along with news of the transfer of the Old Vic's Noises Off, and a revival of Noël Coward's Hay Fever, suggests a public appetite for farce and comedy. Similarly, the arrival of the stage adaptation of the Ealing comedy The Ladykillers and Alan Ayckbourn's Absent Friends (Harold Pinter Theatre) indicates that old comedies can be restaged for a new generation. But as well as being comedies, these plays also appeal to the great British public's love of the past: One Man, Two Guvnors is set in the 1960s, Absent Friends in the 1970s and Noises Off in the 1980s. Hay Fever is quintessentially 1920s. The Ladykillers is very 1940s and the other hugely popular West End adaptation, War Horse (from the National), is set around the first world war. At the same time, in early 2012, theatre seemed to have caught a bug for the 18th century, revivals of a kind of Merrie England era: at the National, Oliver Goldsmith's She Stoops To Conquer; in the West End, Alan Bennett's The Madness of George III; Off-West End, Farquar's The Recruiting Officer. While you're watching, spare a glance at the period costumes. As if a neat mix of laughter and nostalgia can drown out the pains of recession.
Elsewhere, there are definite signs that British new writing, which seemed to be in a contestatory mood from 2009 to 2011, is slowly turning more conservative. At one theatre after another, the prevailing genre was a return of the family play: April de Angelis's Jumpy (Royal Court, 2011), Tom Wells's The Kitchen Sink (Bush, 2011), Nancy Harris's Our New Girl (Bush, 2012), Nina Raine's Tribes (Royal Court, 2010), Joe Penhall's Haunted Child (Royal Court, 2011), Ryan Craig's The Holy Rosenbergs (National, 2011), David Eldridge's In Basildon (Royal Court, 2012) and Anya Reiss's Spur of the Moment (Royal Court, 2010). The list could go on. Playwrights who had enjoyed a wild youth, hanging out in "Me and my mates" plays, now grew up, and became very serious about parenting, childcare and school runs. Even when such plays showed terrible families, they didn't criticise the institution of marriage; even when they had a critical edge, their settings — living rooms and kitchens — were traditional. Not only was the subject matter overwhelmingly domestic, but most of these plays seemed to appeal to the fact that middle-class audiences love to recognise middle-class characters doing middle-class things in middle-class homes.
Of course, many of these plays could be thought-provoking and powerful on stage. In Alexi Kaye Campbell's The Faith Machine, the ghost of the idealistic Sophie's dead father haunts her mind, and appears on stage with her, offering his own ideas as she talks with her boyfriend Tom. In David Eldridge's In Basildon, the climax sees Shelley physically attacking the wife of her cousin. It's a gesture that feels out of character until you realise that a few days at home have dragged Shelley into the mindset of a child. In Nina Raine's Tribes, there are rich, if fragmentary, ideas about communicating, listening and talking. Fascinating as these insights into the family are, it seems that they all suggest that the past weighs on the present. Where we come from seems to follow us like a bad smell. Isn't that a conservative feeling?
Likewise, some of the best new plays travelled back in time to make their political points. So John Hodge's Collaborators (National, 2012) and David Edgar's Written on the Heart (RSC, 2011) were both set in the past, and David Hare's new play, South Downs (Chichester, 2011), is a response to Rattigan's The Browning Version, which it joins in a double bill. But the danger with using the past to illuminate the present is that some members of the audience won't see the parallels and will just enjoy the nostalgia. Okay, some plays took a more experimental route: Nick Payne's Constellations (Royal Court, 2012), Lucinda Coxon's Herding Cats (Bath, 2010), Lou Ramsden's Hundreds and Thousands (Soho, 2011) and Abi Morgan's Lovesong (Frantic Assembly, 2011) showed an exuberant joy in theatricality. Philip Ridley's Tender Napalm (Southwark, 2011) was wildly imaginative and his Shivered (Southwark, 2012) was both a family play and a successful experiment in theatre form. But these plays were often confined to studio or fringe spaces, as if they needed quarantine. The exception was Martin Crimp's superb In the Republic of Happiness (Royal Court, 2012), which is probably my play of the year.
Likewise, certain subjects now seem to have been exhausted and slunked off the stage completely. Few plays, apart from Ishy Din's Snookered (Tamasha, 2012) explore the crisis of masculinity. Child abuse, sex abuse and drug abuse are no longer of interest. War is a bad thing, but its roots are not often explored any more. Playwrights prefer to explore Africa than venture to China, the Middle East or South America (despite the fact that the Brazilian economy has just overtaken the UK economy!). There's still too few plays that capture last year's spirit of revolt (one notable exception is Mike Bartlett's 13).
We have been here before. In the late 1980s, new writing was seen as being in crisis because it was confined to studio spaces, lacked special funding and because theatres preferred to put on history plays, adaptations of novels and revamped classics rather than risky new work. So, today, where are the high-profile poetic and exceptionally theatrical new works? Are we perhaps, in the current age of austerity, returning to those dark days? If so, this is tragic because without innovative new plays, theatre as an art form will ossify. As that song goes, "I throw fits when I read how they word things/ You see me smile/ Now you're gonna have to see me hurtin'/ Coz pretending everything is alright when it ain't, really isn't working."
© An earlier version of this article appeared as 'A new crisis in new writing?', Contemporary Theatre Review, vol 23, issue 2, May 2013: pp 249-51.