Jerusalem, Apollo Theatre
Wednesday 10th February 2010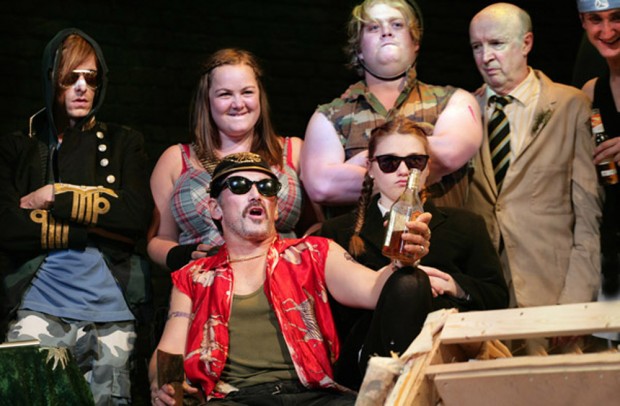 Looking at posters outside the Apollo Theatre, where the West End transfer of Jez Butterworth's award-heavy Royal Court success opened tonight, you might be tempted to start humming: "And did those feet in ancient time…" But such nostalgic sentiments are unlikely to survive the opening minutes of this phenomenal play. Soon after the curtain, a symbolically faded flag of St George, rises, and the character who intones "Jerusalem" disappears, we see a familiar rural scene: under-aged kids stoned out of their minds, dancing in a thumping rave. It's a nocturnal bacchanalia of house music, gyrating girls and drug-addled wildness.
Yes, we are Chez Johnny Rooster Byron. This ex-daredevil stunt driver has made his home in a decaying metal caravan deep in the forest somewhere in Wessex, and evocatively conjured up by designer Ultz. A contemporary freeborn Englishman, Rooster is a roaring mix of skiving wastrel and Pied Piper. As he doles out booze, drugs and tall tales to a group of hangers-on, which include Ginger, Lee and Davey, as well as some 15-year-olds, this larger-than-life figure comes across as a hippie anarchist who seems to be directly plugged into an olde myth of Trad England, rural, pagan and blitzed.
Brilliantly embodied by Mark Rylance, Rooster is a rasping, hissing, roaring Falstaffian fantasist, an overgrown teen who is gradually revealed to have some deeply unattractive features. He is an absent father, incompetent male and has a suspicious liking for very young girls. As the master of revels in this Deep England, Rylance is a mesmerising stage presence who begins the play by doing a somersault, dipping his head into a water trough and then downing a mixture of raw egg, milk, speed and vodka. Well, I suppose it's one way of curing a hangover.
Constantly amazing, and always hypnotic, Rylance bestrides the play, and its landscape of wild imaginings, like a colossus. Eloquent in his harangues, generous in his hospitality, inscrutably individual and heartbreakingly lonesome, this is an eccentric character who mixes tender nostalgia, puckish defiance and sheer disputatious, disrespectful joyousness. Even on a bad day. His final scene, in which he appears as a crazed wolf howling in a lonely wood, will stay with me for ever.
Set on St George's Day, this state-of-the-nation pastoral describes what happens when the local council tries to evict Rooster from his mobile home. In fact, he doesn't have a chance against the modern world, represented here by bureaucratically tedious Kennet and Avon council officials. Of course, in political terms, Butterworth's text sails dangerously close to kinship with those reactionary tabloid columnists, such as Richard Littlejohn, who complain about any legislation with interferes with their right to do as they please. But the humour, bravado and sheer excess of Butterworth's vision soon wipes out most doubts.
As the play's title reminds us, this three-hour lament for a freewheeling England whose time is up is resonant with a powerful sense of loss. Directed with enormous sensitivity by Ian Rickson, Butterworth's writing is like a gnarled tree, with twisted stories branching out all over the place, twigs snapping under the weight of odd emotions and the occasional fruit popping up where least expected. Rooster's stories of pub brawls, wild parties, underage sex, a wonderfully absurd virgin birth and an ancient giant combine with hymns of praise to the forest, and to summer.
Not much occurs during the play. Butterworth's writing exploits the extreme contrast, so typical of modern theatre, between what happens offstage and what doesn't happen onstage. As reports arrive of the imminent eviction, a missing under-age girl called Phaedra and the now commercialized and sanitized Flintock Fair, what we get is a deeper and deeper understanding of who Rooster really is. The ne'er-do-well emerges as a much more troubled individual than we first thought.
The other characters are equally, and hilariously, eccentric: Ginger, played by Mackenzie Crook, is a lanky loser; Lee (Tom Brooke) is a gormless lad on the eve of emigrating to Australia; and Davey (Danny Kirrane) is a parochial abattoir worker. Along with these, there's Wesley (Gerard Horan), a sad pub landlord, and the mind-addled Professor (Alan David). They are all vividly drawn individuals, Rooster's court of acolytes. At the end of an evening rich in jaw-dropping stories, ribtickling encounters and heady visions of Olde England, Butterworth, Rickson and Rylance have no trouble in convincing you that Jerusalem is one of the best new plays of the decade.
This review first appeared on The Arts Desk