Herding Cats, Hampstead Theatre
Friday 9th December 2011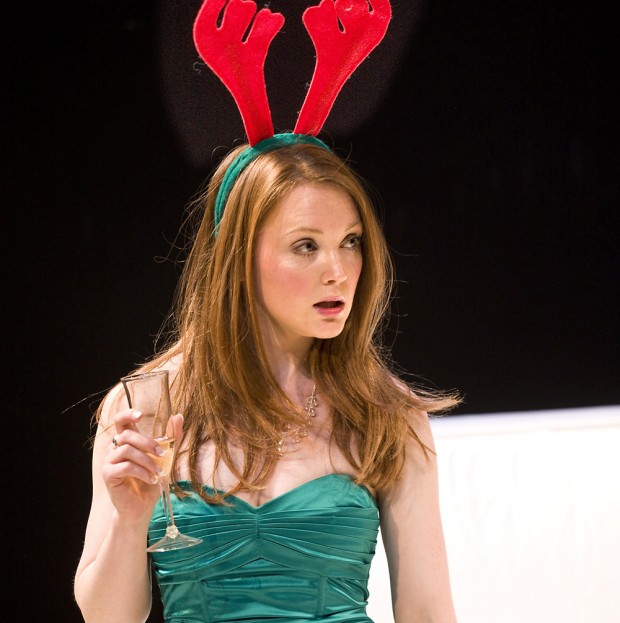 Loneliness is hard to put on stage. There is something about the feeling of unwanted urban solitude which is so repetitive and, let's face it, boring, that writing a play about it risks sending the audience into the night before the story is properly over. So the first thing to say about Lucinda Coxon's play, which was first staged in Bath a year ago and now makes a welcome appearance in London, is that it is compelling and never boring. In fact, it has that strange kind of intensity that leaves you feeling completely shell-shocked at the end of the evening.
Set in a single room somewhere in the middle of a big city, Herding Cats is about a twentysomething odd couple, Justine and Michael, who flatshare, but are not lovers. Michael is an agoraphobic who works for a telephone-sex company, and pretends to be a sexy young woman, while Justine works too hard in an office and is slowly becoming obsessed with Nigel, her boss. He's an ageing ex-hippy who is, according to her, almost unbearably overbearing. Justine starts off by hating him and ends up by wanting him, a reversal that puzzles her as much as it does Michael.
On the phone, Michael chats to a series of regular customers, one of which is nicknamed Saddo. He is in his fifties and his fantasy is that Michael is his young daughter. Gradually, his apparently simple desires turn into brutal fantasies, as this hateful Daddy submits his Princess to some ghastly ordeals. But although both Michael and Justine are studies in acute loneliness, at least there is a glimmer of hope: the consolation is that they have each other. Or do they?
Both of them survive by pretending: Justine pretends that she is good at her work and that she hates the attentions of older men, and Michael says that he is emotionally detached from his clients. With the approach of Christmas, that dreadful season that tests our ability to withstand loneliness, the resolve of both of these two is subjected to the full force of social conformity. And even Saddo is capable of surprising us.
Coxon, also responsible for the BBC adaptation of The Crimson Petal and the White, writes with a neat blend of acidic humour and frightening intensity. Although most of the play takes the form of conversations between Justine and Michael, or sex chats between Michael and Saddo, it often feels as if we are eavesdropping on the thoughts of the characters, and voyeurism is a strong theme of this intense 80-minute show. Likewise, at first the flat mates seem to have little in common until we realise that both are crying out for affection.
Along the way, Coxon also introduces a series of brief glimpses at other issues, such as the generation gap between the Nigels of this world (smug babyboomers who have everything and know it) and the Justines (impoverished youngsters who have nothing to lose but their debts). As we learn more about the office life of Justine, we can feel the tension of acute competition in the age of austerity, and the effects of technology on human separation are clearly sketched out in Michael's work.
Anthony Banks's powerful production has a huge white sofa on a soft white carpet (designed by Garance Marnier) and the three members of his hardworking cast are all excellent: Olivia Hallinan, known to millions from Lark Rise to Candleford, plays a very different character here, with mood swings from ranting hatred to depressed drunkenness. Philip McGinley's Michael is more detached, but beautifully conveys the cracks in his cool, while David Michaels's Saddo grows more sinister after each passing minute. Thanks to these performances, and the chilling precision of Coxon's text, you leave the theatre shaking with dread.
This review first appeared on The Arts Desk