13, National Theatre
Tuesday 25th October 2011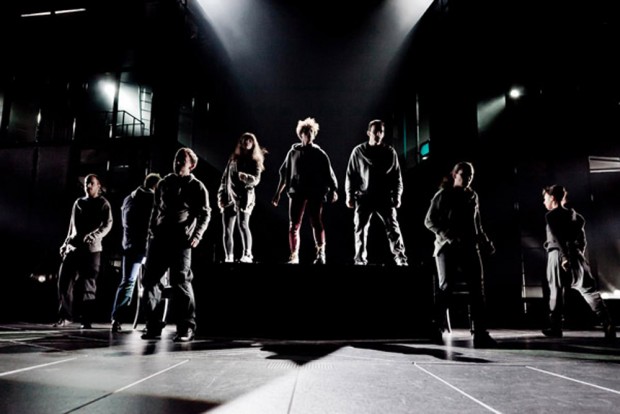 Spooky coincidences make good drama. Mike Bartlett's epic follow-up to his highly successful 2010 play Earthquakes in London begins with a mind-bogglingly weird situation: every morning in the metropolis, dozens of people wake up and they've all had the same disturbing dream. The play, which opened tonight, then goes on to examine what happens when citizens rise up to challenge the system in an era of foreign war and economic austerity.
The story is set in a UK that's a bit like a parallel universe, where a Conservative government is led by a woman prime minister who seems bent on supporting a US-led invasion of Iran, designed to rid that country of nuclear weapons. While there are demonstrations in the streets, the plot centres on John, a young man who returns after disappearing in the wake of the death of his best friend. Soon, he begins to preach in the park, and slowly a peace movement gathers around him. Its supporters chant: "In our name! In our name!"
Against the nightmare reality that infects the sleep of almost all the characters, John offers a dream, a dream of change, a dream of belief, and a dream of action. With its huge cast and variety of subplots that proliferate like lines on a Tube map, the play deftly sketches out a whole imaginary world: Stephen is the PM's atheistic guru, Mark is a renegade lawyer, Amir and Rachel are student protesters who become disciples. Then there's a stargazing Asian youth and a feisty cleaner; an older woman and a young one who sometimes sells herself for money.
Most crucial of all is the American family: Dennis — who has the ear of the PM — and Sarah, and their 11-year-old daughter Ruby, a wonderful character that deserves to be developed further into a metaphor of real change. So while John the contemporary messiah draws the other characters into his orbit, the first half of the play is a thrilling ride full of dark foreboding, creeping anxiety and acts of sudden rage and uncommon generosity. London emerges from the night-time as an exciting panorama of dreamy voiceovers, sweaty nightmares and the sense of infinite interconnectedness.
In the second half the pace slackens, but the debate deepens. When the PM and John come face to face, Bartlett brings the personal and the political into a tight embrace. At this point, I'm afraid that I started to have some doubts, and I really struggled to accept the truth of this dialogue between power and protest. There are no prizes for guessing which side wins, but the strain on credulity could be heard in the creaking of the plot. More unexpectedly, the American Sarah commits a crime that is truly shocking — and which shows that Bartlett's ideas of belief are nuanced and complex.
As a picture of contemporary society — with its references to the social network revolutions and suggestions of the Arab Spring — 13 is an ambitious and amazing work. The central message of personal responsibility and the dangers of trusting messianic leaders is timely and extremely engaging. There are passages of urgent and powerful writing, and a theatrical expansiveness that would be momentous if only it had been perfectly carried off. Yet if the play's flaws — which range from a certain stunted quality in its metaphors to a diffuseness in its plotting — suggest that at some points Bartlett has written himself into a corner, and not found the twists that could free him, this is still a marvellous evening in the theatre.
Confidently directed by Thea Sharrock, with a memorably symbolic design by Tom Scutt, the play has an enormous cast convincingly led by Trystan Gravelle as John, Geraldine James as the PM and Danny Webb as the guru Stephen. Other attractive and compelling performances include Kirsty Bushell as Rachel, Genevieve O'Reilly as Sarah, Nick Sidi as Dennis and Adam James as Mark. If the youthful energy and imagination of the first half are somewhat dissipated in the second, this remains a highly memorable piece of new writing.
This review first appeared on The Arts Desk