Spur of the Moment, Royal Court
Wednesday 28th July 2010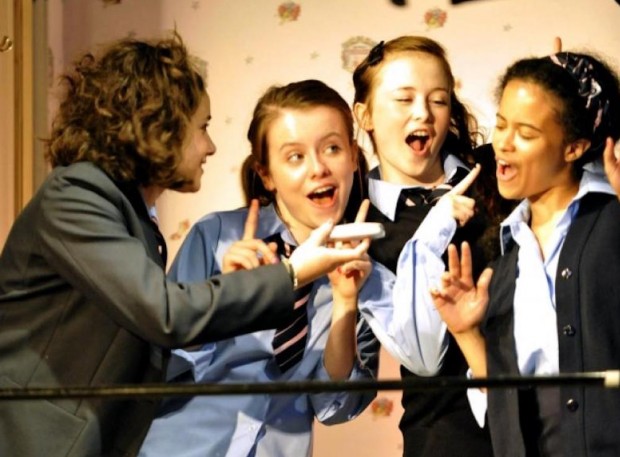 Youth continues to seduce theatres. Under artistic director Dominic Cooke, the Royal Court has developed fewer British playwrights, but in more depth. In the case of Polly Stenham, they found a young writer whose debut, That Face, was good enough to transfer to the West End. Now, they have discovered another youthful prodigy, Anya Reiss, whose first play, Spur of the Moment, was written when she was just 17 (in fact, when she still at school doing her A-Levels).
For a first-time playwright, it is certainly an impressive achievement. Set in a detached, middle-class house in Surrey, the story concerns 12-year-old Danielle, a High-School-Musical loving girl on the eve of becoming a teenager. But while her parents, Nick and Vicky, spend their time bickering, she falls in love with Daniel, a 21-year-old student who is lodging with the family.
Reiss has comprehensively and convincingly imagined this family. The scenes in which Danielle plays with her school friends have a familiarity and comic precision that come from being in the playwright's recent memory. But the rest is also well worked out: the crisis in her parents' marriage has been precipitated by Nick's brief affair with his boss, an older woman who has promptly sacked him. To pay the mortgage they have had to let a room, hence the arrival of Daniel.
The emotional core of the play is Danielle's crush on Daniel. Here the waters are a bit murkier, mainly because student responds to the young girl's advances with a troubling degree of enthusiasm — despite the fact that his own girlfriend, Leonie, has come to stay with him for a week. It's difficult territory: Daniel knows he shouldn't kiss Danielle but does so anyway. As we tense up, it's not clear how far he will go.
Reiss captures perfectly the self-pity and manipulative tendencies of this self-obsessed young man, who wants not only love but also adoration. Men! Perceptively enough, she sees through his pathetic justifications and suggests that he might be sex offender material — yet at the same moment she also shows his horror at breaking the law (Danielle is well underage after all). The ambiguity here is the rich centre of this feast of observation.
What's also impressive is Reiss's confident command of the realities of the whole family: the play's set embraces the two bedrooms of Danielle and Daniel, the kitchen and living room (where a hilariously realistic, and excruciating, scene has the family and their lodger watching The Dark Knight). A lot of the action happens in corridors and the hall. This verisimilitude is hard to pull of, but Reiss manages it very well. Spur of the Moment has a nice balance between fun entertainment (the scenes with the schoolgirls are very amusing) and excruciating emotion (in one fraught scene Danielle's parents make sexual jokes about the lodger — in Danielle and Daniel's presence!).
Jeremy Herrin's fluid production, designed by Max Jones, is both delightful and tense, and includes one lovely and delightful moment when a gaggle of girls burst onto the stage through a fridge door. But despite the pleasure derived from the acting — with Shannon Tarbet as the pre-teen Delilah, Kevin Doyle and Sharon Small as her parents, and James McArdle and Leonie Fowler as Daniel and Leonie — this study of middle-class angst is by no means perfect. Reiss has not yet discovered a distinctive individual voice and the play is, in the end, about a storm in a teacup. The crockery may be well made, but it remains just a domestic affair.
© Aleks Sierz