Hundreds and Thousands, Soho Theatre
Monday 27th June 2011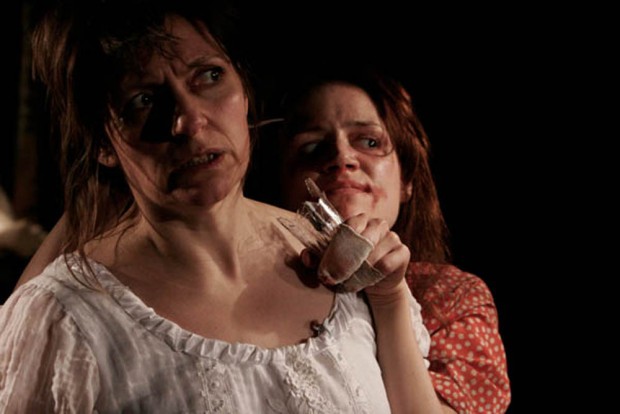 One of the many strengths of new writing for the stage is that it's not afraid to go into the darkest and most upsetting places of the human psyche. Whether at the Royal Court or at the Bush or Soho theatres, young playwrights have dived in to explore the grimmest reaches of our imaginations. Hundreds and Thousands, which opened tonight, is Lou Ramsden's powerful and compelling account of one family's descent into a nightmare.
Lorna is not unusual. She's a frumpy thirtysomething who wants a baby. Unable to meet a suitable man, she tries speed dating. After thus hooking up with Allan, an ice-cream man, she moves into his isolated farmhouse, deaf to the protests of her younger brother Jonathan. Before long, Lorna discovers that there's much more to Allan than immediately meets the eye. For a start, he has a live-in housekeeper, a very strange girl called Tiggy — who wears a dog collar and chains. Yes, that's right, a dog collar and chains.
For the next hour and a half we watch in agony as Lorna finds out all about Allan and Tiggy. But she is no truth-seeking heroine. Desperate for a baby, she allows herself to get sucked into Allan's weird world, and Ramsden excels in presenting this horror story in a way that solicits our sympathies for each of the characters in turn. In the end, Lorna has a moral choice: should she do what she wants to (marry Allan) or choose what's right (phone the police)?
On Polly Sullivan's dark set, Ramsden explores this macabre family set-up with a fine understanding of psychology, and with a sensibility that mixes Gothic horror with ethical concerns. The situation of Tiggy is reminiscent of that of real women such as Natascha Kampusch and fictional situations such as Yorgos Lanthimos's brilliant Dogtooth. Using storytelling techniques and vivid stage images (the climax is excruciating and almost unbearable), the playwright creates a thrilling atmosphere that has the audience on the edge of their seats.
As directed by Lisa Spirling, Hundreds and Thousands is staged in Soho Theatre's Upstairs Studio, as Steve Marmion, the new artistic director of the venue, has made it his mission to open up the nooks and crannies of his building. It's a swelter-box of a studio, its sweaty claustrophobia perfect for this play, which is well cast. As the dowdy Laura, Sukie Smith contrasts nicely with Nadine Lewington's oddball Tiggy. Likewise, Stuart Laing's highly disturbing Allan differs sharply from Robert Wilfort's goofy Jonathan.
All this delivers an evening of shocks and sudden moments of poetic insight. Even if you are such a rational type that you can't accept the uncompromising audacity of Ramsden's vision, the play works as a punchy parable, a resonant metaphor for family relationships and individual selfishness. At all times, just behind the dialogue, you can catch a faint whiff of a burning cruelty and a deep hatred which is the play's emotional fuel. And it burns, it burns.
This review first appeared on The Arts Desk