Constellations, Royal Court
Thursday 19th January 2012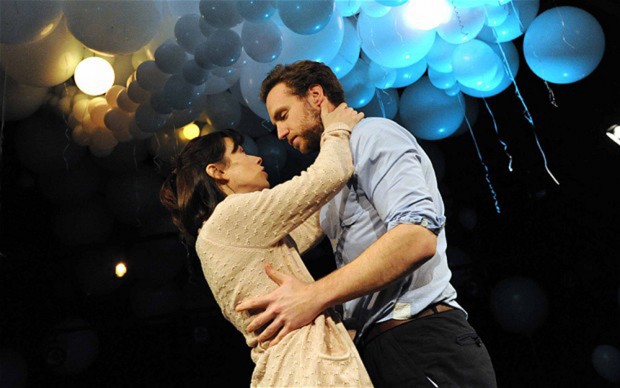 The Royal Court's 2012 programme starts off in its upstairs studio space with this well-cast two-hander by Nick Payne, a youngish playwright whose previous play at this venue was the bitter-sweet sexual comedy, Wanderlust, some 15 months ago. This time, the subject of love relationships is similar, but the form is radically different. If new writing can be defined by its experimental approach to theatre form then this is New Writing Pure.
Marianne and Roland are two young people who meet, are attracted to each other and start, or maybe not, a relationship. He is a bee-keeper and she works as a theoretical physicist at Sussex University, a job which enables her to talk about quantum mechanics and the idea of parallel worlds, the multiverse. Prompted by this, the play is structured as a series of repeats, in which each scene is played several times with variations of mood or outcome.
So on Tom Scutt's completely bare, dark platform set, Sally Hawkins and Rafe Spall explore the universe of their story's multiple possible outcomes in a variety of emotional keys: charmingly tentative, drunkenly funny, deeply sad, excruciatingly embarrassed, heartwarmingly tender. But familiar issues about commitment and infidelity are soon confronted by the more devastating subject of illness, death, and assisted dying, a theme which is also explored in Abi Morgan's current hit, Lovesong. The contrast between the comedy of social embarrassment and loss of life is well conceived, and what cleverly emerges is that the central story of the play is in constant dialogue with alternative possible stories. The effect of Payne's play is like spending an hour inside the memories and feelings of two people at the same time.
Reviewers on the press night were asked, in a move typical of the way that nowadays press officers try to manage media reactions, not to reveal the plot twist at the heart of the play. However, in a note in the playtext, Payne acknowledges Tom Lubbock's Observer article 'A Memoir of Living with a Brain Tumour' so it is hardly an enormous surprise when one of the characters develops this condition. The sudden approach of death intensifies the fragmented structure of the play and gives even more emotional force to the depiction of memories of real events. As the actors play the repeats, the sense of "what if", or "if only", becomes more intense, and the comic possibilities of the relationship gradually turn into a more sombre mood.
Payne's writing is punchy and the scenes in this 65-minute play follow each other in very quick succession, with director Michael Longhurst punctuating the transitions with flashbulb pops and, in the case of the scenes which show the effects of living with a brain tumour, a change of lighting. In these darker scenes, the text also mimics the effects of illness on speech. The ethical issues of choice in regard to assisted dying are touched on lightly, and — as in Tom Stoppard's Arcadia — free will is never compromised by determinism.
Although the mixture of cosmology and bee-keeping is reminiscent of Charlotte Jones's Humble Boy, Payne's play is written in the more rigorous style of a Caryl Churchill or a Martin Crimp, where form matches content. The beauty of this brief drama is that Hawkins and Spall not only successfully outline this one particular relationship, in all its different facets, but also suggest all other relationships. Spall — who was also in Payne's 2009 play If There Is I Haven't Found It Yet — uses his charming and nerdish gaucheness to great effect, but balances this with moments of deep seriousness, while Hawkins ranges over the territory between drunken frankness to the barely comprehensible devastation of loss. The acting in Constellations is convincing and resists the temptation to overemphasise the different registers of the scenes, and Longhurst's surefooted production is both entertaining and deeply moving.
© Aleks Sierz