The Madness of George III, Nottingham Playhouse
Thursday 11th June 2020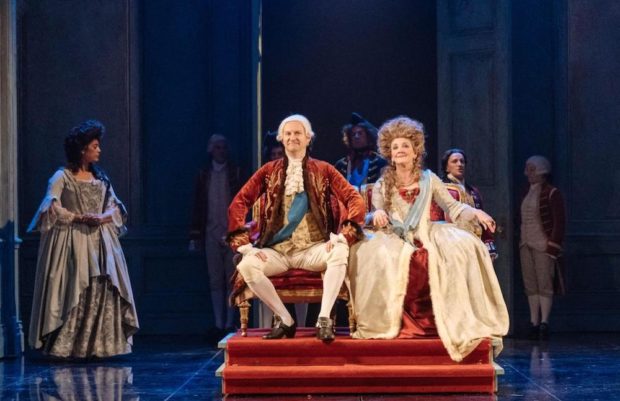 Why do we love the royals so much? In his Introduction to the play text, published to coincide with the first production at the National Theatre in 1991 which memorably starred Nigel Hawthorne, Alan Bennett writes that "I've always had a soft spot for George III", for no better reason than that he had studied the monarch's reign at secondary school and then again at uni. Oh well, I suppose that ideas for plays have to start somewhere. Inspired by prompts from the likes of Jonathan Miller and Roy Porter, he wrote The Madness of George III. Filmed by Nicholas Hytner in 1994, the play has been staged several times around the country, a testament to the national interest in both its author and in royal history. This streamed version, from an NT Live recording as part of National Theatre at Home, is of the 2018 revival of the play at the Nottingham Playhouse, a production which stars Mark Gatiss, Adrian Scarborough and Debra Gillett.
Set in 1786, and during the subsequent three years, the play invites us into the court of George III (Gatiss), his wife Queen Charlotte (Gillett) and his son, the Prince of Wales (later Prince Regent). As the king becomes ill, his appointment of the Tory William Pitt the Younger, the youngest prime minister of Great Britain at the age of 24, is contested by the Prince of Wales and Pitt's great rival, the Whig Charles James Fox. Although the party system was still in its infancy, the bitter battles between contenders for power is instantly recognizable. The threat to stability comes about because the king is increasingly incapacitated, so the Prince of Wales tries to get appointed Regent, to bring in his man Fox and sack Pitt. That, at least, is the plan.
George III is seen as mad and is soon surrounded by doctors, such as George Baker, Richard Warren and Willis (Scarborough), who are as rivalrous as the politicians and, apart from Willis, similarly ineffective. This is unsurprising because medical science was not yet able to diagnose porphyria, the disease that afflicts the king. Instead, he is treated as if he is mentally ill, which involves barbaric practices such as heavy restraints and copious bleeding. To 18th-century sensibilities, a "mad" person is basically an animal — and this is how the king is perceived. Certainly, this enables us to compare current medical advice favourably with that of the past, allowing audiences to pat themselves on the back while enjoying the pageantry of royal life, suitably accompanied by the gloriously music of Handel.
Bennett explores the question of how illness affects your identity by showing how George's personality, with his distinctive nervous verbal markers, such as "What? What?", is radically altered by the onset of his condition. Very soon the trappings of royalty are ripped off and we are left with the human being, unmajestic, shrunken, suffering. The playwright's empathy for this cruelly reduced monarch is evident and implies a counter blast at the usual historical truism of the useless king who mismanaged Britain's relationship with its American colonies. Instead, what we have is everyman in pain. Politically, this also raises the question of fitness to rule: when are leaders unable to do their job? And who decides: family, doctors or politicians?
Gatiss draws on his knowledge of mental illness, first acquired in childhood when his parents worked at a psychiatric hospital which was located opposite their home in County Durham, to show how psychological conditions afflict not only the mind but the body too. It a bruisingly physical piece of acting, with some moments of howling intensity. His king starts off as a parent frustrated with his sons, but magnanimous towards a would-be assassin and idealistic about the idea of happy families and a happy state. He prides himself on his punctuality, so when his indisposition becomes increasingly serious not only is government affected, but so is all of the life of the court. Rapidly, his mental illness bursts out in paroxysms of anger and pain. Suddenly the humour of the first minutes turns into the representation of personal agony. It's hard to be unmoved by Gatiss's detailed performance, which clearly conveys the character's humiliations.
At first, Bennett's style emphasizes the comedy of Mr and Mrs King, with fart jokes and some laughs from the absurd rituals of court life. He highlights George's verbal ticks and mannerisms, with plenty of exposition about his daily life. When the king becomes unwell, his sudden lack of tact and verbal directness results in some laughs, which are well balanced by the moments of genuine discomfort. Haunted by the loss of the American colonies, he becomes increasingly paranoid and his torture at the hands of 18th-century medicine exposes the difference between the monarch as an all-powerful figure and as a mere mortal. The paradox of a potent ruler being turned into patient with no rights is underlined. Salutary indeed.
Directed by Adam Penford for the Nottingham Playhouse, Gatiss's mesmerizing acting dominates the play, and he is very well supported by Gillett, commanding as Mrs King, and Scarborough as the wily Willis. The best scenes are the verbal duels between king and doctor. The gender politics in a male-heavy story are partly balanced by casting some women, principally Amanda Hadingue as Fox, a good opponent to Nicholas Bishop's Pitt, as well as Stephanie Jacob and Louise Jameson as Baker and Warren. Wilf Scolding as the Prince also gives a good account of the man's greedy vanity. In a play that is also about appearance and reality, designer Robert Jones's elegant set transforms smoothly from one scene to the next before our eyes. As filmed by Matthew Woodward, this is one of those proscenium arch classics that works well on screen. If our national identity is defined by a love both of monarchy and of history, this is a definitive show.
© Aleks Sierz