Tribes, Royal Court
Wednesday 20th October 2010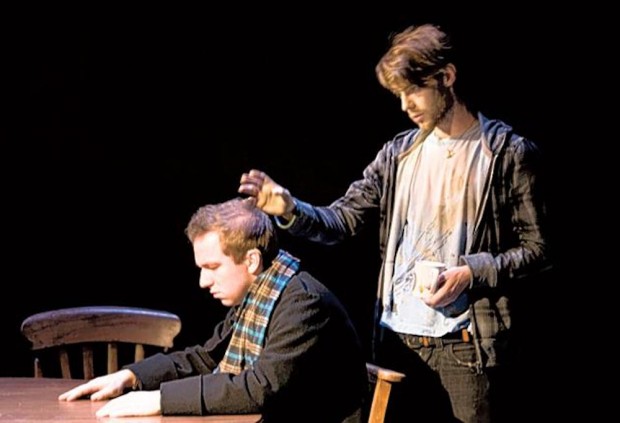 One of the most significant new writing trends of the past ten years has been the return of the family play. Banished in the 1990s by the rise and rise of the "me and my mates" drama, the flatshare play or the boys-in-a-gang story, this traditional genre — which pits kith and kin of different generations against each other — has made a welcome comeback. So, after her award-winning 2006 debut Rabbit, Nina Raine follows up with Tribes, which is set well and truly inside a family.
Here, home is a noisy, middle-class environment. The drama centres on twentysomething Billy, who has been deaf from birth, and his intellectual and opinionated father, Christopher, who is an ex-academic, and his mother, Beth, who aspires to be a novelist. In this slightly unconventional setting, where arguments are actively encouraged, Billy's siblings also have problems. His brother Daniel is a schizophrenic and his sister Ruth is a lonely singer.
Raine captures perfectly the parental bickering and sibling rivalry of this home, and her quickfire jokes, dispassionate observations and agile articulation of ideas about language, listening and loneliness light up the first act. In this tribe, the ability to talk is vital to survival, so Billy's deafness is offset by his skill at lip-reading and chatting. He has formed an especially strong bond with Daniel, who resembles their father most of all. But when Billy meets Sylvia, a young woman who is losing her hearing, can he make an independent life beyond the family?
Being unconventional, Christopher despises other social tribes, especially those that define themselves by means of their disabilities. So he gives Sylvia, who is gradually gravitating towards the deaf community, a very hard time. At the same time, he is appalled by the fact that Billy wants to learn to sign: he has always told him that he is normal and doesn't need to learn another language to express himself.
Billy, however, is torn in his loyalties. Through Sylvia, he discovers that he can be paid for using his skill at lip-reading, and that signing is a way into a whole new world of communication even if, as Christopher insists, it is not a good language in which to conduct abstract philosophical debates. Here, I felt that Raine didn't give Sylvia enough strong arguments in defence of signing, which can be an immensely rich form of communication. Still, Sylvia — the outsider that changes the insiders of this family — has an emotionally strong scene that ends the first act on a high.
But then, despite some genuinely unsettling moments, especially when Raine contests clichés about what it's like to be deaf, the second half is less focused and feels a bit less alive than the first. A couple of unnecessary subplots add to the confusion, and it seems as if Raine is trying to tell too many stories, while some characters, namely Christopher and Beth, remain slightly underwritten.
The strength of this piece is its metaphorical resonance. It's one of those plays which offers rich, if fragmentary, insights into ideas about communicating, listening and talking. It gives glimpses into the experience of deafness, and allows Sylvia to express the painful feelings that must be felt by anyone struggling with a new disability. It also suggests that merely verbal contact is not as powerful as physical embrace.
Directed with clarity and humanity by Roger Michell, and designed by Mark Thompson, the play features Jacob Casselden as Billy, a touching mix of vulnerability and anger. Likewise, Michelle Terry's Sylvia gives an exciting performance as Sylvia, and there's good support from Harry Treadaway as the tender Daniel, Phoebe Waller-Bridge as the frustrated Ruth, plus Stanley Townsend as Christopher and Kika Markham as Beth. Tribes is a rare example of a middle-class family play that is much deeper than the usual domestic farce or soapy drama.
© Aleks Sierz