Theatre Drove Me to Drugs
Sunday 1st April 2018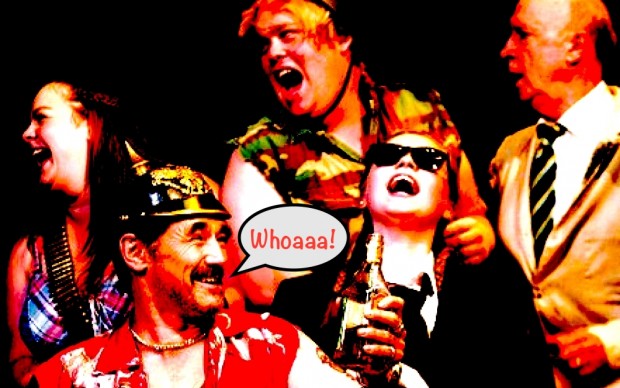 I sometimes do wonder: how can I improve my theatergoing experience? In the past decade, maybe I would have enjoyed some shows more than I did if I had been stoned. But simply being out of it would probably not have had the desired effect. No. What I should have done is to tailor the drugs to the show. So here, as a fantasy, is my history of the past decade in British new writing — seen through a glass darkly, or, rather, through the rose-smudged clouded doors of perception.
• Jez Butterworth's Jerusalem (Royal Court, 2009) — cocaine. The antihero of this play is Johnny Rooster Byron, a dropout who lives in a mobile home in a wooded glade and sells controlled substances to minors, and holds parties where the drink and drugs flow freely. His verbal flights of fantasy are intoxicatingly imaginative. He thinks he is a God, so cocaine seems like the right choice to match this monomania. Consume with a hash cake and some swigs of vodka.
• Lucy Prebble's Enron (Chichester, 2009) — amphetamines. Director Rupert Goold's account of the rise and fall of Jeffrey Skilling and the American oil giant has always been a whizzy experience so turning up the heartbeats wouldn't be without its own dangers. But hey, for anyone who doesn't want to sit still in their seats this is one way of fidgeting your way to the all-singing and all-dancing climax. But beware the tendency to babble, and don't be surprised if your twitches annoy other audience members.
• Laura Wade's Posh (2010) — vintage port. Inspired by the gross antics of the highly entitled and shockingly privileged Bullingdon Club, an all-male Oxford University dining group, this play combines laughter with ugliness in a way that perfectly sums up the hideously Tory early 2010s. With its sobering end and mockery of upper-class scorn it is best savoured with a vintage port, sipped rather than gulped. As its sweetness begins to make you feel sick, churning in your stomach, the play's message hits home.
• James Graham's This House (National, 2012) — G&T. There's something about politics in the House of Commons that shares the same bitter taste as a Gin and Tonic. Especially if you add a dash of angostura bitters. This look at the Labour government of the mid-1970s needs the cold fizz on the tongue that a good G&T can give you to make it palatable. Yes, a history play deserves a historical drink.
• Lucy Kirkwood's Chimerica (Almeida, 2013) — LSD. In Lyndsey Turner's production, the pace and global reach of this story of an American photographer and a Chinese activist is mind-expanding enough, but — if you insist — the best sensory enhancement would be a mild dose of acid. Lysergic acid diethylamide will dilate your pupils, dry out your mouth, quicken your heart beat and tingle your visual sense with a bloom of distortions, tracers, sparklings, and general euphoria. Note that, given the long-lasting effects of this drug, timing is everything. You might well have to leave before the show is over.
• Mike Bartlett's King Charles III (Almeida, 2014) — champagne. This future history play begins with the funeral of the present queen, so there is something a touch treasonous about watching it with a full flute of shampoo. But bubbly has such a wonderfully heightening effect on the brain cells that, as a result, the play's blank verse not only sings, but it dances too. As you pop another cork, remember the old song that goes: "Champagne, getting high again, makes me think of you."
• Martin McDonagh's Hangmen (Royal Court, 2015) — beer. Any play about the northern working class, especially if it is set in the 1960s and involves graphic depictions of capital punishment, will always give you a thirst. And it's a thirst that only beer will satisfy. Not one of those southern craft brewery jobs, but a good honest mass-produced beer. One from your local's pump. Carling. Watneys. Bass Charrington. But consume with caution. We don't want you puking in your seat — usually, there's enough vomiting onstage.
• Lee Hall's Our Ladies of Perpetual Succour (Traverse, 2015) — Ecstasy. A joyous play that throbs to the music of Mendelssohn, Bartok and the best-of the Electric Light Orchestra's Jeff Lynne. Yes, this plays sings, alright, but if you'd like to nudge it into even more blissful rapture and sweet intoxication then it can only be MDMA, an empathogenic drug — and then some. But, be warned, rapid heartbeats might make sitting still a real problem and fellow audience members might not appreciate the fact that you're spilling over with love.
• Inua Ellams's Barber Shop Chronicles (National, 2017) — marijuana. More joy from a play whose dance-crazy musical pre-show is almost as enjoyable as the piece itself. It's pretty rare that a play packs such a viscerally high punch, which a quick toke of weed can only enhance. I recommend a locally grown grass, preferably from south London. Also recommended: a discreet slug of rum if and when you're feeling drowsy.
• Alice Birch's Anatomy of a Suicide (Royal Court, 2017) — barbiturates. It might seem counterintuitive to recommend downers for a play about depression, but uppers simply won't do in this case. It's a slow burn of a drama and barbs allow you time to slow down and take in the visual harmony of Katie Mitchell's atmospheric staging. Mild sedation will also encourage a feeling of empathy for the situations depicted so intensely by Birch.
ALSO Plays you can watch in an opium haze are very few and far between, but maybe Alistair McDowall's Pomona (Orange Tree, 2014) or Philip Ridley's Radiant Vermin (Soho, 2015) or even Polly Stenham's No Quarter (Royal Court, 2013) might work. Feel free to add your own drug choices and plays.
NB Please take all drugs responsibly. And avoid all contact with parents, theatre workers, political leaders, authority figures — and especially the law.
© Aleks Sierz