Pomona, Orange Tree Theatre
Tuesday 25th November 2014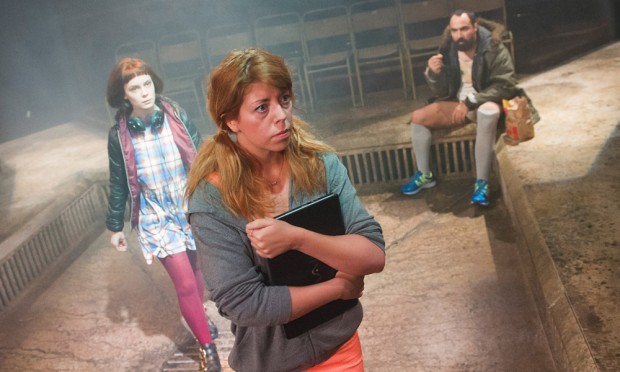 Okay, I do go on. And on, and on. I admit it. Recently, about how boring naturalism is, and how exciting leftfield theatre can be. Those plays that, because of their radically different and wildly imaginative form and content, question the norms of mainstream playwriting. Leftfield theatre is avant-garde, it's untypical, it's playwriting that's in the tradition of the absurd, the surreal and the just plain weird. It's work which blends the real and fanciful. As one character remarks in Philip Ridley's Moonfleece, "He used to mix fantasy up with real stuff." Yes, that's leftfield alright.
But today there's no need to grumble about the hegemony of naturalism. Instead, I can sit back and enjoy the memory of a very fine show. Its magical name is Pomona and the playwright is Alistair McDowall. And it's at the Orange Tree Theatre, where the new artistic director Paul Miller, despite losing all (yes, all!) of his Arts Council funding, is performing miracles with his programming, mixing 20th-century classics, by beardies such as DH Lawrence and George Bernard Shaw, with some of our most exciting young writers.
Pomona is leftfield, and a mile wide. It begins brilliantly, with a character called Zeppo (great name!), a creepy oddball who narrates the story of the final scenes of Raiders of the Lost Ark, the 1981 Steven Spielberg film that kicked off the Indy Jones franchise. I didn't expect this. Suddenly, in front of my mind, I could picture Nazis, deserts, snakes, arks, lightning, melting bodies and containers in storage. Yes! I love it when plays begin with a bang, and Pomona's start echoes all around the evening.
So, I'd better give a plot summary: the story is mainly about Ollie, a young woman looking for her twin sister, who is missing. She asks Zeppo, a local dealer and fixer, for help, and then enters a world of pain and bizarre happenings which culminate in a horrific climax. Meanwhile, overlapping with this quest, there's an Role Playing Game played by misfit Charlie, a bit of an uber-geek, and Keaton, a classy if slightly weird young woman. Also two security guards — one quite professional, the other not — are recruited to perform a bad act.
On a need to know basis, Pomona is apparently a real place, an island in the middle of Manchester, an abandoned and overgrown strip of derelict scrubland between canals, with just one footbridge for access. A place where you could imagine bad stuff going down: prostitution, porn, robbery, abduction, rape. What's so brilliant about McDowall is that he presents this in a series of fragmentary scenes whose disconnections make the point that this urban subculture is, in some real sense, unfathomable. At the same time, he balances scenes of wild exhilaration with scenes of true feeling. When bad things happen, you feel bad; when weird stuff arrives, you feel joy.
There are many allusions to video games, graphic novels, film and pop culture. This is great play for the young at heart, and art. There's a lot of very good bits:
There's a bit about HP Lovecraft and the great god Cthulhu.
There's a bit about Dungeons and Dragons.
There's a bit about chicken nuggets.
There's a bit like Kazuo Ishiguro's Never Let Me Go.
There's a bit about the M60 ring road.
There are great lines: "Lot of talk about people disappearing," says Zeppo.
There's a bit in a phone box.
There's a bit about torture.
There's a great bit about covering Manchester in jizz.
Pomona is a simply breathtaking piece of new writing. I love the eccentricity of the characters, yet although the dialogues are emotionally true, the playwriting is never just naturalistic: McDowall builds his scenes by using references to pop-culture, creating a smash-up of television, video games, comics, fantasy and music. This new eclecticism shines as brightly as diamonds in a sewer. His play is a place for dreams, or nightmares.
The hectic story takes place in and around a sunken pit, designed by Georgia Lowe, that can be any place and no place, depending on the demands of the narrative. It also feels like a great drain where all humanity's bad dreams can be flushed away. The cast is thoroughly impressive: Nadia Clifford is the twin sisters, Sam Swann a gamester, Sean Rigby a sad security guard and Sarah Middleton is Keaton. Pomona is poetic, it is painful and it is both imaginative and real. Almost too real. And yet there are plenty of laughs during this horror trip. Ned Bennett's in-yer-face production will both delight and frighten you. If it doesn't, then get another ticket, and go back and try again.
© Aleks Sierz