Posh, Royal Court
Thursday 15th April 2010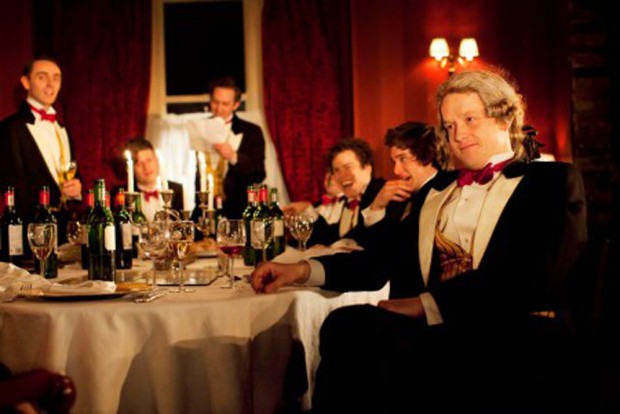 When artistic director Dominic Cooke took up his new post at this venue in 2007, he said that he wanted "to look at what it means to be middle class, what it means to have power, what it means to have wealth". Although this comment caused a lot of fuss, with diehard Royal Court fans imagining that he was about to betray the theatre's tradition of staging plays about lowlifes, Cooke's programming has managed to balance gritty underclass dramas with plays about the rich and privileged. Now Laura Wade's new play, which opened tonight, follows Polly Stenham's That Face, which was a hit in 2008, in its critical exploration of class and social advantage.
Based on exclusive all-male dinning clubs, of which the Bullingdon Club is something of a market leader, which announce the toffness of their members with all the subtlety of an inebriated roar, Wade's Riot Club sharply outlines the infamy of this type of institution, with its ridiculously wealthy members braying their prejudices before embarking on their destructive, drunken smash-'em-ups. Yes, it's not just the poor chavs who binge drink.
Set in faux-Regency pub room somewhere outside Oxford, beautifully evoked in Anthony Ward's colourful and claustrophobic design, the play introduces us to 10 young men, members of an elite undergraduate dining club, who believe that they have a right to rule. The play shows how an evening of harmless fun — spiced up with misogynist comments, hearty hurray swearing and some disillusioned drivel about the modern world — turns into a really ugly incident, which will haunt these boys forever.
The sharpness of Wade's writing is demonstrated not only in her deft depiction of upper-crust attitudes but also by her understanding of the testosterone-heavy dynamics of this group of overgrown boys. These guys, despite their bloated pocketbooks, have never left the playground. Only James, the club's president, is mature enough to have made plans, which the others deride, for life after Oxford.
Chief of the braying pack is Alistair, who is granted the best speeches, laced as they are with a mix of venomous contempt for modern life and a nostalgia for the past glories of the aristocracy. He's the one we love to hate. Other memorable characters include Guy, who wants to be president and seeks to realize his ambition by amazing the other members' taste buds, and Harry, who arrives just after a fencing match — still dressed for the sport. They are joined by George, Toby, Ed, Hugo, Miles, and Dimitri.
Like a metaphor for the nation, the old traditions of the club — which suddenly materialise in front of our eyes in a marvelous coup de théatre — sit uncomfortably next to more recent innovations, just as the members sport i-phones as well as archaic waistcoats. At the same time, these young bloods turn out to be pretty inefficient, ineffective and cowardly. It's the common people, represented here by Chris the landlord and his daughter Rachel, that seem to be the most balanced, reasonable and grown-up.
You can't fault the timing of this play, nor the precision and imaginative flair of Lyndsey Turner's vivid production. The cast of 14 are all good, with Leo Bill particularly impressive as Alistair and Joshua McGuire equally strong as Guy. Daniel Ryan's Chris provides a sound contrast. Posh is a pretty hot word nowadays — provocative because of all the fuss about Cameron and his cronies being public-school toffs — and this is a key cultural moment that seems to accurately take the temperature of the times.
This review first appeared on The Arts Desk