King Charles III, Almeida Theatre
Thursday 10th April 2014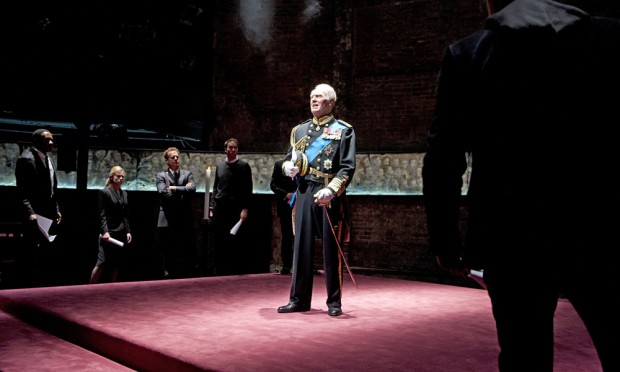 Shakespeare, oh Shakespeare! Just as the spirit of the bard dwells deep in the wood at the centre of Jez Butterworth's 2009 play Jerusalem, so it also occupies a warm place at the heart of Mike Bartlett's latest, King Charles III. This "future history play" starts with the death of our current Queen, which feels like an instant shock, and explores an age when Prince Charles becomes king. As well as being based on an inspired idea, this thoroughly engrossing drama is both a speculative political piece and a highly entertaining evening in the theatre. It is also remarkable in terms of its form: it is written in Shakespearean blank verse.
Soon after Charles III comes to the throne he finds himself embroiled in a constitutional crisis. When asked to sign into law a parliamentary bill that curtails the freedom of the press, he suffers a crisis of conscience and refuses to give it his signature. This provokes the Houses of Parliament to pass it without his formal ascent, and Charles III — in a nice echo of the doomed Charles I in the 17th century — dissolves parliament. With the country split down the middle between his supporters and his opponents, civil war is threatened.
As events unfold, Bartlett shows how the younger generation of royals — namely William and Kate — could play their part in any crisis. He also develops a subplot in which Prince Harry strikes up a relationship with Jess, a squatting art student, who is a bit of a republican and an activist. When riots break out, and the ghost of Princess Diana haunts Buckingham Palace, all of the characters have to make tough choices.
Bartlett's brilliant text pulses with Shakespearean resonances, and uses poetic devices such as grand declarations and humorous bathos to good effect. Sometimes, the effect is dizzying; at other times, the verse provokes unexpected laughter. Like a renaissance history play, this is family conflict as well as a matter of state, and Bartlett artfully reveals the minds of his protagonists. There are also clever echoes from the distant corridors of Shakespearean drama: Charles soliloquises on the tensions between private life and public duty in the manner of Shakespeare's history plays, ghostly predictions and ghostly presences are reminiscent of Hamlet and Macbeth, and there is an allusion to Hal's rejection of Falstaff in Henry IV Part 2.
Clearly, it is best not to subject the central premise of the play to too much scrutiny. If it is unlikely that Prince Charles would immediately precipitate a constitutional crisis the minute he took the throne, Bartlett is surely correct in depicting him as a man motivated by his conscience into speaking out — however tactlessly. So the play is more about poetic truth than literal fact, however preposterous. And that's a good thing.
Bartlett doesn't specify that the Prime Minister in this fantasy is the current Labour leader, but his rather bloodless Mr Evans is close enough to any PM, managerial, impatient and finally hedged in by our unwritten constitution. The ambitions of the younger royals, William and Kate, likewise feel just right — they will surely not be mere eye candy for ever. The scenes in which Prince Harry meets Jess and longs for a life of greater connectedness gives us a picture of an engaging young man, and flatters us into believing that these distant privileged beings are really just like the rest of us. Jess, who represents the proles, is similarly a very attractive character — and her hounding by the tabloids makes us love her, and hate them. It also gives another perspective on the parliamentary bill that has provoked the crisis. The scene with the kebab vendor, who muses on the nature of national identity, is also great.
Not only is this play fired by a wonderfully original idea, it is also dazzlingly realized in a thrilling production by Almeida supremo Rupert Goold. On Tom Scutt's regal dais stage, Goold fields a cast that both look and behave remarkably like the real-life royals. As Charles, Tim Pigott-Smith starts off with his character's recognizable nervous ticks before growing into a majestic portrait of a mind on the brink. Likewise there's good work from Adam James as the PM, Oliver Chris and Lydia Wilson as William and Kate, Richard Goulding as Harry, Tafline Steen as Jess and Margot Leicester as Camilla. Yes, okay I can't resist the following cliché: this is a right royal triumph.
© Aleks Sierz