New Women Playwrights (New Writing 2011)
Tuesday 1st November 2011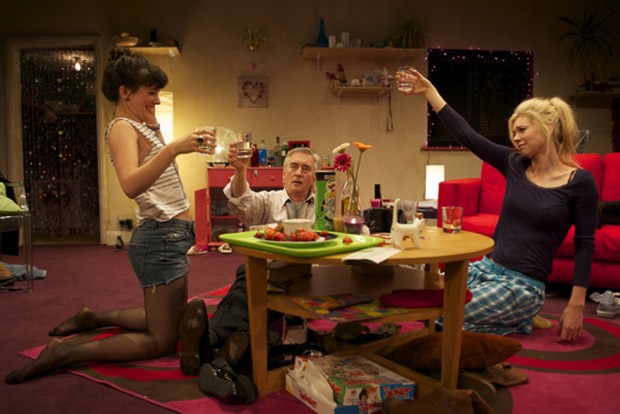 In 2011, the former Young British Artist Tracey Emin enjoyed a major retrospective exhibition of her work at the Hayward Gallery in London. It was called "Love Is What You Want". Advertised as being "by turns tough, romantic, desperate, angry, funny and full of longing", her work often staggers along the line that separates the personal and the political. But if her attempts at irony are more successful than her provocative shocks, it sometimes feels that her work is a kind of flickering shadow behind some of the stage plays of the past 20 years. Like her work, the work of contemporary British women playwrights has featured shock tactics, personal revelation, disarming frankness and playful antics. However you describe it, there's certainly been a remarkable upsurge in new writing by women playwrights in the past few years.
On 1 January 2009, a BBC 4 radio arts programme, Front Row, devoted a special broadcast to the new wave of what presenter Kirsty Lang called "promising young playwrights", namely Lucy Prebble, Polly Stenham, Chloe Moss, Lucy Kirkwood, Ella Hickson and Alia Bano. Of course, apart from being female, these writers are really not all the same. For a start, Prebble's debut was The Sugar Syndrome, back in 2003, and she has since had a successful television career, scripting, among other things, Secret Diary of a Call Girl (2007—). Similarly, Moss made her Royal Court debut in 2002, and has enjoyed several commissions since then. Surely, these two can hardly be called "promising" — they have already arrived. But, apart from such lack of discrimination, the BBC had put its finger on a real phenomenon: a new wave of women playwrights.
Starting with Stenham's That Face (Royal Court, 2007) and Prebble's Enron (Headlong/Chichester Festival/Royal Court, 2009), both of which transferred to the West End, it seemed not only that a new generation (Stenham was 19 when she wrote her play) had arrived, but that it could achieve instant commercial success. In the first half of 2011, this trend has continued: there have been well-reviewed new plays from teenager Anya Reiss (The Acid Test) and young Lou Ramsden (Hundreds and Thousands), followed by Penelope Skinner's The Village Bike, whose run at the Royal Court was extended after selling out. Other new women playwrights much in evidence recently include Bola Agbaje, Alice Birch and EV Crowe. And another dozen or so names would include Sarah Beck, Lucy Caldwell, Anupama Chandrasekhar, In-Sook Chappell, Molly Davies, Vivienne Franzmann, Sarah Grochala, Atiha Sen Gupta, Sam Holcroft, Kerry Hood, Nina Raine, plus older hands such as Gurpreet Kaur Bhatti, Stella Feehily, Rebecca Lenkiewicz, Laura Wade and Joy Wilkinson.
Women have also conquered some of the remaining male bastions. Lenkiewicz's Her Naked Skin (2008) was the first play by a living woman writer to be performed on the large Olivier stage at the National Theatre, and Nell Leyshon's Bedlam (2010) became the first play by a female playwright to be performed at Shakespeare's Globe. On a more international note, the appearance of Irish playwrights such as Deirdre Kinanhan, Nancy Harris and Elaine Murphy suggests that the phenomenon of a new wave is not limited to the UK. As well as being numerous, women playwrights have also been well appreciated: American-born Katori Hall won the Olivier best new play award in 2010 for The Mountaintop, the first black woman to achieve this prestigious recognition. Prebble's Enron was nominated for the Olivier and Evening Standard awards and in 2010 won the TMA Award for Best New Play, while her director Rupert Goold was awarded the Evening Standard, Critics' Circle and Olivier Awards.
This emergence of women playwrights, and their promotion by the Royal Court (London's new writing powerhouse), is surely reminiscent of the 1980s, when talents such as Caryl Churchill, Timberlake Wertenbaker, Sarah Daniels, Andrea Dunbar, April de Angelis and Clare McIntyre lit up the scene. But wait a minute, the most striking thing about these 1980s playwrights was not only their ability to recreate women's experience on stage, but their willingness to experiment with form: Churchill's Top Girls (revived in 2011 by Max Stafford-Clark, its original director) tells its story in a non-linear way, and its famous first scene is a wildly imaginative dinner party attended by both real and fictional women from history. Likewise, Charlotte Keatley's 1987 classic My Mother Said I Never Should is a tale of four generations of women written in a thrillingly fragmented way. "I jumble time and childhood," said Keatley, "because this is not a play about the past, but about how the past continually interrupts the present." She also argued the feminist point that "most women are taught a different emotional time from men", and therefore should find new theatrical structures to convey this.
So how do today's women playwrights structure their plays, and do any of them go beyond the standard, linear form of naturalistic storytelling that is so familiar from mainstream film and television? At first glance, the answer is no. Most contemporary female playwrights have abandoned the experiments with time that characterised the playwrights of the 1980s, and none can match Churchill for sheer imaginative vision. Most of them tell stories about "me and my mates" in a way that wouldn't be out of place on television. Few focus specifically on female experience, or sport all-women casts. But even if the structure of their plays is conservative, there can be no doubt about their writing talent: audiences have been excited by Stenham's visceral punky spirit, by Reiss's sharpness of observation, by Skinner's accounts of sexual misery, by the humour of Bano and the sheer verbal panache of Agbaje.
At the same time, the question should be asked: why are they not more imaginative in their attitudes to form? One reason could be external pressure: is it because no theatre today will accept difficult plays whose unfamiliar form might frighten audiences? With a new era of economic austerity being heralded, even state-subsidised venues depend on their box-office takings for some 50 per cent of their income, so this discourages risk-taking. Or is it because these writers are using theatre as a calling card for a career in television and film? This may be a factor in a minority of cases, but one of the striking things about British playwriting culture is surely its flexibility; this is expressed in the way it encourages writers to work in different media (theatre, radio, film). So there's no reason for a playwright not to experiment in form for the theatre while simultaneously obeying all the genre rules for a television soap. Another reason might be that today's women playwrights are less consciously "female writers" and many regard the feminist agenda of past generations as rather old fashioned. Finally, the simplest answer to the question of conservative structure might be that they use the clearest form to tell their stories — and in our theatre culture, the clearest form is straight linear naturalism. Here the weight of the whole aesthetic system bears down on the shoulders of the individual playwright.
On deeper investigation, the full picture is more complex than these generalisations suggest. Not all new women playwrights despise experiment. Not all are in thrall to naturalism. For example, Kirkwood's Small Hours (co-written with Ed Himes, 2011) was an experiment in immersive theatre with audiences limited to 25 people. Her debut, Tinderbox (Bush, 2008), explored a wildly surreal and absurdist aesthetic. Similarly leftfield, Ramsden's Hundreds and Thousands used the aesthetics of the horror story and gothic tale to chart one woman's descent into fear. Alice Birch's Many Moons (Theatre 503, 2011) told its story by using four interlinking monologues and Ella Hickson's Eight (2008) was a set of monologues, four of which the audience select to be staged on any evening. Kerry Hood's Meeting Myself Coming Back (2002) impresses and inspires both in terms of its linguistic inventiveness and its fractured narrative. And live art practitioners such as Nic Green, as her Trilogy proved, have been happy to create a three-hour piece of participatory theatre that critic Lyn Gardner said "makes your heart sing" and "wears its politics with a cheeky grin and a skip in its step".
Older women playwrights are certainly not averse to experiment: Enron, after all, is full of theatrical flair, Wade's Posh (2010) features a ghost in its central scene, and debbie tucker green (whose debut Dirty Butterfly was staged in 2003) ceaselessly alters the form of her work. And it's hard to disagree with her critical slant on racism, sexism and neocolonialism. Her latest, Truth and Reconciliation (2011) is a finely judged look at such tribunals in Africa and beyond. And her work is great. But the point still remains that many of the freshest voices that have emerged in recent years are also the most conservative in terms of theatricality and it terms of their idea of female experience. In 2010, playwright David Hare spoke about the "extraordinary number of first-rate plays by women writers", arguing that "we have at last reached a tipping point. Women's writing for the theatre is stronger and more eloquent than it has ever been." While this is surely true, wouldn't it be great if it was also more experimental aesthetically and more radical politically? As Tracey Emin once advised, "DON'T BE AFRAID TO TAKE THE PAST HEAD ON."
© An earlier version of this article appeared as 'New women playwrights', Contemporary Theatre Review, vol 21, issue 4, November 2011: pp. 542-44.