Brexit revisited
Wednesday 1st January 2020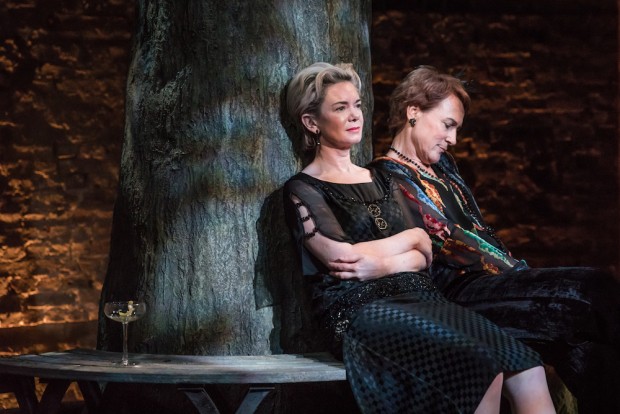 "Fetch me 'ammer." (Edward Bond, Saved)
"Art is not a mirror held up to reality, but a hammer with which to shape it." (Bertolt Brecht)
A couple of years ago, our family got a new puppy. It was called Brexit. Like any new arrival, it completely changed our daily lives. Its acquisition was, of course, an accident. Something done without much thought; a moment of instinctive action. And, at first, we were all fascinated by this romping, tumbling, and joyfully barking creature. There was lots of tail-wagging, and some messy moments. A cross between a bulldog and a pit bull, it seemed to be such a fascinating beast. Early on, however, we spotted some problems: the little devil started to chew up any bank statements he could find. And he affected our finances in many other ways, too. Yes, Brexit made our holidays more expensive. It was costly to feed him. So, I must admit that half the family have always been skeptical about what they ironically call "our independence day". And it's hard to see how he could have ever made our poor family great again. Still, over time, the puppy has grown up a bit: most of us have remained fascinated with it, anxiously inquiring about its health and savouring news of its latest exploits. Observing it closely, and looking after it. But, by the same token, some of us are now getting a bit bored with hearing about it. For the rest of its life, Brexit seems fated to divide opinion — our family will just have to learn to live with it.
British theatre has reacted to Brexit with a range of emotions. A couple of years after the Referendum of summer 2016, and about a year before the official leave date of March 29, 2019, cultural industries of all kinds are partly depressed, partly resigned, and partly angry. The issue of migration, which was central to the Referendum result, is clearly also a worry in any consideration of the future. For example, one arts agency, the Creative Industries Federation (CIF), has predicted a "major skills crisis" when freedom of movement between countries ends after the UK leaves the EU. In its Global Talent Report (October 2017) the CIF argues that since almost seven percent of the creative sector workforce nationwide is from the EU, any restrictions on free movement would have a significant impact. For theatre, particularly London theatre, the situation is even worse. About ten percent of staff is from Continental Europe. And the problem goes beyond recruitment: the state of London theatre drives live events across the country.
Other reactions from important members of the theatre community are even more critical. For instance, Kwame Kwei-Armah, the incoming new artistic director of the Young Vic theatre in London, said at a Royal Society for the Arts symposium held in September 2017 that: "The challenge of Brexit to theatre in an increasingly borderless world is: do we want interdependence? I think theatre in Britain has practiced Brexit for as long as I can remember. I think we privilege the English word." The implication is that British theatre has been insular before Brexit, and may become even more so in the future. He concluded: "I'm really interested to see how we integrate with Europe on the plays that we put on our stages and the plays we commission, and how we approach it in the way opera does. Opera isn't afraid of internationalism, and we are." Brexit might even be an opportunity to relate differently to the wider cultural world.
By the law of unintended consequences, Brexit has already been good for some theatre sectors. The immediate effect of the Referendum was to reduce the value of the pound sterling by an average of about twenty percent. This has not only delighted exporters of all kinds, but has also meant that London theatres have enjoyed their most successful year ever — due to a post-Referendum tourist boom. The Society of London Theatre (SOLT) audience figures show that more than fifteen million theatre tickets were sold in 2017, which is the highest figure since records began more than thirty years ago. Figures from the Office of National Statistics also show a twenty-five-percent rise in visitors from the United States due to the UK becoming a cheaper tourist destination. SOLT figures detail how 8,755,590 people went to a musical in 2017, up eight percent on the year before, pulling in a revenue of £436,611,108. And 4,468,105 went to a play, up seven percent with a revenue of £176,436,089. There were 258 new productions in 2017, a slight fall from 276 in 2016. But if the commercial sector is enjoying an unprecedented Brexit boom, what about the UK's subsidized flagship theatres?
Rufus Norris, head of the National Theatre, responded immediately to the Referendum result by undertaking a large "listening exercise" in which theatremakers were sent around the country, interviewing so-called ordinary people about their reactions to Brexit. As a deliberate provocation, strong Remain areas such as London were not included in the survey. However quick off the mark, Rufus's project raises more questions than it answers: if those areas of the country which voted most strongly to Leave — North-East, South-West and Midlands — are the most socially and economically deprived, then simply listening to them will not solve their economic problems, nor will it lead to better representation of them in the theatre community. The more you think about it, the more the soft idea of "listening" actually starts to sound like a mealy-mouthed excuse for nothing very much thank you. It is, basically, nonsense. The result of this exercise was My Country; A Work in Progress, a verbatim play put together by Norris with the help of Britain's poet laureate Carol Ann Duffy. It was staged at the National Theatre in March 2017. And it has a good claim to be the worst new play of that year.
My Country; A Work in Progress, whose text is made up of edited interviews with members of the great British public from all four corners of the land, starts with the figure of Britannia (how original), who summons the audience (how embarrassing) and tells us to listen (how patronizing). Britannia is joined by Caledonia, South-West, Cymru, Northern Ireland, East Midlands and North-East. Together they express the verbatim opinions of ordinary people: some reasonable, some racist, some frankly stupid. Conflicting emotions of anger, despair, and disillusionment (and suspicion of foreigners, who are not given a voice and clearly don't count as "British") create a cacophony of disagreement. The effect is not only clichéd, lacking any theatrical imagination, but also mind-numbingly predictable. The metaphors are weak, the thinking absent, and the tone is unbelievably condescending. Norris also made My Country; A Work in Progress into a fifty-five-minute film broadcast on BBC 2 at 9:00 p.m. (peak time) on Saturday November 18, 2017. Like the stage play, it offered only familiar resentments and familiar opinions. Of course, both play and film show a picture of a divided nation: our country, as the title makes clear, is a work in progress, a place in transition from an imagined glorious past to a deeply uncertain future. But I think that we did all know that already.
One good thing about new writing for the British theatre is its sensitivity to new sensibilities and new currents of feeling. Since June 2016, the idea of Brexit has already sneaked into a couple of recent plays: so far, the best post-Referendum play to mention some of the feelings that have surfaced about Brexit is Mike Bartlett's Albion (Almeida, 2017). This family drama, set in an English garden, a traditional metaphor of national identity, has one character — Krystyna, a Polish migrant cleaner who through hard work has become a bit of an entrepreneur — and who is a walking advert for the idea of the good migrant. The problem is not so much the character as the way her speeches are written: "I will never be British but I think the truth is that there is a respect for money and work here. And that's all that matters. There is a long tradition of immigrant communities arriving, being discriminated against, but working hard and within twenty years they are accepted. It is happening with the Polish. I think people like Polish builders, and workers now." This is writing that has one hand on its heart, and is annoyingly declamatory. Bartlett can sometimes be over-explicit. Another character in Albion is a novelist called Katherine, who explicitly hates Brexit: in one of her books, she attacks "the willfully ignorant people who seem to be full of hate, but whose voice seems to have grown increasingly loud in the last few years." This is shorthand for Leavers, and clearly an articulation of the Remainers' dismay about Brexit.
As you would expect, plays about Brexit include plenty of humorous shows, most often put on at the Edinburgh Fringe Festival. Market leader here must be Chris Bryant's Brexit the Musical, staged by the satirically named Strong and Stable Productions, and which ran at Edinburgh in August 2017. This musical comedy takes the mickey out of famous political figures such as Theresa May, Boris Johnson and Michael Gove, as well as Jeremy Corbyn, the muddled Labour Party leader who has failed to stand up against the whole Brexit project. In other, smaller plays, the growth in anti-foreigner feeling, a widely reported effect of the Referendum, is also mentioned. For example, Stephen Laughton's Screens (Theatre 503, 2016) includes an incident in which a Turkish mother is abused in the street because she is mistaken for a Syrian refugee. Likewise, Stef Smith's Human Animals (Royal Court, 2016), a visionary play about an ecological disaster, is full of resonant metaphors reminding us that migrants are often characterized as swarming or pouring across Europe, while the use of key words like "incineration" suggests the Holocaust and ethnic cleansing. Smith shows how gradually a national emergency can develop, and how ordinary people can accept extraordinary situations. While she illustrates how fear of infection can be used to spread panic and obedience in a population, she is also emotionally attuned to the power of resistance. A similar desire to resist the worst effects of recent trends can be seen in the Royal Court theatre's Open Court season in June 2013, which was a week of shorts and readings about the worst-hit European economies, the so-called austerity countries (Portugal, Ireland, Italy, Greece, and Spain) known collectively under the acronym PIIGS. Every night, each of the countries in turn explored the effects of economic austerity, and its social consequences.
Looking back at our more insular preoccupations, James Graham's award-winning political comedy, Labour of Love (Noël Coward Theatre, 2017) surveyed the recent history of the Labour Party. It told the story of David Lyons, a young Yorkshire-born but Oxford-educated candidate who gets Ashfield, a safe northern Labour seat in 1990. Because his wife Elizabeth, a lawyer friend of Cherie Blair who has an embarrassingly metropolitan accent, isn't keen on doing constituency work, David persuades Jean Whittaker, wife of the retiring MP, to carry on as his election agent. Over the next twenty-seven years, we watch the ups and downs of his life as a Blairite MP, and his arguments with his more leftwing colleagues, especially with the feisty Jean. The future, he argues, can only come from a fusion of left and right, which is a disappointingly bland (I'm tempted to say Blairite) conclusion to a very long evening. The play is full of center-left banalities. It feels like a compensatory massage for all bruised centrists and Blairites. After Brexit, the play seems like it's wallowing in nostalgia.
Brexit has not only featured in some new plays; it has also transformed our (or at least my) perception of most of the plays that we see — even if they never mention the EU or migration. In a similar way that feminism, gay liberation, and then heightened racial awareness changed the lens through which audiences perceive drama, alerting them to depictions of unconscious sexism, homophobia, and racism, so the EU Referendum means that many audiences now see plays with a changed sensibility. Let's start at the Royal Court theatre, the so-called powerhouse of new writing. Jez Butterworth's Olivier-award-winning play The Ferryman opened here in May 2017, before transferring to the West End. Set in rural County Armagh in August 1981, the play is a rather stereotypical view of the Northern Irish rural classes, who — in a rather clichéd way — are always bursting into song and dance, musing philosophically or seething with resentment about the Brits and their role in suppressing the Easter Rising of 1916. At the end of the play, which does have its high points and pleasurable moments, there is an outburst of senseless violence that makes you question the author's moral compass. Once again, extreme violence is used as entertainment. So, despite Butterworth's considerable storytelling finesse, this is a play that lacks heart. That would be bad enough, but, as seen through the eyes of anyone who is a Remainer, surely the play's celebration of an essentially nostalgic vision of rural Northern Ireland in the age of the Troubles, the age of Margaret Thatcher, is an implicit, perhaps unconscious, argument in favour of leaving the EU. After all, being part of the EU hasn't helped a single one of this story's characters. Whatever Butterworth actually thinks about Brexit, his play is part of an insular culture that supports it.
But the greatest recent play about Brexit preceded the Referendum. If nothing else, it was in a sense visionary. Martin McDonagh's runaway success, Hangmen, was staged at the Royal Court in September 2015, well before the Referendum. This story about a public executioner on the eve of the abolition of the death penalty in 1965 is a black comedy, full of jokes about northerners, about blacks, about women, about gays. The characters mock the working class; they sneer at weakness. The playwright gets laughs by sticking his tongue out at Germans. At fat people. At deaf people. At one point, there's a "cock" joke, then another, and then another. And then yet another. The sensibility of this play is so crass and vulgar that it's astonishing that anyone could like it. The way it pokes fun at foreigners suggests that McDonagh, who like many playwrights has an ability to tap into the nation's unconscious psyche, understood what British people wanted, or rather how we Londoners wanted to think about people who live in a deprived part of the north of England. Once again, however unconsciously, he perceived that Brexit was on its way — a year before it happened.
When you look at the classic plays of any postwar decade, their revivals will now also be tinged with the stain of knowledge of the EU Referendum result. Take the 1980s. Again at the Royal Court, there have been two recent revivals of shows that were first staged in the Thatcher era. In August 2017, Jim Cartwright's Road was revived at the Royal Court in a production directed by John Tiffany, the man responsible for the two-part West End mega-hit, Harry Potter and the Cursed Child (Palace, 2016). Originally staged at the Royal Court in 1986 and now revisited as a modern classic, we can easily see that Road's picture of poverty, social deprivation, depression, and drunkenness is an instantly recognizable illustration of the north of England. Yes, this is us. Or, rather, them. In its battered verbal poetry and lurid imagery, it clearly shows communities abandoned by Thatcherism and the march of neo-liberalism, areas of the land that suffer extreme poverty and all its social consequences. Three decades later, the inhabitants of places exactly like this were given the chance to vote on how they felt about Westminster, the EU, and immigration — with predictable results.
Then the same venue staged a revival of Andrea Dunbar's 1982 play, Rita, Sue and Bob Too, in January 2018. So Dunbar's voice was not silenced and, indeed, this revival — directed by Kate Wasserberg — once again proved the work's relevance. Sharply observed and full of teenage boasting, the play features a pair of young teens learning about sex, family, and friendship. It is also an indictment of ignorance and poverty. In this version, edited by John Hollingworth and Max Stafford-Clark, Dunbar's down-to-earth view of sex is crude but with a sharp tang of young wisdom (she was nineteen when she wrote it). Anyway, the sex is much less appalling than the behaviour of the men, who are drunken, predatory, or both. Politically, this semi-autobiographical story has a wider resonance: in the past, poor working-class communities could protect their young women with a strict moral code based on religion, and through stable families. By the 1980s, the decline of deference and a combination of increasing secularization and the market ideology of individual freedom meant that 1960s sexual liberation resulted in more exploitation of vulnerable women. Dunbar, who died aged twenty-nine from a brain tumour, understood this instinctively. Her women are feisty survivors; her men are selfish exploiters. After Brexit, this play reminds us once again that these conditions have been a running sore in the body politic for decades. Westminster's failure to deal with such problems resulted in the government's defeat in the EU Referendum.
Plays such as Road and Rita, Sue and Bob Too — plus recent(ish) revivals of Simon Stephens's Port and Herons — have shown us images of those Britons hit hardest by austerity. But as well as presenting a negative picture of northern working-class life, they also give a strong voice to the dispossessed and the deprived. In London, hearing northern accents on stage is a rare joy in itself. The problem is not that British theatre ignores the concerns of the poor; the problem is that the poor are excluded from much of British culture. And when they are represented it is as objects of fun and derision. For examples, read Owen Jones's Chavs: The Demonization of the Working Class (2012). It is clear to me that British playwrights have not been isolated from the real world. Not only have they been listening, they have been writing dramas about poverty for decades.
Rufus Norris is simply wrong: British theatre has never been out of touch with reality. The whole history of postwar British drama is stuffed with work about the poor and the underclass, the miserable and the disenfranchised, the racists and the Little Englanders — full, in other words, of all the people who apparently voted to Leave the EU. And although, with a couple of exceptions, it is too early for British theatre to comprehensively tackle the new issue of Brexit, it has for decades already addressed the subject of social division. In fact, plays about the so-called underclass are a staple of British stages. You know the genre: it's called dirty realism — stories about poor working-class people in desperate straits. Examples of such dirty realist drama are not just written by obscure playwrights for minor fringe venues; they are part of a staple tradition and have been penned by some of the best playwrights of the new millennium: Simon Stephens, Dennis Kelly, and Roy Williams, to name but three.
The problem with Brexit is that it affects not only how we respond to current plays, or revivals of recent dramas, but to all theatre shows. It has profoundly changed how we look at any play, no matter when it was first staged. It has changed audience perceptions of everything. Even revivals of classical dramas. Watching these, our new sensitivity suddenly makes even minor characters more important. For example, in plays of the Restoration era and of the long eighteenth century, there is often a stock country bumpkin character usually mocked by the metropolitan elite. In William Congreve's The Way of the World — revived by James Macdonald at the Donmar Warehouse in April 2018 — there is Sir Wilfull Witwoud, a hearty Shropshire squire who gets drunk, sings patriotic songs, and insults Turks and Muslims. The sophisticated London characters despise him as an oaf. With his prejudices and national pride, in Brexit Britain he seems like the common ancestor of the prototypical Leave voter.
For another example, consider George Bernard Shaw's Saint Joan: A Chronicle Play in Six Scenes and an Epilogue which was first put on in 1923. In the past, audiences would respond to its theme of individual responsibility and social justice. Now, after Brexit, this has become a story — in the Donmar Warehouse December 2016 revival — about an outsider who galvanizes a nation, making it proud and patriotic again, while also unleashing ugly emotions (cf. Nigel Farage). It's no longer just a play about medieval France: now it's become a play about Brexit Britain.
My final example is Agatha Christie's Witness for the Prosecution, first staged in the West End in 1953. In those days, and for decades afterwards, this was just another story about justice being done, and about the British class system (its picture of national identity is of a country in which fair play is enshrined in law and administered by public-school boys). After Brexit, as the recent 2017 revival at London County Hall illustrates, the story is more about how one of the central characters, Romaine, a German refugee, is a foreigner. In the play, the idea is that foreigners — especially Germans — are suspect, inherently untrustworthy, and liable to betray. After all, Romaine revels in exposing British hypocrisy. In the post-Brexit era, this picture of foreigners is even more troubling than it was in the post-Hitler era.
The EU Referendum and the political, cultural, and social climate that has followed it also poses the question of whether theatre can, or — more militantly — should intervene in this crucial situation. On the day after the vote, Daily Telegraph theatre critic Dominic Cavendish tweeted the question: where are all the plays about this vital issue? "What a squandered opportunity by the theatre establishment to take a proactive role," he wrote. But is this right? In a whatsonstage blog, critic Matt Trueman replied that theatre is not a propaganda machine: "A play is not a public information broadcast; still less a campaigning tool. For a play to have overturned the result, it would need to have converted around 700,000 Leave voters to the other side. Now I'm no Cameron Mackintosh, but I can't see a piece about the merits of EU membership becoming the next War Horse. Can you?" He went on to argue that "theatre's often at its worst when it approaches a subject head on. It becomes flat-footed and factual, often lacking in metaphor; closer to journalism than theatre." But, unwilling to abandon the notion that art might just be able to hammer some sense into thick heads, he ended up arguing that theatre should get more involved with communities. "It needs to get out into communities and get people involved, to counter the disaffection that motored the Leave vote. Rather than putting a case for alternatives, why can't theatre be the alternative?" Now there's idealism for you.
Until something stirs in the grassroots, it looks like Brexit will go ahead. In terms of affect, the effect of the vote on many people in the theatre community has been one of catastrophic loss, of bereavement. For them, 23 June 2016, is the day that our dreams about Europe died. So perhaps we should look at British theatre post-Brexit through the lens of Elisabeth Kübler-Ross, the Swiss-American psychiatrist whose 1969 book, On Death and Dying, popularized the notion of the five stages of grieving: Denial, Anger, Bargaining, Depression, and Acceptance. People often think of the stages as linear, but she was clear that an individual could go into any one of these stages at any time during the grieving process. Using this metaphor of grief, you can see that there are many examples of both denial and anger in the British theatre community, and perhaps a fair amount of depression too. And even acceptance. Whether British theatre will ever be fully reconciled to Brexit is uncertain. But I am sure that it will continue to explore the social divisions that underlie it. And, at its best, collaborate across borders to make both better art and better people.
Until then, I have a more immediate problem: my dog needs his walk. And, maybe, if I throw him a plastic hammer, he will learn to fetch it.
© An earlier version of this article appeared as 'British theatre after Brexit: one year on', PAJ: A Journal of Performance and Art 120 (Volume 40, Number 3), September 2018: pp 60–70.