Screens, Theatre 503
Tuesday 16th August 2016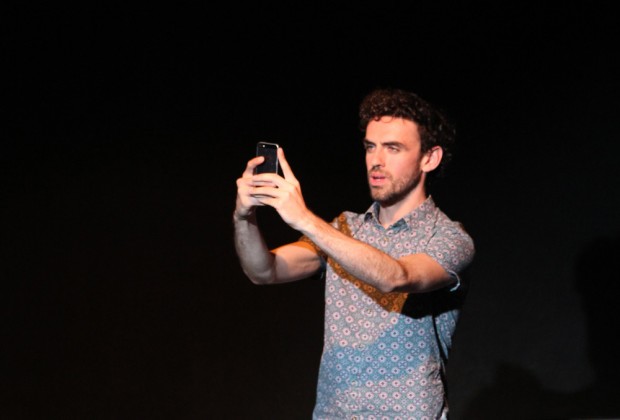 There are many plays that feature digital devices, but few that pack as tight a punch as Stephen Laughton's aptly-titled Screens. Beginning with a terrible moment as Emine, the widowed immigrant mother of two kids, finds a decapitated cat in the street, the story explores how she copes with a subsequent life-changing moment that affects her mobile-obsessed offspring, Al and his sister Ayse. By wrapping this family drama in the garb of current debates about digital distress and national identity, Laughton delivers a powerful vision of where we are at the moment.
Al is a 25-year-old gay British Cypriot who is thinking about leaving the family home in Harlow. In the meantime, he is also exploring the sexual possibilities of Grindr, "the world's largest gay social network app". One night, he's cooking a traditional Turkish meal to celebrate his mother's birthday; the next, he's meeting the 33-year-old Ben, an awkward moment as Al is completely unused to online dating. When Ben, who is Jewish, starts discussing the history of Cyprus, which in 1974 experienced a military coup by its Greek population followed by a Turkish invasion and partition, Al gets upset — he thinks that the other man is messing with his identity. But, as Ben persuasively argues, isn't it good that our sense of self is created through such frank exchanges? After all, the Jewish experience is as fraught with emotion as the Muslim one.
Laughton cleverly twists these political issues by showing that Emine, a Turkish migrant to Britain in the 1980s, may not be all that she seems, and thus radically questions any notion of individual identity that is based on blood. As such, he suggests that who we are may be more a matter of choice than is normally assumed. One of the best passages of the play is Ayse's brilliant speech in which she outlines just how complicated any individual's identity can be: a mix of individual characteristics and wider issues of nationality, race, religion and age. As she says, "I'm British with a twist." And although she sees the positive side of this cultural hybridity, there is also a downside.
Once Ayse tears herself away from twitter and Instagram, and goes out for a evening with her boyfriend Charlie, an intelligent youth who acts as if he's a black streetsmart teenager, the plot moves up another gear, and the capacity of nice young people for inexplicable acts of violence — all captured on social media — is foregrounded. The sense of rage is palpable in Cressida Brown's fast-moving production, which takes place on a bare set with only two chairs for props. The darkness of the colour palette contrasts with the wide white stripe that runs around the stage, on which Richard Williamson's video design enables us to see what's happening on Al, Ayse, Ben and Charlie's phone screens.
The idea behind the play's title, of the separation between a seductive fantasy world and the more banal everyday reality, offers a good metaphor for the way the characters not only interact, but also think about who they are. With good performances from the whole cast — Declan Perring (Al), Nadia Hynes (Ayse), Fisun Burgess (Emine), Paul Bloomfield (Ben) and George Jovanovic (Charlie) — Screens is a short but compelling play. I especially like Laughton's dialogues, which perfectly catch the nuances of sibling rivalry and family angst. His sense of the contemporary includes references to Brexit and Pokémon Go, and his images, from the symbolic dead cat to the escalating numbers of retweets as one of the protagonists is accused of being a paedophile, generate a lot of energy, although I would have preferred it if Laughton had written a story that runs for more than 70 minutes. There is enough material here for a longer, and slightly deeper, play.
© Aleks Sierz