Labour of Love, Noël Coward Theatre
Tuesday 3rd October 2017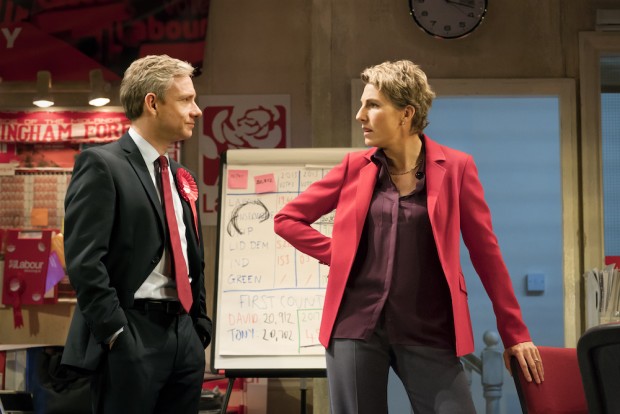 Prolific playwright James Graham aspires to be nothing if not timely. His latest, a play about the Labour Party, was originally due to open during the week of that party's conference, when our ears were once again ringing to the chant of "Oh, Jeremy Corbyn!" Unfortunately, the play's TV star Sarah Lancashire had to pull out, so its West End opening was delayed until tonight. Her replacement, Tamsin Greig, joins Martin Freeman in this epic comedy about a Labour MP in an era of change. It's a starry cast, but does the play's content live up to its billing?
Opening with the familiar chords of the White Stripes' "Seven Nation Army", Labour of Love (geddit?) tells the story of David Lyons, a young Yorkshire-born but Oxford-educated candidate who gets Ashfield, a safe northern Labour seat in 1990. Because his wife Elizabeth, a lawyer friend of Cherie Blair and with an embarrassingly metropolitan accent, isn't keen on doing constituency work, David persuades Jean Whittaker, wife of the retiring MP, to carry on as his election agent. Over the next 27 years, we watch the ups and downs of his life as a Blairite MP, and his arguments with his more leftwing colleagues, and especially with the feisty Jean.
The first scene, which is set in 2017, alerts us immediately to the play's central gimmick: the story is told backwards, jumping from one significant milestone to another. So we watch the Miliband years, the Blair years and the Kinnock years, helped by Duncan McLean's video footage of Labour Party history. Of course, it helps to know the story, and to be familiar with Clause Four and the Militant Tendency. If you aren't, never mind, there are plenty of humorous barbs about an MP's daily life: listening to complaints about dog shit, or getting caught claiming expenses for a gold bath plug. Some of the potty-mouthed exchanges are definitely funny.
In the second half, Graham re-runs the story, cleverly filling in some of the emotional background that was absent in the first half. It is a tale of loss, missed opportunities and betrayal and disappointment — a stereotypical Labour story. As the play's title suggests, this is also a love story. One that doesn't run smooth. Its late flowering feels a bit contrived, especially as the playwright seems to imply that the feelings of David and Jean are a metaphor for a way forward for the party. The future, he argues, can only come from a fusion of left and right, which is a disappointingly bland (I'm tempted to say Blairite) conclusion to a very long evening.
Although hyped as a rom-com, this is probably the least romantic love story ever to grace the West End stage. Near the end, there's a neat twist to the storytelling, although for most of its long length the play lacks drama, has several dull stretches and is only fitfully funny. The writing works best when delivering one-liners, and very rarely catches fire. Lee Newby's set is cramped and uninspired, and Jeremy Herrin's production is workmanlike rather than thrilling. Okay, we get two stars who are on stage for the whole evening: Freeman plays the centre-grounded David with the slightly bewildered look of a new boy at school, while Greig looks uncomfortable in the role of a lefty true believer — her heart is not in it.
In the minor roles, Rachael Stirling (Elizabeth), Susan Wokoma (an activist) and Dickon Tyrrell (another Labour activist) never really have the chance to shine. Freeman gets all the best political lines, and the play as a whole feels like a compensatory massage for all bruised centrists and Blairite nostalgics. The few moments of theatrical pleasure — an animatronic snowman, games with the Flipchart easel, a bunch of roses in a Wellington boot and Freeman's applause-seeking dance — are poor compensations for the stream of centre-left banalities. The play is never deep enough emotionally, never profound enough politically and never funny enough to repay your interest. It will appeal to Labour history buffs, and some party members. For the rest, Labour of Love will feel like hard labour.
This review first appeared on The Arts Desk