Vincent River, Park Theatre
Friday 23rd March 2018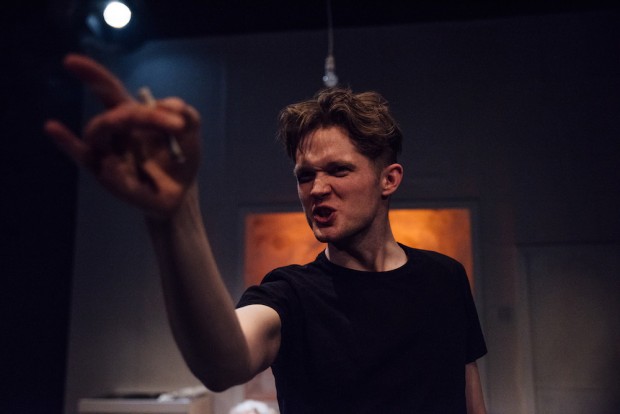 Every great playwright has to have both an identifiable style and the ability to innovate and change. When genius polymath Philip Ridley first staged Vincent River at the Hampstead Theatre in 2000, his fans noted that this two-hander was more naturalistic than his previous surreal and gothic East End trilogy — The Pitchfork Disney, The Fastest Clock in the Universe and Ghost from a Perfect Place — and more political too. From leftfield to mainstream. Watching it today it is clear that this brilliant drama, which was also revived in the West End with Lynda Bellingham in 2007, has all the hallmarks of Ridley's best work while exploring a social issue, gay bashing and unreasoning hatred, that remains distressingly relevant.
In the short programme note, director Robert Chevara says that the play is "even more prophetic and prescient now than the it was first produced". Citing the murder of MP Jo Cox by a right-wing extremist, and the fact that hate crimes have risen by 29 percent in the past year, he points out that violence against LGBTIQA people has risen by 80 per cent. It's a scary time. These stats set the scene for the awful tragedy that follows. As the lights go up, we see Anita, a fiftysomething mother who has run away from her "gorgeous flat" in Bethnal Green to stay in this "dump in Dagenham" (set designed by Nicolai Hart Hansen). She needs to get away from prying and aggressive neighbours, and it's not long before we find out why.
Anita's thirtysomething son Vincent has recently been murdered in a horrific homophobic attack. Here, in her new place, amid the cardboard storage boxes, fag packets and bottles of gin, she calls in Davey, a teenager who's been hanging around outside, occasionally following her. He claims to be the guy that found the body of her son. But he clearly knows more. But what, exactly? In this tense emotional ghost-ride of an 80-minute play, directed with a really satisfying feel for character and pace by Chevara, both Anita and Davey face the truth about Vincent — and about themselves — in a piece of experiential theatre that, by the end, has reduced the audience to a stunned silence.
Because Vincent's murder took place in an abandoned public toilet, the media has had a field day, talking about "a haunt for men seeking sex — with other men", "a notorious den of iniquity", and, best of all, "Sodom and Gomorrah in Bethnal Green"! Yes, Ridley treats the serious subject of anti-gay violence with a tinge of his own special sense of dark humour. And it really works. He also treats with delicacy the almost unspoken scandal at the heart of the play: a young teen who seduces an older man. At the same time, as Chevara says in the programme note, Ridley also makes good on his intention to show that "only through honesty can we find absolution". And the sin here is not being gay, which is the most natural thing in the world, but the kind of parental misunderstanding that is all too common.
Not only are the details of the gay bashing horrifically explicit, but master-storyteller Ridley also takes great care to vividly show the complex emotional currents between Anita and Davey as they act out the narrative of the story, in a style reminiscent of Ancient Greek tragedy. For them both this meeting is also therapeutic, a way of facing up to the unpalatable reality of sudden death, and of starting to digest their own parts in this tragedy, a process that both know might take years. The two of them, at opposite ends of the generational spectrum, have experienced the feeling of being outsiders and, as they have broken away from the pack, they have found that the pack has turned on them. They are society's hunted.
With its intense mix of rage, guilt and loss, this is a powerful play which makes unusual demands on its actors. As Anita, Louise Jameson turns in one of the performances of the year, gradually turning from a cocky cockney mother, with a touch of posh symbolized by the heirloom cups she lovingly handles, into a figure of tragic devastation, while Thomas Mahy, a recent graduate of Drama Centre, brings out all the pain and nihilism of the tormented Davey. They have a strong onstage rapport. At one point, talking about his encounters with Vincent, Davey kisses Anita, and she has to stop him going any further. Desire always prefers the warm body to the cold memory. One of the most excruciating and thrilling of dramas, Vincent River is a triumphant example of in-yer-face theatre at its cruel best. And a great production like this sends you home with your nerve ends tingling.
© Aleks Sierz