Pornography, Tricycle Theatre
Friday 7th August 2009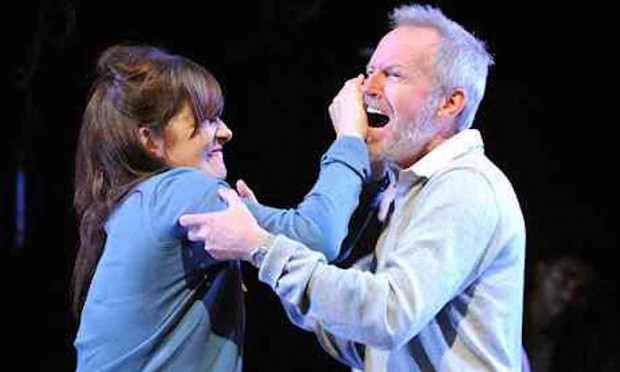 How do you convey the exhilaration and horror of that week in July 2005 when London won the Olympic games — and then suffered the tube bombings? Simon Stephens gives a griping account of that strange week, which started with the Live 8 benefit gigs and the G8 summit, by using a daring experiment in theatre form, the sheer unexpectedness of which perfectly reflects the shocking events that characterise that astonishing week.
On the page, the play has a European feel: the seven scenes have dialogue but no characters, and Stephens invites his directors to be playful: "This play can be performed by any number of actors. It can be performed in any order." First staged in Germany in 2007, Pornography got its British debut last year in Edinburgh and now visits the Tricycle Theatre in London.
Director Sean Holmes has certainly had some fun. Instead of playing the six stories in full one after another, he has cut them all up into bite-sized fragments and interlaced them. The effect loses a tiny bit in clarity, but gains a lot in theatrical enjoyment. Instead of hearing six monologues, delivered one after another, we witness six stories simultaneously, followed by the testimonial final scene.
The six stories are all linked by the idea of transgression. A black office worker betrays her boss by leaking a top-secret company report; a schoolboy has a crush on his teacher; two siblings have an incestuous reunion; most tragically, a suicidal militant leaves a northern town, travels south and then detonates his home-made bomb on the London underground. The seven scenes are numbered in descending order, beginning with seven and ending with scene one, like a countdown, but the main thrust is chronological.
Some scenes clearly involve conversations, others are monologues. Each one alludes to Shakespeare's idea of the Seven Ages of Man: the lover is enacted by the two siblings; the soldier is represented by the suicide bomber. Justice and wisdom are represented ironically by an embarrassing encounter between a university lecturer and a student half his age. Ouch. The final scene is a list of fifty-two mini-biographies, which scroll down after the curtain call, each representing one of the real victims of 7/7 (number 43 is blank). Apart from this last scene, the rest of the play is purely fictional: significantly, the suicide bomber in scene four travels from Manchester not Leeds.
As directed by Holmes, and designed by Paul Wills, the play moves at a dynamic pace, with some impressive acting from Billy Seymour as the schoolboy, Frances Ashman as the office worker and Sheila Reid as the oldie who walks across London in the chaos after the attack on 7/7. Anthony Welsh has the most trouble making his terrorist credible, and this is because Stephens's militant is oddly bloodless and the least convincing character (partly because the playwright has tried a bit too hard to avoid cliché.)
The play, which is a love letter to London and its multitudinous population, is called Pornography because Stephens equates the killing of innocent civilians with a objectification of humans — also a feature of porn. His political agenda is clearly laudable, as he strongly implies that suicide bombers are a product of our society and not strange foreign elements. Well written, well acted and well staged, this is a thrilling addition to Stephens's canon. Ace.
© Aleks Sierz