Gone Too Far!, Royal Court
Monday 28th July 2008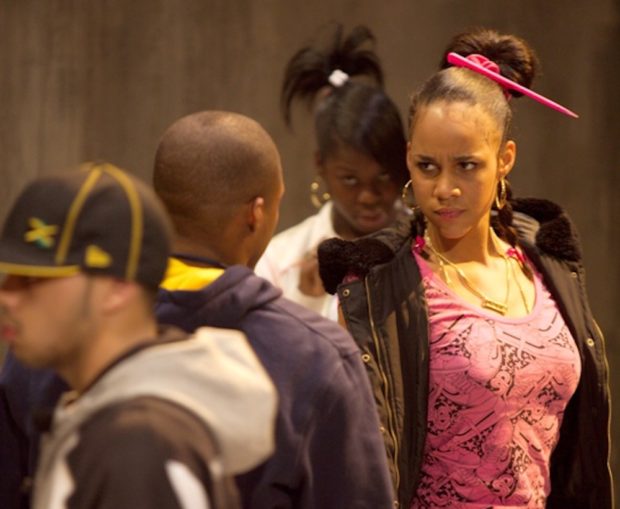 David Cameron's advice to hug a hoodie comes to mind in the opening moments of Bola Agbaje's mouthy drama, Gone Too Far!, first put on at the Royal Court's Theatre Upstairs in January 2007, and now restaged in that venue's main house. Set on a sarf London council estate, the story begins with the image of idle yoof drifting across a grey urban landscape.
But this doomy vision is soon dispelled when we are introduced to the play's two main protagonists, 16-year-old British-born Yemi and his older brother Ikudayisi, who has recently arrived in this country from Nigeria. When their spitfire mother sends both boys out to buy a pint of milk, they embark on something of an odyssey across their part of the metropolis, meeting a variety of grown-ups and other kids.
As in recent plays by Roy Williams and Kwame Kwei-Armah, the main theme is conflict within the black community. From the boys first confrontation with an Asian shopkeeper to their tense confrontations with street life that goes by the names of Razer, Flamer and Blazer — and girls archly named Paris and Armani — Yemi and Ikudayisi are thrown into a complex racial reality.
In a series of escalating confrontations, the tensions between Africans and West Indians are explicitly articulated, with observations about the mixed-race Armani thrown in for good measure. Although this a very familiar sociological cityscape, Agbaje writes about it with a freshness and energy that is verbally delightful, along with a clarity of observation that feels both mature and insightful.
Especially impressive is the way that the playwright shows how the girls, especially the noisy and posturing Armani, provoke the boys into aggression. Behind the male who draws a knife stands a female egging him on. But in the chaotic to-and-fro of these street encounters, there is also a lot of humour — the confusion and neediness of these kids is balanced by brief affirmations of their good natures.
The play's politics powerfully suggest that the complexity of the social mix that's typical of British inner-cities negates any well-meaning but simplistic solutions. Although the play is not a government green paper, Agbaje does imply that the context of underclass poverty and ignorance challenges our legislators to come up with policies that are relevant to these new generations.
At the same time, Agbaje also seems to suggest that maybe the best people to deal with the issues of knife crime and multiple identities might be the kids themselves. She certainly refuses to either show them as pathetic victims or sentimentalise them as rebel heroes. On this urban frontline, the sheer vitality of life bursts the bounds of easy clichés.
Director Bijan Sheibani and designer James Cotterill's excellent production is beautiful to watch, and he portrays violence with sequences of balletic movement, and allows the characters to dance in slow-mo during the rapid scene changes. Using a minimum of props on a bare stage, a strong cast — led by Tunji Lucas (Ikudayisi), Tobi Bakare (Yemi) and Zawe Ashton (Armani) — interact with conviction and sincerity. And the play's final image offers an optimistic glimpse of British identity today.
Although some of us might be inclined to go to the theatre looking for a glimmer of hope that many of this society's acutest problems might be susceptible of a cure, others will be prepared to simply enjoy hearing the sound of other voices, and seeing other lives. Ignore the hoods, enjoy the banter.
© Aleks Sierz