Unnatural Festivity (New Writing 2006)
Tuesday 1st August 2006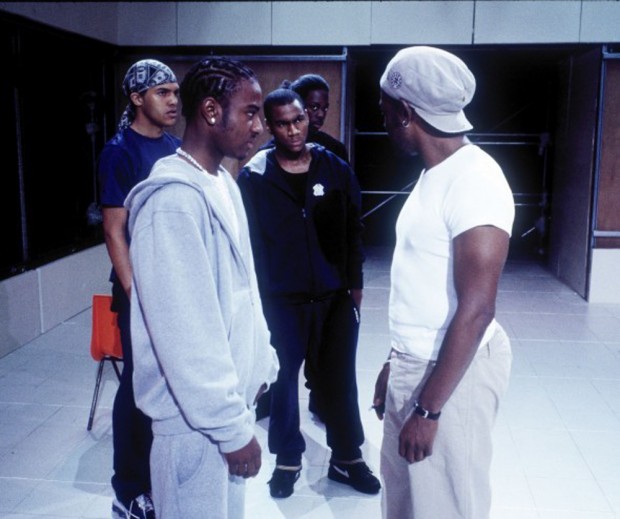 In Ian McEwan's bestselling novel, Saturday (2003), Henry, the brain-surgeon hero, finds himself with his family after an unpleasant incident: "There's an air of unnatural festivity around the table, of wild release which reminds Henry of a family outing to the theatre the previous year — an evening of bloody and startling atrocities at the Royal Court." (1) Good news for the Court's public image: the home of British new writing appears as a thrilling venue that generates memorable cultural excitement, and which finds echoes in other media. But however true this image of "bloody and startling atrocities" might have been in the glory years of in-yer-face theatre in the mid- to late-1990s, by the early 2000s it already seemed to be nostalgic. In 2006, it begins to feel a touch grotesque.
Despite the high hopes of ten years ago, British new writing today is much better at disappointing expectations than at fulfilling them. Sure, there is more new writing than at any time before: everywhere you look, both in and outside London, there are new writing festivals, new writing workshops, new writing bursaries, new work for kids and new plays on stage. Yet despite this deluge of the new, there's a real failure of theatrical imagination at the heart of the whole artistic endeavour. Most new plays are small in every respect: cast, space and theatrical ambition. Whether they are about "me and my mates", teen angst or underclass violence, they normally squat on territory that is already known — there's little sense of exploration, or experiment, or excitement. Boundaries remain unbreached; fantasy is grounded by the twin ballast of naturalism and social realism. Wherever the cutting edge is, it isn't with new writers.
Two recent phenomena illustrate the peculiar nullity of much of what passes for new writing. One is the Monsterist manifesto and the other is The Play's the Thing, Channel 4's reality tv series dedicated to finding a new play for a main West End stage. Let's start with the Monsterists. Everywhere, the Monsterists are lauded; they are the subject of enthusiastic gossip, of appreciative newspaper articles and they even appear in academic journals. (2) Everywhere, their project ("to promote new writing of large-scale work") is praised, encouraged and supported; everywhere their cheeky tactics — from applying en masse for jobs as artistic directors to plotting to kidnap a critic — are cheered on. Nowhere, is the question asked: in theatrical terms, how successful have they been?
The Monsterist project has been alive since Autumn 2001 so there's been enough time for some visible results. But how do you assess them? Recently, Colin Teevan, a leading Monsterist, praised the fact that Britain's playwriting culture was changing in the direction of large-scale plays, but — and it's significant that he failed to point this out — most of the examples he gave of big plays were actually put on in small spaces! (3) Surely, if Monsterism is to have a point, and not just be a statement of blindingly obvious good intentions, it must establish new writing in Britain's larger theatres. This means the larger subsidised houses (800-1,000 seats) and the West End medium-sized theatres (500-800 seats). So what is the record of Monster writers in these areas?
Well, Rebecca Lenkiewicz's work has appeared at the National's Cottesloe Theatre (350 seats) and the Soho (250); Colin Teevan's at the Cottesloe (350) and Trafalgar Studios (100); Shelley Silas's at the Bush (100) and at fringe venues such as the Southwark Playhouse; Ryan Craig's at the Menier, another fringe venue. Of the original ten Monsterists, only Sarah Woods and Teevan have regularly had their plays on outside London. In the case of Richard Bean, one of the most vocal Monsters, his work has appeared at studio spaces such as the Bush, the Royal Court Theatre Upstairs, and at Hull Truck (300). His biggest play, Harvest, was on the Royal Court main stage (400). Roy Williams's best work — such as Fallout — has also been confined to the Royal Court and the Cottesloe. Moira Buffini has had greater success: her Dinner opened at the National's temporary Loft (100), but got a West End transfer to the Wyndham's (750). This record is matched by that of David Eldridge. Even if you don't count the West End transfers of his versions of Festen or The Wild Duck (neither of which are new plays), his Market Boy opened in the National's Olivier (a stupendous 1,100 seater).
If you compare these results with those of older writers — say Terry Johnson, Michael Frayn, Christopher Hampton, Simon Gray and David Hare (all of whom have had big West End shows in recent years) — the gap between them and the Monsterists yawns as wide as the mouth of a dozing spectator. So why has commercial success eluded the Monsterists? One reason is the problem of populism. It seems perverse to demand access to larger stages, and thus larger audiences, if you don't write plays that are populist. From the list above, only Dinner and Market Boy come remotely near to qualifying — most new writing scorns populism.
British theatre is often condemned for being in the thrall of naturalism. Much of it is. But it's worth noting that the most popular play in world history — Agatha Christie's The Mousetrap (1952) — is both a cringingly naturalistic piece and a wild, wild fantasy: its plot, like most Christie plots, is stunningly unrealistic. To grasp it, you have to jump into a parallel universe. And more than 50 years of audience applause suggests that generations of people respond to both its invocation of an English country life that never was and to its mind-twisting plotting. The fact that this old warhorse isn't bog-standard naturalism should inspire playwrights to soar — to mix populist accessibility with imaginative verve. So far, it hasn't.
But there's another reason for Monsterism's lack of conspicuous success. Talk to any producer and they'll tell you the simple truth that large spaces cry out for big parts for star actors, who then attract large crowds. But, apart from Buffini's Dinner — which starred Harriet Walter — most new plays simply don't have the character parts that might appeal to a star actor. For this, the Monsterists can really only blame themselves.
A graphic illustration, if one were needed, of the problems of putting on a new play in the West End was provided by Channel 4's The Play's the Thing (June 2006). After receiving some 2,000 entries from unknown writers, producer Sonia Friedman, agent Mel Kenyon and actor Neil Pearson visibly struggled to find one that would be suitable for the cosy 400-seat New Ambassadors theatre. Tears were shed; teeth were ground; hair was torn out by the roots. Most of the plays were simply too small: they lacked character, they lacked plot and they lacked theatricality.
Eventually, On the Third Day, by Kate Betts, was the winner. When I went to see it, on an ordinary night a couple of weeks into its run, the theatre was about half full. A combination of die-hard new writing fans, American tourists and the curious were mildly entertained by Betts's story of a thirty-year-old virgin who discovers that the man she's picked up in a bar is Jesus. Although the writing lacks distinction and character, Robert Delamere and Steven Pimlott's production used cinematic projections and musical effects to make up for the lacklustre words. Still, at least the play had a spark of theatrical imagination. If it didn't exactly soar, at least it didn't just lie there and give off a stink either.
So, in general, is new writing for British theatre condemned to struggle in studio spaces, playing to coteries and limiting its theatrical horizons to small themes for small casts? What is to be done? One problem is the chicken-and-egg factor; playwrights want theatres to commission big plays; theatres want playwrights to write them first. The only way out of this is for writers to take responsibility and to write the big plays, with big juicy parts that will attract star actors. Another would be to create their own new spaces and audiences, a theatre version of the 1980s rave scene, which would short-circuit their dependence on theatre institutions. Monsterists should quit moaning, and up their game. Any excuses simply perpetuate the dominance of the studio theatre. It would be lovely to think that, in some future novel, Ian McEwan could describe a family outing to see a big new play by a young writer in a squatted warehouse — but somehow I wouldn't bet on it.
Notes
Ian McEwan, Saturday, Vintage, 2006, p. 238.
For example, see Aleks Sierz, '"Big Ideas" for big stages, 2004', New Theatre Quarterly 81, February 2005, pp 96-8, and Colin Teevan, 'Free the playwrights! A brief introduction to Monsterism', Contemporary Theatre Review, vol 16, issue 2, May 2006, pp 239-45.
Teevan, 'Free the Playwrights!', p. 241.
© An earlier version of this article appeared as 'New writing 2006', Contemporary Theatre Review special issue on 'Popular forms for a radical theatre', vol 16, issue 3, August 2006: pp 371-3.