Our Country's Good, National Theatre
Thursday 27th August 2015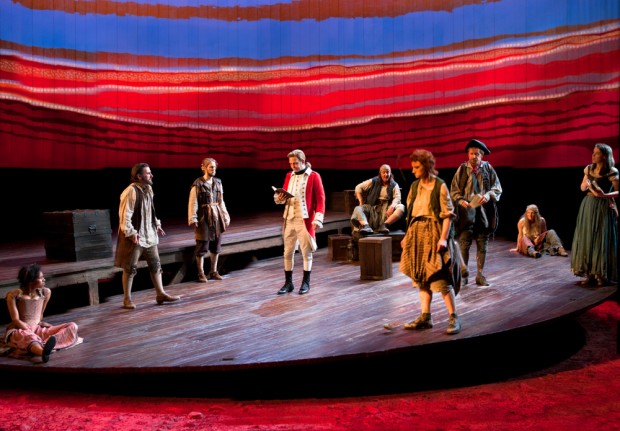 Rufus Norris took over as artistic director of this flagship from Nicholas Hytner in March, and has already stamped his own brand of energetic theatricality on the directing and programming of the place. One of his most positive innovations is inviting new theatre-makers such as Alice Birch and Alistair McDowall, while simultaneously reviving modern classics by an older generation. Following the rather overblown revival of Caryl Churchill's Light Shining in Buckinghamshire, directed by Lyndsey Turner, comes another classic from a female playwright, Timberlake Wertenbaker's Our Country's Good, this time directed by Nadia Fall.
Since this heartwarming 1988 account of the first staging of a European play in Australia has already been revived by Max Stafford-Clark in 2012, in a long-running touring production which included London, the question is: what can this new production add to our enjoyment of the story? At its heart, this is a tale — first told by Thomas Shindler's Ark Keneally in 1987 — about how transported convicts in Sydney Cove, New South Wales, performed George Farquhar's 1706 super hit, The Recruiting Officer, to an audience of prisoners and jailers in 1789. Within this simple plot, Wertenbaker adds layers of complexity by including small and tender scenes of convict life amid the big set-pieces when the officers discuss the play and when the convict cast rehearses it.
So we see how one of the cons, the jealous Harry Brewer, is in a tormented relationship with another con, young Duckling, while one of the officers, Lieutenant Ralph Clark, not only directs the play but falls in love with the prisoner Mary Brenham. Likewise, there's an important episode in which the feisty Liz Morden, another transported felon, is threatened with death by hanging when she refuses to defend herself against charges of stealing food from the precarious colony's precious store.
The penal colony's governor, Captain Arthur Phillip, is an Enlightenment autocrat who rules both officers and convicts with a mixture of a smiling face and a firm hand. Director Nadia Fall's decision to cast the black actor Cyril Nri as Phillip is justified by the fact that his speeches about Rousseau (man is born free, but everywhere in chains) and Greek slaves gain an extra shade of meaning — there were no black officers in the British army at that date, but Nri's authoritative stage presence feels like a comment on slavery and Empire. Similarly, Gary Wood's hovering, Ariel-like Aborigine underlines the fact that the convicts were not the only victims of the British state's will to colonialism.
At first, I wasn't sure about this production, which glows from the start with the National's full range of technical effects: after exotic birdsong, the revolving stage turns from showing ship to showing shore and the harsh sun-beaten landscape is evoked in the reds, oranges and yellows of Peter McKintosh's beautiful staging. Shadow plays follow. At the same time, music by Cerys Matthews (onetime Britpop singer in Catatonia and now a BBC6 stalwart), contributes a lush soundscape to the rich landscape. She uses folksy songs, foot-stomping marches, languid guitar notes, touching laments, poetic spirituals, haunting didgeridoos (basically, a lot of stuff). No wonder the show last for about three hours.
Now usually I prefer less to more, and I was worried that Fall's production would sink under the weight of all this, well, stuff. That it doesn't at all is in a large part due to the fine, highly characterised acting of the entire company. The women are exceptionally good: Jodie McNee's harried and feral Liz Morden has a Scouse accent and an abrasive attitude which is like coarse sandpaper; Caoilfhionn Dunne is the Irish Mary Brennan, at first indifferent then gradually glowing; Shalisha James-Davis is the tightly strung Duckling and Ashley McGuire a down-to-earth country woman dreaming of her Devon home. They are well supported by Matthew Cottle as Wisehammer the intellectual Jew, Lee Roos as Sideway the flamboyant pickpocket, and Tadhg Murphy as Freeman the Irish hangman. The officers include Jason Hughes as Ralph and Peter Forbes as his tough opponent Major Ross.
Wertenbaker's text is rich in insight — with jokes about acting, theatregoing and more serious asides about women's bodies and the injustice of punishment — and her skill lies in her intelligent blending of the twin themes of the transformative power of penal rehabilitation and the redemptive power of theatre. Fall's production doesn't shirk the brutality of the play's story, and she emphasises the sexual abuse of the female prisoners and the sexual frustration of their jailers. But she also brings out the play's humour. And this revival reminds you that the National are also currently staging Farquhar's The Beaux' Stratagem. You leave the theatre in the glow of a postshow high.
© Aleks Sierz