The Wolf from the Door, Royal Court
Thursday 18th September 2014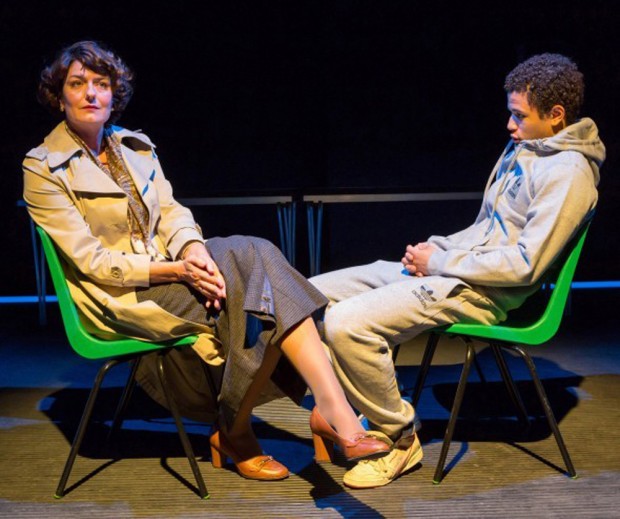 The Royal Court is meant to be the powerhouse of new writing for the British stage, yet its biggest hits this year have been adaptations of books, Let the Right One In and The Mistress Contract, neither of which could boast of a particularly distinctive writerly style. Its focus on American playwrights is also risky — it suggests that British writers are not very good. After the theatre's announcement that the theme of the next few months will be "revolution and resistance", my hopes have started to rise — and, in contrast to its other offering (Teh Internet Is Serious Business), this play is no disappointment.
Rory Mullarkey's The Wolf from the Door, in the venue's upstairs studio, is simply brilliant. He has a singular and individual voice, and his drama is both playful and fierce in the power of its imaginings. The protagonist is Catherine, a middle-aged English aristocrat, who is part of a plan to overthrow the government. Catherine recruits Leo, a physically attractive young drifter, and introduces him to the network of middle-class hobbyists who have organised the uprising.
In one early scene, which has an echo of Philip Ridley's Mercury Fur and shoulders uncomfortable echoes of incidents that have recently happened both in Iraq and on our streets, Catherine asks Leo to behead a supermarket middle manager. Yes, this is a play that is both charmingly parochial and absolutely incendiary in its depiction of violence.
At the same time, it's all very English in its vision of a country where the Women's Institute makes bombs, Civil War re-enactors assault the capital and a water-polo team shoot rockets at Downing Street. Despite its blatant absurdism, Mullarkey's play takes a prod at the apathy that surrounds activism today, and its vision is both wonderfully normal and cheerfully exaggerated. It's an armed rising of normally peaceful office workers and middle-class folk who are just fed up with those in power. As such, this play is both original and well in the tradition of other imaginative political plays by Caryl Churchill, Sarah Kane and Martin Crimp, and there's even a reference to Laura Wade's Posh (now filmed as The Riot Club).
In James Macdonald's superbly inventive production, Anna Chancellor is excellent as Catherine, a woman who is both confident and edgy, while Calvin Demba's Leo is charming, tense and finally amusingly regal. A sense of urgency pulses through the play, which satirises both the pomp and circumstance of British public life and grins oddly — how else? — at the subject of political terrorism. This excellent play won the George Devine Award and is the inaugural Pinter Commission at the Royal Court. It proves conclusively that when we imagine what social change might be like we don't have to be bound by mere naturalism nor by the form of documentary theatre. Instead we can allow our imaginations to have a little triumph all of their own.
© Aleks Sierz