While the Sun Shines, Orange Tree Theatre
Tuesday 11th June 2019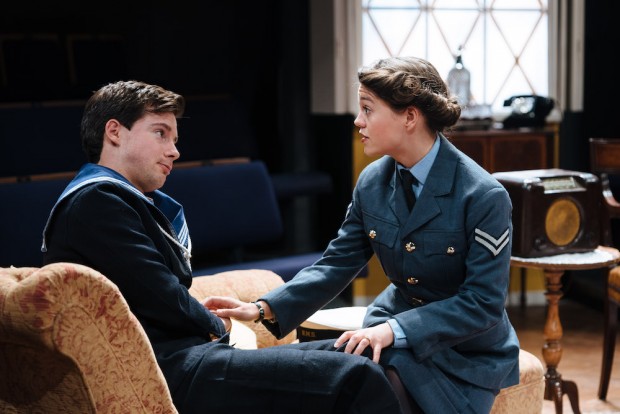 Since playwright Terence Rattigan's rehabilitation in the early 1990s, after the comprehensive trashing of his reputation by the Angry Young Men of the 1950s, all of his greatest plays have been revived. These restagings have mainly concentrated on his serious dramas, such as The Deep Blue Sea (1952), of which he was tremendously proud. But this focus on the serious and tragic partly obscures the fact that, in his lifetime, his most popular plays were his comedies. Chief among these are French without Tears, revived by Paul Miller at this venue in 2015, and his current offering While the Sun Shines.
While the Sun Shines has a fascinating history. It was staged by impresario Binkie Beaumont in 1943, and ran in West End for 1,154 performances, which means that one of Rattigan's most commercially successful plays is perhaps his least well known. Apparently Beaumont had been pestering him for some time to write another light comedy in the manner of French without Tears, his 1936 hit, but Rattigan had refused because he didn't want to be labeled as a light comic writer. So, before he wrote a comedy for Beaumont, he first had to write a serious drama for him. This was Flare Path, which was staged in the West End in 1942, and became his second most popular wartime play.
By contrast with this essentially serious drama, While the Sun Shines is a slick romantic comedy of wartime entanglements: set in the Albany, the posh Piccadilly apartment of an English Earl, the hay being made in this case involves one woman being chased by three young men: Bobby the Earl, brash American Joe and the passionate Frenchman Colbert all have the hots for Lady Elisabeth, a naive English rose from an aristocratic family. Although she happens to be Bobby's fiancée, another woman, Mabel Crum, a kind of fuck buddy for Bobby, is still around. Add Elisabeth's father, the Duke of Ayr and Stirling, a blustering Tory whose wartime job is liaising with the Polish army, and the stage is set for various emotional and sexual tangles.
Rattigan's dialogues are witty, in the style of French Without Tears, with a touch of PG Wodehouse, and the brightness of the play's comedy reflects the social conditions of wartime London, with its mixture of lightly stereotypical nationalities and the class consciousness of its characters: some of the laughs come from the fact that the young aristocrats are military failures while the lower-class characters are successfully climbing up through the ranks. You can easily see why this was a popular wartime hit: the insouciance of the characters is testimony of the desire to indulge in some light escapism at a time of national peril.
Unlike Flare Path, While the Sun Shines stresses not the ennobling determination to grin and bear it, but the petty stupidities of wartime. It's about muddling through rather than being heroic, as well as also being based on the chances of enjoying a sexual adventure during a national emergency. Casual pick-ups during the blackout, whether homosexual or heterosexual, were a fact of life, and the play opens with a man sharing a bed with another man, albeit offstage. (By Act III, three men are sharing one bed!) This rather sly joke about gay life was subtle enough to escape the wartime censor, but the liberal-minded Rattigan also had some political points to make.
Having served in the RAF, Rattigan was aware of the mood in the military and perceptive enough to include a sense of the coming new postwar order, later exemplified by Labour's 1945 landslide. In the play the French officer describes himself as "socialiste" and refers to the aristocracy as a "doomed class", while Bobby the Earl reads the New Statesman. There are jokes about Karl Marx and about the Communist Party. But the main focus of the story is its sexual encounters, which are portrayed with a mildly farcical sensibility that is refreshingly critical of all social norms.
With his vigorous dialogue, and exceptionally sharp insight, Rattigan examines sex roles and the sex war of the 1940s. Much of the fun comes from the competitive posturing of the men, and their pretentions are regularly deflated. Rattigan skewers the traditional notion that there are only two types of woman — respectable and therefore marriageable, and free and therefore not to be wed — by showing the erotic awakening of Elisabeth as she meets the passionate Frenchman and the fervid American. At the same time, the playwright represents British heterosexuality as lukewarm. Alone together, Bobby and Elisabeth are as erotic as a hot-water bottle.
Because of his own sexuality, Rattigan adds some wonderful side-swipes at all aspects of heteronormativity: there are jokes galore about marriage, masculinity, fidelity and gender boundaries. At the edge of the laughter stands a gay joker. Even the laugh about a man being able to force himself on a woman, which today has a particularly unsavoury edge, is defused because its target is a weak man. It is war, of course, which has freed these characters from normal restraints and the havoc caused with conventional sexuality is as heady as the alcohol that, at one point, turns Elisabeth's head.
Paul Miller's production, which is neatly designed by Simon Daw, brings out the marvelously intoxicating flavour of the original, and his cast is excellent. Jokes fly between Philip Labey's soft-hearted Bobby and his two unexpected guests: Julian Moore-Cook's forceful Joe and Jordan Mifsúd's seductive Colbert. Sabrina Bartlett's repressed Elisabeth contrasts well with Dorothea Myer-Bennett's sexually experienced Mabel Crum. John Hudson is solid as Horton the butler while Michael Lumsden is amusingly gruff as the Duke. Despite a running time which is extended by having two intervals, this is a really hilarious, warmly enjoyable and memorably bright revival of a wartime classic.
This review first appeared on The Theatre Times