Morning, Lyric Hammersmith
Friday 7th September 2012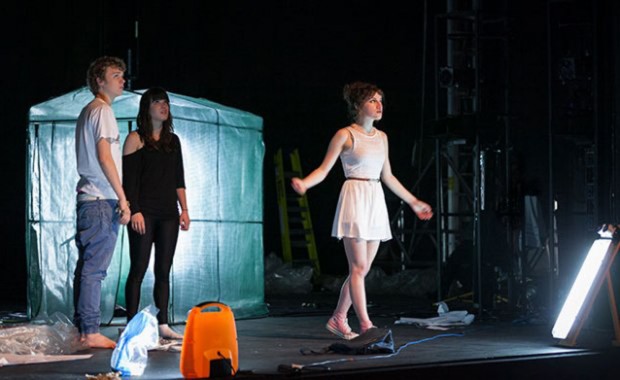 Since 2010, the ecology of new writing theatres in London has changed, with the arrival of fresh artistic directors such as Steve Marmion at the Soho, Edward Hall at the Hampstead and Sean Holmes at the Lyric Hammersmith. All of them have changed the policies of their venues to reflect changing times. Marmion has turned the Soho from a place that stages unknown fresh new writers to a place that has three separate stages and offers cabaret and comedy as well as plays. Hall has likewise loosened the definition of new work. But if more and more venues now stage new plays, what kind of plays are they?
Over at the Lyric Hammersmith in West London, Holmes has taken another route, reviving a hard-core of modernist classics from Edward Bond (Saved) and Sarah Kane (Blasted), while promoting the work of Simon Stephens and embracing a German theatre aesthetic. Some of the problems of this approach are evident in his latest offering, Stephens's Morning, a short work developed with the help of the Lyric's excellent Young Company.
The plot is as hard as concrete in its simplicity: two seventeen-year-old girls are about to go their separate ways as Cat gets a place at uni while Stephanie is staying at home. Stephanie lives with her younger brother Alex, and their mother is slowly dying of cancer. In an act of distressing viciousness Stephanie and Cat casually murder Stephen, who has been half in love with the unfeeling Stephanie.
Now the character of Stephanie is a vivid creation. Whatever the effects of her loss of her mother, and of her absent father, she seems to embody a very contemporary anomie, an alienation from almost every aspect of daily life. She has no moral sense whatsoever; she is a symbol of the broken society. Her casual killing of a young man who she's had sex with seems like an act that sums up all of society's ills.
But, at the same time, Stephens's play — which barely lasts 60 minutes — feels underdeveloped and under-imagined. The situation that he has created — with its nods to Patrick Hamilton's Rope and Dennis Kelly's DNA — has neither the insight of the former nor the audacious plotting of the latter. It's a form of fragmentary playwriting that feels a bit lazy, giving the impression of not trying very hard: don't the actors of the Young Company deserve better?
But if the playtext feels a bit condescending in some places, and woefully underwritten in others, Holmes's direction is also not as effective as it could be. Earlier this year, he hosted Sebastian Nübling's version of another play by Stephens, called Three Kingdoms. Although Nübling brought a shot of visual imagination to this show, it was at the cost of convincing acting and pacy storytelling. Holmes has learnt all the wrong lessons from Nübling, who will be directing another version of Morning in Basel. On a set casually cluttered with props, he steers his young cast — led by Scarlet Billham as Stephanie — through a dreamlike production that never feels either convincing nor engaging. So while this play is not standard naturalistic fare, and thus is welcome, it is not without its problems.
© Aleks Sierz