Blasted, Lyric Hammersmith
Thursday 28th October 2010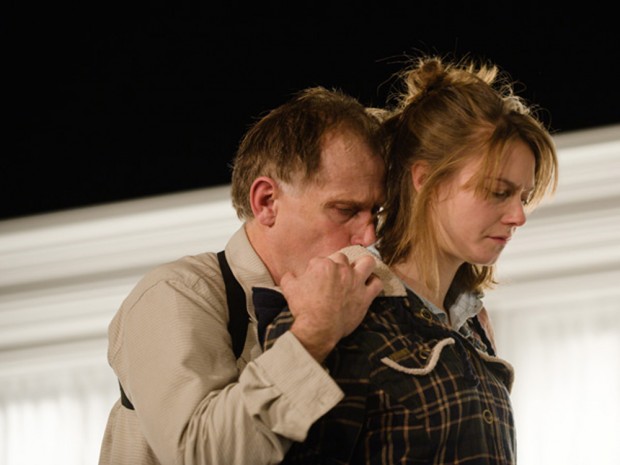 If any play of the past two decades deserves the label legendary it must be Sarah Kane's debut, Blasted, which was condemned by the Daily Mail as "this disgusting feast of filth" on its arrival in 1995, but is now firmly ensconced in the canon of contemporary playwriting. Although the shock of its original production, which in retrospect simply heralded the appearance of a distinctive new voice, has led audiences to expect a similarly frightful experience every time it is revived, subsequent productions have emphasised the play's poetry and its continued relevance.
But, it must be admitted, the story does sound grim when you summarise it (in fact, you might consider leaving elderly parents or young offspring at home). In an expensive hotel room in Leeds, Ian — a fortysomething self-destructive journalist — attempts to seduce Cate, a twentysomething woman. They have clearly had an off-and-on relationship for some years, but tonight Cate doesn't feel like sex. As Ian tries to wheedle, blackmail and bully her into doing what she doesn't want to do, things begin to turn nasty. Very nasty.
Ian also seems to be some kind of secret agent — at least, that's what he says he is. And he carries an evil-looking gun. Then in an explosive moment which is anticipated by the play's title, the hotel is mortar-bombed and the story is blasted onto another level. Another dimension. A soldier has arrived, a civil war is in progress on the streets outside, and onstage atrocities begin to pile up as surely as corpses in any military conflict. Equally clear is the fact that this play has now become a metaphorical, or symbolic, account of war — and its explicitness and horror are obviously intended to counter the obfuscations of the mass media and Hollywood's glamorisation of war.
The good news is that Kane's text remains fresh, raw, visceral, haunting, and often funny in a bleak kind of way: "Can't get tragic about your arse," remarks the Soldier to Ian. In the dialogues, which — in Ian's case — are saturated with racist comments and expletives, the moments of jagged poetry gleam like lurid beacons from the top of a block of council flats.
Sean Holmes's production, designed by Paul Wills, is psychologically convincing, but much too meticulous. Everything takes time, emphasising the everyday reality of Ian and Cate's lives, so the pouring of a drink takes ages, a bath or a shower lasts for ever, picking up a towel is a minor odyssey. Despite this, the second half's metaphorical landscape of total war, as Ian ends up buried in the ruins, retains its capacity to disturb, to discomfort, and to stifle the laugh in the back of your throat.
While the play is a classic account of masculinity in crisis, especially powerful is Kane's vision of a country torn apart by civil war. The xenophobic feelings embodied by Ian, against which Cate's good nature is as ineffective as a teddy bear thrown at a tank, pulse and throb through the play, ugly, familiar, unreformable. If anything, in the wake of all the Middle Eastern conflicts that have developed since the play's first outing, this strand is more relevant than ever.
Danny Webb stresses Ian's Yorkshire whine, and veers from bewildered astonishment at his own boozing and smoking to brutish masculine posturing, often waving his gun around to make his point. As Cate, Lydia Wilson starts off as a thumb-sucking waif and grows into a ragged, wounded angel of mercy. When she connects to her anger, fireworks leap across the stage. The emotion lights up the action. As the lumbering Soldier, Aidan Kelly is gruff, dangerous, his soft side varnished over by his experiences of genocide. Although on the slow side, this production brings out the play's humour and its sexual politics. But Blasted remains a tough watch.
This review first appeared on The Arts Desk