BU21, Theatre 503
Friday 18th March 2016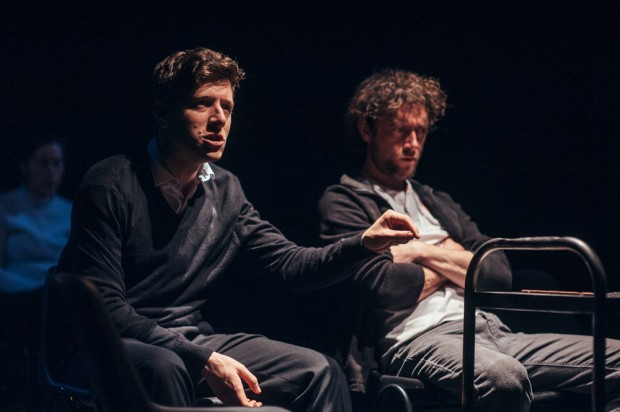 Curiously, there have been comparatively few imaginative plays about terrorism. And about the now pervasive culture of fear. Exceptions include Caryl Churchill's Far Away and Simon Stephens's Pornography, while the apocalyptic sense of social catastrophe is well conveyed by plays such as Philip Ridley's Mercury Fur and Churchill's Escaped Alone. So, from its terrific opening speech, Stuart Slade's BU21 at first presses all the right buttons. The story, which shows how a group of six millenials reacts to a terrorist outrage in which flight BU21, a huge passenger plane, is downed in July 2016 by a portable surface-to-air missile.
As the plane comes down in London's Fulham district, causing horrendous damage, all these very different young people are affected by the disaster in different ways. Twentysomethings Thalissa, an office worker, and Alex, a banker, both loose loved ones: she her mother, he his girlfriend. Nineteen-year-old Clive, whose heritage is Muslim, loses his father, a cardiologist who was on the plane. Romanian Ana survives being burnt by aviation fuel while sunbathing in the park, but needs a wheelchair to get around. Posh girl Floss is standing in her kitchen when a body falls into her garden; and finally Graham, a slightly older white van man, witnesses the scene as the plane crashes and explodes.
Slade has chosen the form of a series of interlocking monologues, with a couple of short dialogue scenes, that mimic the kind of verbatim theatre that is now a staple of contemporary new work. He brings the characters together in group therapy for Post Traumatic Stress Disorder, and shows how they all react differently to this healing process. He also deftly handles the big issues of the horrific incident. He convincingly shows how some things are difficult to verbalise, almost inexpressible, while other fragments of experience soon mutate into polished anecdotes. There is survivor guilt and a victim's suicidal thoughts. Both survivors and victims are seen as complicit keepers of "little secrets" that separate them from the rest of society. Finally, he gives the banker Alex a role as a meta-theatrical narrator, who berates the audience for its liberal prejudices and makes sly and cynical comments on the proceedings.
Dan Pick's production, for Kuleshov new writing company, is designed by Alex Green and uses a bare set with neon strips, a steel table and a handful of plastic chairs. It tells the story with impressive fluidity, and some powerful visual moments: when Ana first gets into the wheelchair you can hear a pin drop; a chair ballet suggests rubble; a single spotlit chair hauntingly represents a dead victim; Graham uses the biscuits available at a group therapy session to show how the terrorists shot down the plane; the stage is plunged into darkness for one excruciating passage. All this animates the monologues and makes the play's difficult content easier to take.
This content includes the smell memory of one of the survivors, and that fact that it took live humans 22 seconds to fall from the disintegrating plane before crashing to their deaths on the ground. And most difficult of all are the questions that the play asks: can any individual learn anything from a disaster? What do the stories of recovery teach us? Can suffering bring people together? And, while I would like to believe in the healing power of love, the play doesn't demonstrate it. Instead, there's an air of cynicism which makes me feel uncomfortable. And when Alex says that the survivors group is a great place to pull girls, it's hard to say whether this is completely and cynically inappropriate — or a triumph of the human spirit. Keep going on.
While Slade's writing is good at imagining this disaster in detail, and brings out the Englishness of the people's responses, the class antagonism and the individual illusions of all of the characters, I did think that many of the monologues were too self-aware and too self-conscious for their own good. Still, I liked the youthful cast, which lent their names to the characters — Clive Keene, Alex Forsyth, Roxana Lupu, Graham O'Mara, Florence Roberts and Thalissa Teixeira. But the choice of focusing on young people gives some of the speeches a sameness of tone which at more than 100 minutes of running time makes the show a bit wearying. So while there is a lot of powerful material, the constant cheeriness eventually starts to annoy me. Laughing in the face of adversity is one thing; relentless jokiness quite another. But if the show is about 20 minutes too long, there are enough strong moments to justify recommending it.
© Aleks Sierz