The Mousetrap, St Martin's Theatre
Monday 26th February 2018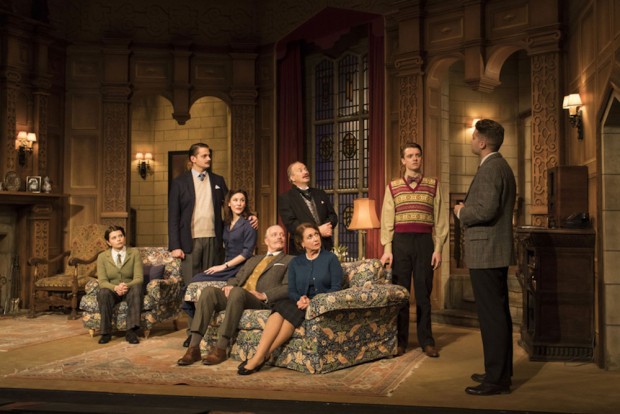 The Mousetrap is a cultural phenomenon that, the more you think about it, seems almost insane. Written by Agatha Christie, the Queen of Crime and the most popular British author in history, it was first staged in 1952, which makes it the longest running play in the universe — if, one day, theatre is discovered on Mars it won't have such a long-running show. Don't ask me how I know that — I just do. So far, there have been more than 27,000 performances at this venue, and millions of people have seen the drama. No other play will ever be able to break this record. Ever. And although The Mousetrap is often dismissed as a mere genre piece, all plot and no characters, I think this does an immense disservice both to Christie's skill and to the pleasure that murder mysteries and crime thrillers can give their audiences.
When the curtain rises, we find ourselves during the early 1950s in the hall of Monkswell Manor, a draughty old country house which Giles and Mollie Ralston, a young couple who've been married for about a year, have just opened as a guest house. Their first guests are an assortment of characters who look as if they have just arrived from a game of Cluedo: Mrs Boyle, a magistrate; Major Metcalf, a retired military man; Christopher Wren, an arty type; and Miss Casewell, a manly young woman who lives abroad. They are joined by Paravicini, an Italian whose car has broken down and who needs a place to stay. He is the "unexpected guest". As snow falls outside, and wind blows through the house, the news on the radio says that a Mrs Maureen Lyon has been strangled in London.
As Monkswell gets cut off by snow, police sergeant Trotter arrives on skis. He tells the Ralstons and their guests that the murder victim's real name was Stanning, and that she was once, many years ago, at the centre of a child-abuse scandal. She and her husband took in three children to foster, but abused them dreadfully. While her husband died in prison, Stanning was released and has been murdered in revenge for the abuse. Probably by one of the two abuse survivors. And apparently a notebook has been found near the scene of the crime, and it contains the address of Monkswell. But Trotter's attempts to protect the residents fail when one of them is murdered — and the killer can only be one of the others staying there.
Agatha Christie is a enormously popular brand, and there is something comfortingly familiar in taking a trip to a country house that is cut off by snow, with a collection of diverse characters each afraid that one of their number is the killer. As usual, the plotting is complicated and based on improbable coincidences and lovely red herrings (Christie really can't be described as a naturalistic writer). But there is a satisfying logic to the story, and the game that she plays with the audience is vintage quality. Trotter explains the rules, demonstrates how each resident is at risk, and connects the killings with the tune of "Three Blind Mice", a nursery rhyme which in Christie's hands acquires a distinctly sinister flavour.
But if The Mousetrap delivers its murder mystery with clockwork efficiency, its playwright is much more than just a genre pen meister. Christie constantly includes self-referential comments about murder games and melodramas, which indicates the sparkling intelligence behind her work. Given that the play was first staged in 1952, her sly references to not just one, but two gay characters (Wren and Casewell), are not only a hoot, but also quite provocative for their time. In fact, it's amazing that the Lord Chamberlain didn't notice. Likewise the extended scene in which Giles and Mollie realize how little they know about each other hints at a far wider discourse of the unknowability of human beings that would not disgrace a more elite writer.
Of course, Christie is a theatre-maker, not a literary playwright, so she's more interested in clarity of exposition and plotting than in ambiguity of motive and poetic imagery. But dig deeper and her ethical position seems to be almost contemporary in its humanity. When the murderer is finally exposed, they are not killed or handed over for execution, but sent upstairs to bed — on the assumption that they need treatment rather than punishment. Christie understood that victims of abuse could turn pathological, and that they need medical attention rather than retribution. As the secrets tumble out, the play triumphantly demonstrates that we all have something to hide.
Directed by Hugh Ross, on a set that is so traditional it doesn't even get a designer credit, the play — as so often happens with long West End runs — is not so much a case of watching paint dry and seeing painting by numbers. The cast's acting style is a mixture of exaggeration and self-conscious parody, neither of which takes the play at all seriously. Everything runs like clockwork, with only a few moments of visible excitement: I like some of the marital dialogue between Ellie Burrow's Mollie and Ed Pinker's Giles, while Liam Jefford's Wren and Harriet Leitch's Caswell are also goodish. Best of all, however, is George Evans's Trotter, an energetic and watchable performance. With Witness for the Prosecution at London County Hall still going strong, maybe it's time to revive some other Christie crime masterclasses.
© Aleks Sierz