Prick Up Your Ears, Comedy Theatre
Thursday 1st October 2009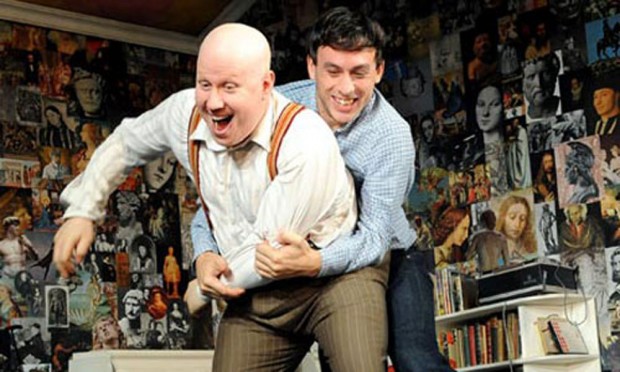 Playwright Joe Orton's untimely death has often threatened to eclipse his life. On 9 August 1967, he was murdered by his lover, Kenneth Halliwell, who then committed suicide. Although Orton had completed the first draft of his masterpiece, What the Butler Saw, he'd never got around to writing a play called Prick Up Your Ears, whose naughty, innuendo-heavy title had been suggested by Halliwell. But the title lived on. First as John Lahr's 1978 biography, then as Stephen Frears's 1987 film and now as Simon Bent's new play.
Starring Little Britain's Matt Lucas as Halliwell and Chris New as Orton, the play begins by examining the life of the two men before Orton became famous. When they met, at RADA in 1951, Halliwell was the dominant partner, richer, classier and better educated. By contrast Orton was naive, provincial and a bit rough. Then when they were arrested for defacing library books, and sent to prison for six months, their relationship changed dramatically.
The working-class Orton left prison with his hatred of authority strengthened and his self-esteem intact; the middle-class Halliwell suffered a nervous breakdown. Orton went on to have West End hits with plays such as Entertaining Mr Sloane and Loot, while Halliwell failed to achieve the fame he so desperately craved. His jealousy of Orton's success fuelled a rage that exploded into murder.
Bent's black comedy explores the domestic life of the two men, conjuring up a situation in which they resemble an old married couple. Matt Lucas plays Halliwell with a mix of 1960s camp and growing desperation. There is only one problem: I didn't believe a word of it. By contrast, Chris New is a more vulnerable Orton than we're used to. Okay, you expect him to be cocky. But it's unusual to see him grappling with rejection. But if Lucas is never saturnine enough and New never charismatic enough, both are upstaged by the delightful Gwen Taylor as their landlady. With her cockney clangers, verbal belly-flops and sharp comic timing, she gets all the biggest laughs.
Daniel Kramer's efficient production features Peter McKintosh's claustrophobic 1960s set, and a vivid soundscape that overwhelms us with an in-yer-face evocation of Halliwell's growing psychosis, but the continuous screaming matches between Lucas and New soon get tedious, and the inevitable end of their relationship is almost a relief. So although Bent should be thanked for giving Halliwell more elbow room than usual, there is not enough illumination to justify this retelling of a depressingly familiar story. All the facts of Orton's life are here, but the spirit remains somewhere else, lingering like a shadow on the stair.
This review first appeared on The Arts Desk