Moonfleece, Rich Mix
Wednesday 3rd March 2010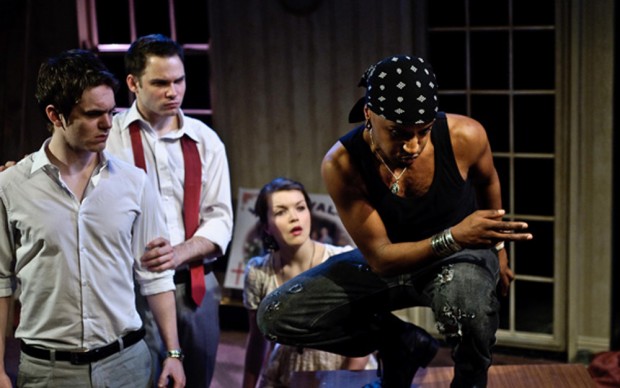 Although our culture is obsessed with youth, very few adults can connect directly with teenagers. Instead teens have become the object of our fears — there's even a posh word for this: ephebiphobia. In drama, teens are often portrayed as a problem to be solved, and deprived of their own voices. By welcome contrast, Philip Ridley's Moonfleece, which opened tonight in London and will tour the north of England, is unforgettably teenage in every way — it is young, young, young!
Set in Ridley's beloved East End, the scene is a derelict flat in an all-but-abandoned high-rise. This used to be home to Curtis, a troubled 18-year-old who is a fascist party activist. On this occasion, he has called a meeting not only with a couple of other party members but with his ex, Sarah. His problem is that he has begun to see the ghost of his older brother, Jason, who died some years ago. By revisiting the flat, Curtis hopes to confront his memories of growing up and to lay this ghost once and for all.
What he doesn't expect is that Sarah has come mob-handed. As well as her Asian friend Alex, she's joined by Jez, a gay student journalist, and Nina, a feisty librarian who doesn't let the fact that she uses a wheelchair stop her from flirting with one of Curtis's right-wing comrades. Other characters in this ambitiously large-cast play include two squatters, Link and Zak, plus Wayne and Stacey, members of Curtis's extended family. When Nina, who fancies herself as a bit of a spiritualist, proposes a séance, the stage is ready for a dramatic showdown.
This vivid story of one teen's first difficult steps on the road from darkness into light is told with Ridley's customary flair and imaginative zeal. Once again, as in his books and other plays for young people, he has plugged directly into the socket of teen world, and its electricity flows right through the 105 minutes of the play. Yes, here are all the recognizable features of the landscape: the traces of hormonal storms, the rapid shifts of mood, the fierce sense of loyalty and the passion for justice.
Moonfleece is a fabulous piece of urban myth-making, and Ridley gets his characters to explore the past and the present through a series of monologues and confidently staged set pieces, where fact and fiction blur in a delightful orgy of performance. The climax, when Zak, the street storyteller, finally unveils the truth, is a great moment of self-conscious theatre, with comedy, fantasy and deep emotional currents perfectly balanced.
It is clear that Ridley's achingly impassioned portrait of the two brothers, Curtis and Jason, has affinities with his own autobiographical experience of life with his own younger sibling, and the whole play is drenched not only in the light of fairytale fantasy, but also shot through with the pain of loss. Death is often glimpsed in the shadows even as the characters chat about something else entirely.
Moonfleece is an expanded version of the play Ridley originally wrote for the National Theatre Connections youth theatre programme in 2004, and it benefits no end from having a youthful, but fully professional cast. Smartly directed by David Mercatali, the evening has cracking performances from Sean Verey as Curtis, Krupa Pattani as Alex, Sian Robins-Grace as Nina and Beru Tessema as Zak. Particularly impressive are Reece Noi as Link and Emily Plumtree as Sarah, both of whom make their stage debuts.
Along with the recent revival of his 2005 play, Mercury Fur, and with various events planned at the Rich Mix, included the premiere of his latest film, Heartless, some parts of London are in the grip of a Ridley mini-festival. And with national and local elections on the not-too-distant horizon, Moonfleece is both a thrilling story of youthful emotions and a timely account of the way that fascism, and other forms of right-wing nationalism, are often built on the denial of sexual needs.
This review first appeared on The Arts Desk