Martyr, Unicorn Theatre
Thursday 17th September 2015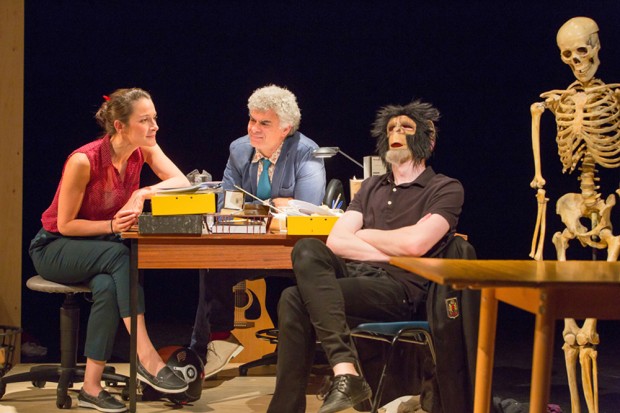 The Actors Touring Company, led by director Ramin Gray, has been exemplary in its choice of work that is both provocative and intellectually stimulating. In 2013, its staging of David Greig's The Events was one of the highlights of the Edinburgh Festival. This year, the company — in a co-production with Purni Morell's Unicorn theatre — is touring this 2012 play by German playwright Marius von Mayenburg. And it is similarly powerful. And similarly provocative. And brilliantly well written.
When the teenage Benjamin refuses to participate in swimming lessons at school, his concerned mother and teachers soon discover that the reason is not that he is taking drugs, but that he has religious objections to mixed-sex activities. Seeing half-dressed girls offends him. As his fundamentalist fanaticism grows, the initial twist is that he is not, as we might unthinkingly expect, a Muslim, but a Christian. Yet, as with all radicals, Benjamin's passionate Biblical preaching has as great an effect on those around him as on himself. He tries to convert his gay school friend George and rebuff another teen, Lydia, while his headmaster, guidance teacher, PE teacher and local vicar — as well as his mother — struggle to understand what's going on.
Benjamin's religious mission creates discomfort all around him. During a sex-education class, in which the teacher unwisely but hilariously instructs the kids in the art of unrolling a condom on a carrot, Benjamin argues that gays deserve to die. Charming. In another class, this time on evolution, he puts on a monkey mask in order to mock the theory of evolution — and demands that the school should also teach the Biblical story of creation. Charming. Then when his science teacher, Erica, decides to take him on by reading the Bible and arguing with him about its interpretation, he plots to have her killed. Even more charming.
Von Mayenburg's play, in a spirited translation by Maja Zade, doesn't tell us much that we didn't already know about fanaticism, but it does show us exactly what its effects can be on other people. The final twist (spoiler alert) is that the martyr of the play's title is not Benjamin, who craves death and union with his version of a particularly cruel and autocratic God, but one of his teachers. With great subtlety, the playwright leads you through the absurdities of extreme religious beliefs, to exasperation at the liberal platitudes of the teachers and the ineffectual attempts by the vicar to solve the problem, then on to a growing sense of danger as the situation escalates. By the end of the show, as the final horror dawns (a self-crucifixion reminiscent of Dennis Kelly's savage debut Debris), the acrid taste of anti-Semitism joins the gender issues and anti-gay prejudice of what turns out to be a very uncomfortable evening.
As the music, which includes a Stabat Mater, swells, Gray's excellent production — which he has designed as well as directed — balances the tender moments of the story with the more open confrontations, and he successfully builds a feeling of peril as the plot moves towards its climax. On a set composed of wooden pallets that are moved into different configurations during the course of the 95-minute show, another emotion is introduced: a kind of creeping claustrophobia in which young people feel increasingly hemmed in by their home and school life. And no amount of faith-healing will help.
On the press night, the audience was full of teenagers — as you'd expect from the Unicorn's remit — and they injected a rare passion into the proceedings. When Benjamin jumps fully clothed into the swimming pool, they shrieked; when he strips off and stands naked, they screamed; when he insults Lydia they defended her; when his teachers utter platitudes, they muttered. Von Mayenburg's text could be seen as having a cool, almost detached flavour (it is perfectly controlled and perfectly paced), but this audience reaction raised the piece's emotional temperature.
Gray's inclusively multicultural cast is led by Daniel O'Keefe, whose brave and committed performance as Benjamin is well matched by Natalie Radmall-Quirke as his teacher, and both get good support from Flaminia Cinque (mother), Mark Lockyer (headmaster), Brian Lonsdale (PE) and Kriss Dosanjh (vicar). Farshid Rokey and Jessye Romeo impress as Benjamin's fellow pupils. Although Gray uses the stage space with great inventiveness, there is, occasionally, a certain unevenness of tone, but the overall effect of the acting and staging is vivid and colourful. This is a timely and thought-provoking piece of new writing.
© Aleks Sierz