Little Gem, Bush Theatre
Monday 19th April 2010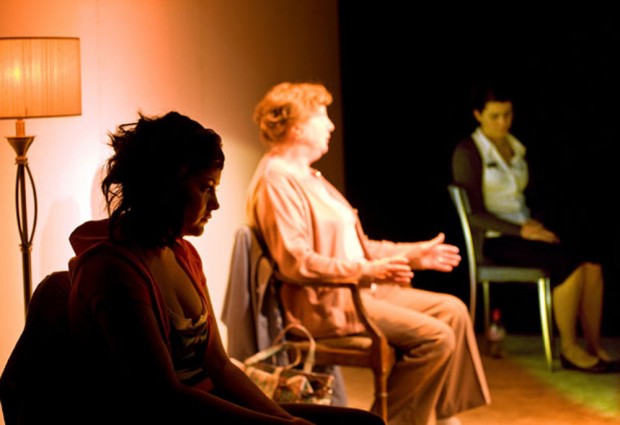 Monologue is a boring word, but in the hands of an Irish pensmith it can create some pretty exciting theatre. From a writer such as Conor McPherson or Mark O'Rowe the monologue can set the night alight with its storytelling brio. Word-drunk on these great draughts of bubbling verbal nectar, you soon feel you know the speakers as well as your own family. Yes, a good monologue is that beguiling. Which is exactly the case with Elaine Murphy's first play, now visiting west London, a lovely and loving set of monologues which create an emotionally rich picture of three generations of Dublin women.
Who are they? Well, there's Nanny Kay, her daughter Lorraine and her granddaughter Amber. Sixtysomething Kay has been happily married but her husband has had a stroke and she is looking after him. The next generation, Lorraine, has been less lucky in love and Ray, her husband, is a desperate addict who now lives on the streets. He also has an embarrassing knack of turning up when least expected. Finally, teenage Amber is loud and full of energy: she loves getting hammered, until something happens that forces her to slow down.
Murphy tells the story of about a year in the life of these three women by getting them to take turns to chat to us, creating a jigsaw of episodes which fit together with beautiful smoothness. By offering three different viewpoints she also generates moments of acute hilarity as the same verbal detail — the hairiness of a boyfriend for example — carries a different meaning when spoken by each of the characters. Deliciously well observed, the play moves very gradually, over 100 minutes, to a moving ending as the themes of love, loss, birth and death weave together into a final image of female family that is breathtakingly warm. I cried like a baby.
Each of the women in Paul Meade's production for Guna Nua theatre company is perfectly characterised. Amber, played by Sarah Greene, is a gobby teen who elongates her adjectives and nouns as if they were a piece of chewing gum. Her default mode is mouthy, yet she is also full of intense feeling. Her mum, played by Amelia Crowley, is completely different. Highly strung, disappointed by life, she is a sourpuss who is bossy and controlling. But when a new man shows interest, she lets her hair down and begins to glow. By contrast, Anita Reeves's Kay is slower, savouring her quiet moments and suffering from "an itch down there". Her frank attitude to sex underlines the way that Murphy writes against clichéd images of Irish womanhood. These women are not martyrs.
And yes, there's a lot of sex in this play, most of it amusing, such as a ticklish episode with the Rampant Rabbit vibrator, and there's also plenty of emotional fuel coursing through these females. In their mouths, Murphy's language buzzes, then pulses quietly, then shines with a lurid electricity, then calms down again and relaxes. Stress then let go, stress and let go. Surprises keep you on your feet: miss a line here and you won't be able to grasp the complete story.
You can see why Little Gem, which started off at the Dublin Fringe Festival in 2008 and then transferred to the Traverse Theatre as part of the Edinburgh Fringe Festival last year, has already garnered a shelf-load of awards. Covering both the joys of life and its grim losses, these monologues deal in raw emotions, psychological reality and comic truths. It is also a testament to the strengths, and indeed strains, of the female experience of family. If that sounds a bit dull, the show is anything but. It is bright and enjoyable: this is a gobby play that has real heart.
This review first appeared on The Arts Desk