Hope, Royal Court  
Tuesday 2nd December 2014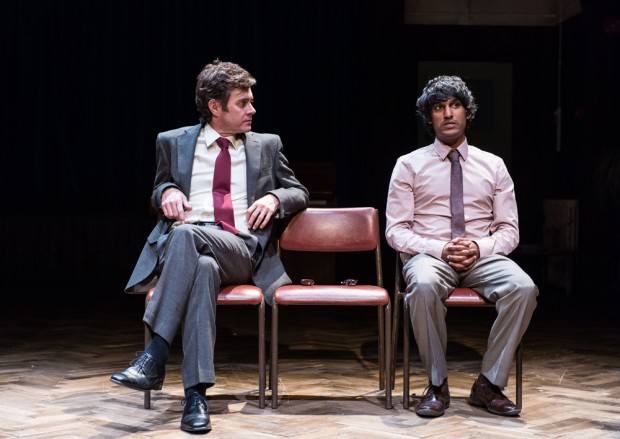 We live in exciting times: ferocious arguments about immigration, the onward march of UKIP, spending cuts and looming economic disaster. Surely these are subjects that appeal to any young playwright with their finger on the pulse. But where are the really incisive political plays of our time? Here is one candidate that purports to engage with contemporary politics. But with what success? Playwright Jack Thorne, whose previous work includes 2nd May 1997, returns to the examination of the relationship between the personal and the political in the aptly named Hope at the Royal Court. This look at the rather specialist subject of local Labour Party politics in a northern town stars Paul Higgins from In the Thick of It.
The story is instantly recognisable. Faced with another round of cuts, Hilary and Mark, leaders of the Labour council, at first decide to co-operate. They make a list of non-essential services that they are going to cut. But the resistance of Gina, who runs a threatened day centre for adults with learning disabilities and is Mark's ex-wife, shows them that there is another option — even if it seems politically suicidal.
Thorne combines contemporary references — to twitter and YouGov for example — with more traditional concerns, such as solidarity and the desire to make a difference. He neatly weaves in personal material — Mark's girlfriend Julie, his son Jake and Julie's father the Old Labourite George — into a fable that suggests that although resistance may be doomed to failure, the desire for change can be handed down through the generations.
At its best, Thorne's play dwells on his speciality, which is excruciating personal encounters between awkward individuals, and his play is realistic, humorous and entertaining for those like me who miss the state-of-the-nation plays of the 1970s. Excruciating episodes include Mark talking to his teen son Jake about sex and the deliciously awkward conversation between Julie and Jake about relationships. At these moments, you can't help but feel that distinctive new writing is alive and well at the Royal Court.
With several other characters, such as Laura from the day centre and Sarwan the Asian councillor, this play has both an epic and a contemporary feel. The politics are a nice mixture of pragmatism and idealism, and the interventions of the George character are a pungent reminder that, for all its faults, Old Labour represented the northern working class more strongly than the current party.
John Tiffany's production, on Tom Scutt's council-office set, is fluid but a bit timid. At a couple of points, his cast — led by Paul Higgins, Stella Gonet and Sharon Duncan-Brewster as Mark, Hilary and Julie — perform some tantilising moves that look as if they might turn into a dance routine, but are then pulled back. I wanted them to go beyond naturalism. Decisively. Still, they get good support from Jo Eastwood (Laura), Christine Entwisle (Gina), Tom Georgeson (George) and Tommy Knight (Jake). If the play is neither seasonal nor particularly urgent, it does raise questions about activism and participation in the Coalition policy of local government cuts that won't be going away for a long time.
© Aleks Sierz