Dead Sheep, Park Theatre
Tuesday 7th April 2015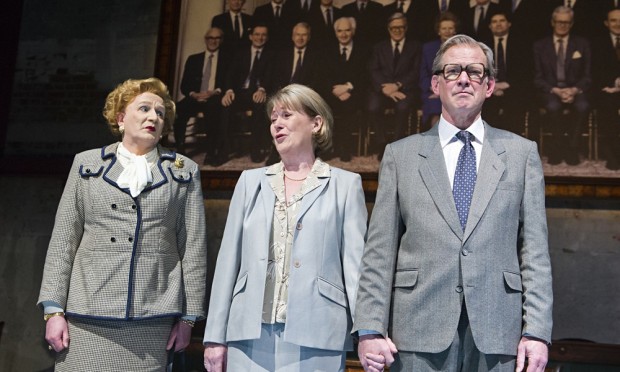 The general election campaign has been so long in coming that theatres have had plenty of time to plan the staging of political plays. As well as recent comedies such as William Gaminara's The Three Lions, there is a crop of other offerings. One of the most enjoyable must be Dead Sheep, which revisits the fall of Margaret Thatcher. Written by Jonathan Maitland — a writer, journalist and broadcaster — this is a very impressive and exciting playwriting debut. Like several other recent dramas set in the 1980s, most notably Moira Buffini's Handbagged, the play features Maggie (who else?) — and this time she is played by a man.
Steve Nallon, who was the voice of Thatcher in the 1980s television satire show Spitting Image, plays the Iron Lady and teams up with a crack cast in Maitland's highly intelligent and highly enjoyable piece. The actor's masculinity gives Maggie a slightly cumbersome presence, but Nallon brilliantly delivers the familiar voice, whether purring insidiously or declaiming loudly (the play begins with her instantly recognisable "No! No! No!"). Go on, close your eyes and the voice alone will transport you back in time.
The play retells the story of how Margaret Thatcher was brought down in 1990 by Welshman Geoffrey Howe, her mild-mannered and often bumbling Foreign Secretary, whose speaking skills had once attracted the derision of Labour heavy-hitter Denis Healey, who in 1978 claimed that an attack from Howe was "like being savaged by a dead sheep". Over the course of two and a quarter hours, we are forced to reassess this condescending epithet, and to appreciate the character of a now little-remembered Tory.
The tale is about power and loyalty. At the start, Thatcher and Howe are friends, and his work as her Chancellor on the 1981 budget is widely praised by the party. Basically, he defied conventional economic wisdom by deflating the economy at a time of recession. It worked, but at a huge human cost in terms of mass unemployment. Although Howe is soon promoted to Foreign Secretary, his relationship with Thatcher cools.
Maitland shows how tensions arose not only because Howe was boring and pompous, but also because he disagreed with Thatcher over Europe. His desire to lead Britain into the Exchange Rate Mechanism (a sort of proto-Euro) antagonised her, and she demoted him to Deputy Prime Minister. By 1990, he had had enough, and his resignation speech on 13 November leads directly to Thatcher's political downfall, as doubts about her leadership spread around the top dogs in her cabinet.
Maitland tells the story with great theatrical verve, and argues that a crucial role was played by Elspeth, Howe's wife, a feminist of sorts who could never get on with the Iron Lady. She becomes a campaigner for helping the homeless, and on her advice Howe changes his resignation speech from a typically modest statement into a more overt attack on the PM's foreign policies. At one point, Elspeth and Maggie are compared to two wasps in a jam jar, and their exchanges drip with acidic mutual contempt. Although Elspeth is dubbed a Lady Macbeth (and Maitland cleverly alludes to Shakespeare's "screw your courage to the sticking-place" from the Scottish play), she comes across as independent and sensible.
In order to make sense of a series of complicated events, Maitland gives us two narrators, who lead us confidently through the political landscape of the long Thatcher reign, switching effortlessly from the early 1980s to the late 1980s, and introducing a handful of vivid characters: the conciliatory Ian Gow (who seems to be in love with Maggie); the predatory and hilariously incorrect Alan Clark; the smug Nigel Lawson; the loud Bernard Ingham. Likewise, Ian Talbot's fluid and dynamic in-the-round production has its share of visual jokes: at one point, Howe wears a jumper with a knitted pattern that represents his beloved grace-and-favour home, Cheveney. It makes him look like someone's silly old uncle.
There are also plenty of resonant jokes about the Tories and Europe — including one about UKIP when in the 1980s even staunch Tories can't believe that you could actually create a party composed only of Eurosceptics — and the play is especially satisfying to anyone old enough to remember those dreadful Thatcher years. The multi-tasking cast — led by James Wilby and Jill Baker as the Howes, and including John Wark (Brian Walden), Graham Seed (Ian Gow and Nigel Lawson) and Tim Wallers (Denis Thatcher, Alan Clark and Bernard Ingham) — perform to perfection. This is a play that makes high politics sparkle. All political careers may well end in failure, but they can also sometimes make really good entertainment.
© Aleks Sierz