Clickbait, Theatre 503
Friday 22nd January 2016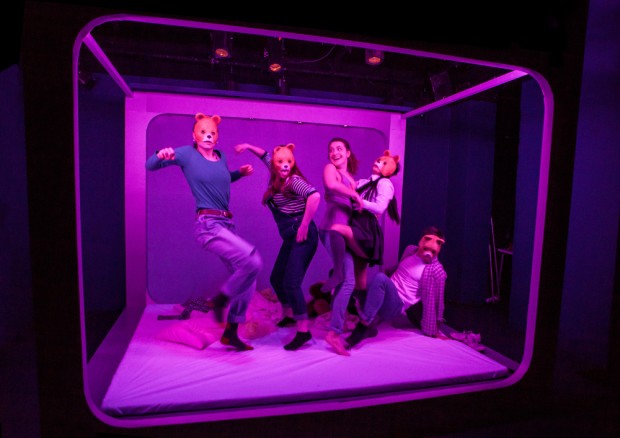 What are the politics of porn? Is this an essentially sexist industry that sells humiliating images of women to dirty old men, or can it also be a place of emotional, social and economic liberation? And is there such a thing as feminist pornography? One of the main strengths of Milly Thomas's 21st-century fable, Clickbait (meaning internet content which acts like a magnet to visitors), is that it explores these ideas in a way that is both entertaining and disturbing.
The drama starts with a public event, a presentation by Nicola Barker, a young internet porn entrepreneur, who states provocatively that "I identify as a feminist" and "I am a feminist", before boasting that she is launching "the first female-led, family-run sex business that has no links to prostitution". But how did this enterprise begin? The rest of the play tells her story. And it's one that begins badly. During an Ibiza holiday, Nicola has got off her face and had sex with several men in club — and the venue's sleazy promoter has filmed her. Now, if she doesn't pay him a huge amount of cash, he threatens to put a video of the event onto the internet.
At first, Nicola is paralysed. She's still living at home and she tells her older sister Gina, who's horrified, and both try to keep this information from their young teen sister Chloe. Telling their mother is out of the question. But then Nicola has a brainwave: she decides to turn weakness into strength by uploading the video herself, thus taking control of the situation. Next, she decides to convert this public humiliation into a business opportunity by setting up a webcam, and starting a porn business. Although this situation strains credulity, especially since the sisters are still living at home, Thomas's tale has a strong flavour of fantasy, signalled in this lively production by designer Frankie Bradshaw's use of pyjama suits, fluffy slippers and fright wigs, which encourages the suspension of disbelief.
Pretty soon, Nicola's one-woman business takes off, helped by her childish sister Chloe's versatility not only with new media, but with PR and marketing. To the dismay not only of Gina, but also of Adam, Nicola's stunned boyfriend, Nicola throws herself into internet porn and the business grows over the years into a network of porn booths which couples can rent in order to create their own sex videos. This original conceit allows Thomas to explore issues such as the domestication of porn, the sexualisation of popular culture, the idea of user-generated content (a kind of mass YouPorn), and the ethics and legalities of self-exploitation. At the same time, the emotional and psychological costs of this kind of work get a nod, and Thomas provocatively suggests that men have more trouble accepting work in the sex industry than women. In Clickbait, they are the weaker sex.
At its best, Thomas's writing has a raw vitality, and she certainly understands not only the sibling rivalry of the sisters, but the occasionally excruciating dynamics of the relationship between Nicola and Adam. Some exchanges have a kind of bruised eloquence that stays in the mind. The sex is desperate, painful, silly, sometimes funny, sometimes gross, sometimes appalling. A bit in-yer-face. At the same time, the writing is not immune to some unnecessarily declarative moments, and Chloe has some confident speeches that don't sit well with her youthful years. Likewise, I'm not convinced that this 130-minute play really needs its final two scenes, which add little to our understanding of the story and largely repeat what we already know.
Clickbait is best seen as a contemporary fable of how idealistic good intentions (fight back against your oppressor) get bogged down both in the tricky issues of ethics and consent, and how human greed leads to unattractive corruption. By the end of the story, the family firm is involved in an all-too-credible conflict with a dissatisfied customer, Kat, who brings the politics of the piece into sharp focus, questioning simplistic notions of feminism and control. So amid the often amusing (and occasionally horrendous) internet opinions — a bit reminiscent of Teh Internet Is Serious Business — the piece explores serious issues.
Holly Race Roughan's energetic and colourful production is occasionally a bit messy, but it successfully creates a stage world, of bedrooms, meeting rooms and internet sites — along with twitter trolls and pushy journalists — which powerfully convey all the noise of the digital and media worlds. Georgia Groome plays Nicola with a nice mix of desperation and determination, and gets great support from Amy Dunne (Gina) and Alice Hewkin (Chloe) as her sisters. Barney White (Adam) and Emma D'Arcy (Kat) also double as the onstage trolls, journalists, police, promoter and clubbers. The result is an evening that is both entertaining and sometimes disturbing — a good combination in contemporary new writing.
© Aleks Sierz