Circles, Tricycle Theatre
Friday 30th May 2014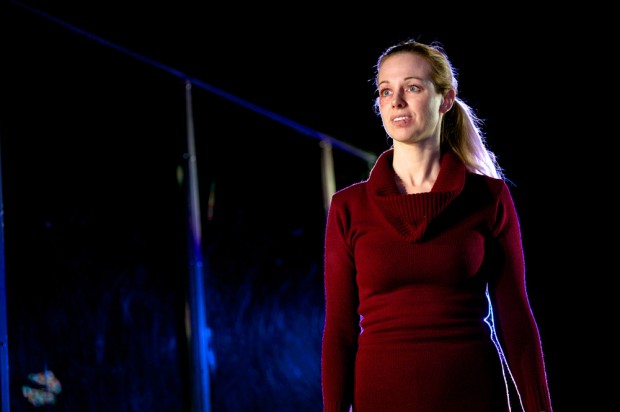 New writing for British stages has recently delivered several punchy plays that, having made their points, don't hang around for long afterwards. With a running time of 70 minutes, Evening Standard prize-winner Rachel De-lahay's Circles is one of these. Set in the playwright's birthplace, Birmingham, most of the story takes place on the upper deck of a bus — the number 11 circular service — that is one of the longest urban routes in Europe. The full round trip takes about two and a half hours, but De-lahay covers the distance in much less time.
It's on top of the number 11 that posh young Demi, a mixed-race 15-year-old, and Malachi, a slightly older black teen, first meet. He is talking loudly on his phone; she is listening and half hiding a smile. It seems that Demi likes to ride this route because she doesn't like staying at home in the evenings, while Malachi just wants to get back to his mum after a day at work. They start to chat, to banter and then to flirt. These bus scenes are mixed in with domestic scenes in which Demi's mum, Angela, is shown arriving on her own mum's doorstep, to escape from an abusive relationship with her man. She is bruised and in pain. Phyllis, her mum, is partially disabled and reliant on medication, and gradually it transpires that abuse runs in the family. Phyllis's husband — Angela's father — used to beat her. And now that type of relationship is repeating itself.
De-lahay paints a vivid contrast between the scenes of youthful chat, with Demi and Malachi's verbal fencing shining brightly and amusingly, and the scenes of domestic tension, with Phyllis dripping with bitterness and Angela always on the edge of a psychological explosion. Home here is a metaphorical prison, peopled by failures and policed by mothers. Both mum and daughter are too busy blaming each other to break out.
At the same time, the circular bus route offers a powerful metaphor of the aimless wandering and endless waiting of today's teen, waiting for ever to grow up properly. On this trip to nowhere the stories of violence, and tales of stabbings, begin to suck the characters into another kind of viciousness. Gradually, the ripples of violent incidents spread out until all the characters are tainted in some way. Although beautifully observed and cleverly plotted, this kind of playwriting doesn't really go beyond some well-trodden paths and familiar themes. It helps you feel, but not to think afresh.
Like her previous play, Routes, the drama is emotionally powerful and almost nail-bitingly intense. It shows clearly and forcefully the cycles of violence in both personal relationships and in the wider society. But strong as this depiction is, there is also a feeling of despair in a piece that offers no solutions to the problems it so acutely portrays. In this world, there is no possibility of change. Which makes the experience of watching it depressing.
There is, however, a lot of pleasure to be had from the performances in Tessa Walker's well-paced and rather elegant production. On Bob Bailey's simple set, which neatly evokes a graffiti-scarred urban Birmingham, Danusia Samal and Toyin Kinch are enchanting as the teens, while Janice McKenzie and Sarah Manners as the grown-ups movingly convey a world of pain. Admittedly this is a slight play, but also a very powerful one.
This review first appeared on The Arts Desk